The Stuka Stunt control line aerobatics model was designed and flown by Don Still. Don was top placing (2066.6 points) member of the winning USA team, with his new version Stuka Stunt, at the 1960 World Stunt Championships in Budapest, Hungary. The model sports a 42" wingspan with a wing area of 391 sq. in., weight is 28-30 ounces. Construction is standard balsa, plywood, and spruce. Plans for the original version Stuka Stunt were featured in the April 1952 issue of Air Trails. The model won the 1952 and 1954 Nationals (Nats), the 1953 Internationals, and the 1951 Tangerine Internationals. It took second place in the 1951 and 1960 Nationals. These plans for Don's new Stuka Stunt appeared in the July 1961 issue of American Modeler magazine.
Stuka Stunt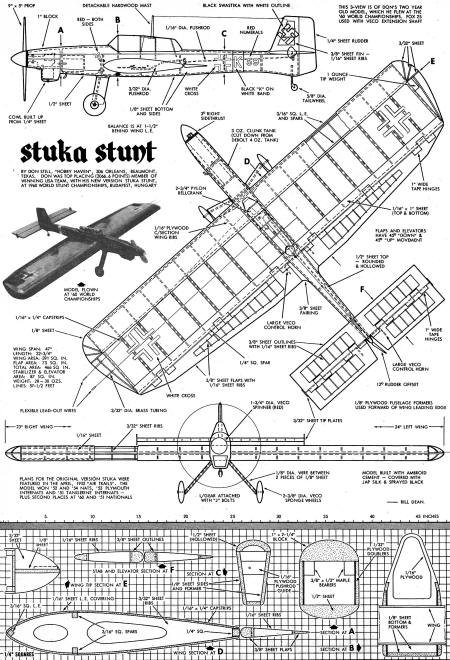 Notice:
The AMA Plans Service offers a full-size version of many of the plans show here at a very reasonable cost. They will scale the plans any size for you. It is always best to buy printed plans because my scanner versions often have distortions that can cause parts to fit poorly. Purchasing plans also help to support the operation of the Academy of Model Aeronautics - the #1 advocate for model aviation throughout the world. If the AMA no longer has this plan on file, I will be glad to send you my higher resolution version.
Try my Scale Calculator for Model Airplane Plans.
Posted June 20, 2020