A lot of people still believed in little green men from Mars and antennaed beings from Venus in the middle of the last century. For that matter, no planet or star was ruled out as host to intelligent life back in the day. Recall that it was only two decades earlier (1938) that Orson Welles created a panic with his Halloween broadcast of "The War of the Worlds." Some still believed that the "canali" recorded by astronomer Giovanni Schiaparelli were elaborate water distribution systems constructed by Martian citizens for distributing water. Venus, though mysteriously shrouded by clouds, surely hosted a civilization far superior to Earth's. This 1/2A control line model represents what was a common planform for unidentified flying objects based on "sightings." Most were either cigar or saucer shaped; Venusian Scout honors the latter. A paper plate, halved ping pong balls, and a bat-wing-like vertical fin serve as the shape-giving elements for that authentic look.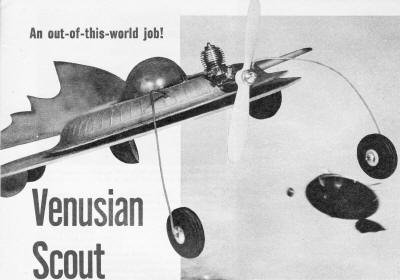 Venusian Scout:
An Out-of-This-World Job!
By Roy L. Clough, Jr.
No article accompanied these plans.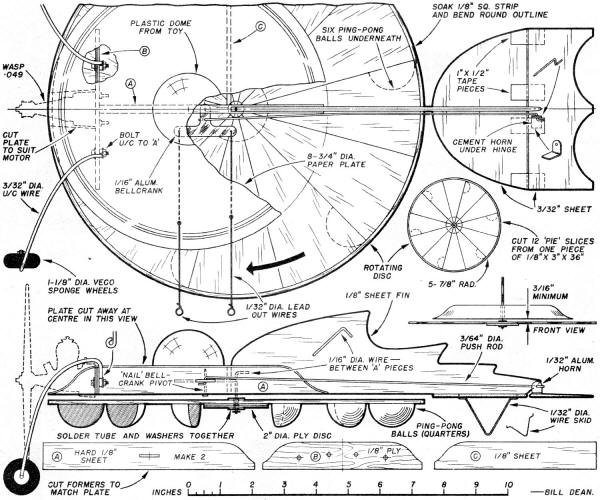 Venusian Scout Plans
Notice:
The AMA Plans Service offers a full-size version of many of the plans show here at a very reasonable cost. They will scale the plans any size for you. It is always best to buy printed plans because my scanner versions often have distortions that can cause parts to fit poorly. Purchasing plans also help to support the operation of the Academy of Model Aeronautics - the #1 advocate for model aviation throughout the world. If the AMA no longer has this plan on file, I will be glad to send you my higher resolution version.
Posted October 12, 2013