Kirt Blattenberger
Carpe Diem!
(Seize the Day!)

Even during the busiest times of my life I have endeavored to maintain some form of model building activity. This site has been created to help me chronicle my journey through a lifelong involvement in model aviation, which all began in Mayo, MD ...

Webmaster:
Kirt Blattenberger
BSEE - KB3UON
Family Websites:
RF Cafe | Equine Kingdom

All trademarks, copyrights, patents, and other rights of ownership to images and text used on the Airplanes and Rockets website are hereby acknowledged.

Jupiter-Moon-Venus Alignment

Erie, Pennsylvania, February 26, 2012 @ 7:30 pm EST
If you were lucky enough to have clear skies on the evening of February 26, 2012, you were treated to a very cool alignment of Jupiter, the moon, and Venus, near the western horizon. The sky in Erie was mostly clear, with a few stray lines of clouds, which created the effect in this picture. All three objects are overexposed, but it would not have been possible to get the shot without it. The moon, being only a couple days old, was actually nowhere near full.

There is a nice photo of Orion below that I took from my back porch.

The camera for both shots was a Fujifilm FinePix, mounted on a tripod.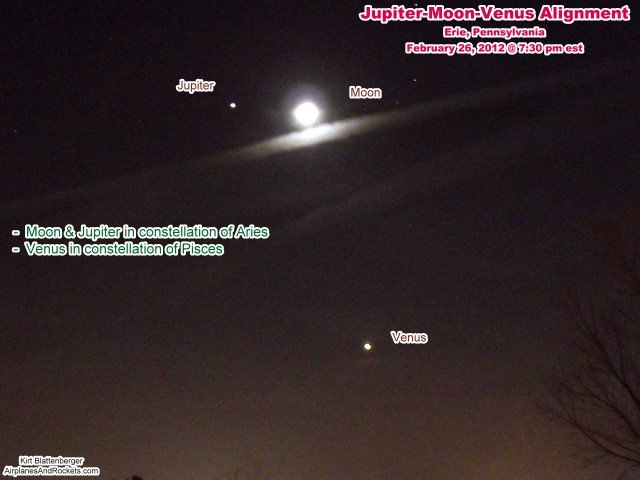 Jupiter-Moon-Venus Alignment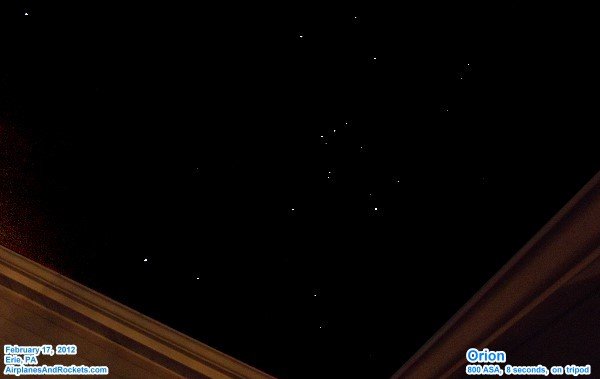 Constellation of Orion
Posted February 26, 2012





Academy of Model
Aeronautics

Tower Hobbies