A few years back, I wrote about the Criterion RV−6 Dynascope, 6" Newtonian telescope I attempted to buy whilst serving in the USAF at Robins AFB, Georgia, in from 1978-82. Now, half a decade later, I finally found one at a reasonable price, where the owner was willing to pack and ship it. He did an excellent job with it, and even used a heavy cardboard SonoTube for protecting the optical tube.
After performing a quick mirror alignment and using the original Criterion eyepieces, I looked at the moon and Saturn and was amazed at the quality of the image. A pert−near polar alignment was done and the clock drive was turned on. With Sirius centered in the eyepiece to begin with, it was still well within the field of view 20 minutes later.
The success of those two tests convinced me that undertaking a complete restoration would be worthwhile. The plan is to remove all the original crackle type black and silver paint, grind, sand, and/or sandblast the surfaces, then repaint. I was going to re-paint the original colors, but decided to paint the unfinished legs and tube rings a hammered black like the rest of the mount, and the optical tube is midnight blue.
The green felt material lining the main tube holder rings has been replaced with Teflon tape, which I already have. The felt does not allow the tube to rotate easily, so hopefully the Teflon will work out better.
The tube body (optical tube) is in pretty good condition both inside and out. I decided the original white shows marks too easily, so now it's midnight blue. Flat black was sprayed onto the interior surface.
Both the primary and secondary mirrors are in great condition, so I will gave them a good, careful cleaning. This Criterion RV−6 Dynascope will never be used for serious observing and/or photography, so re-surfacing will not be needed unless after use for a while it becomes apparent that treatment is justified.
Here are a few photos of the process.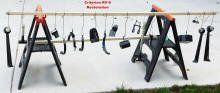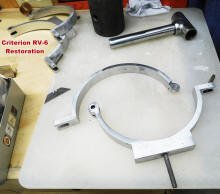 ---
Pert-Near
"Pert-near" is a phrase used the classic American television show "The Beverly Hillbillies." It is a contraction of "pretty near" and is often used by the character Jed Clampett, played by Buddy Ebsen.
Jed Clampett, a kind-hearted hillbilly from the Ozarks, strikes it rich when oil is discovered on his land. As a result, he moves his family, including his daughter Elly May, his mother-in-law Granny, and his nephew Jethro, to the upscale neighborhood of Beverly Hills. The show follows their humorous misadventures as they try to navigate the world of wealth and luxury while maintaining their down-to-earth country ways.
"The Beverly Hillbillies" aired from 1962 to 1971 and became one of the most popular sitcoms of its time. The characters and their catchphrases, such as "Pert-near," have become iconic in American television history.
Posted July 17, 2023