When most people think about control line (CL) models, airplanes are what comes to mind. However, prior to the advent of miniature, reliable radio control (RC) systems, model boats and model cars also ran on control lines. Most of the time they went in circles, just like model airplanes do; however, some hobbyists stretched out long sections of straight line in order to get maximum speeds from their craft. Unlike with model airplanes where an operator in the center of the circle exerted control of the elevator (and sometimes throttle), the boats and cars generally ran with no form of control. In fact, usually the models were tethered with a single line in the center of the circle and the operator handled the boat or car from the outside.
The North American Model Boating Association (NAMBA) has a list of the current record holders (as of 2014).
Record Breakers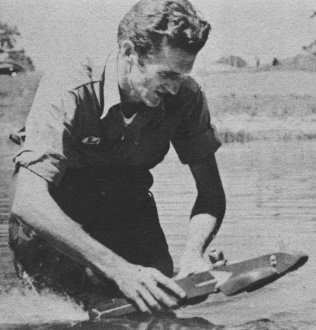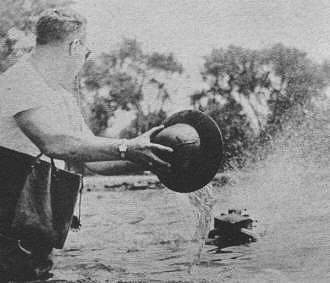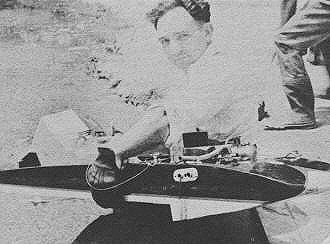 Holder of Cl. A steam record (68.18 boilin9 miles per hour!) is Mike Succarde, Detroit. Double gasoline blowtorch generates 500-lbs pressure in steel tubing boiler; 2-cylinder engine has water cooled head.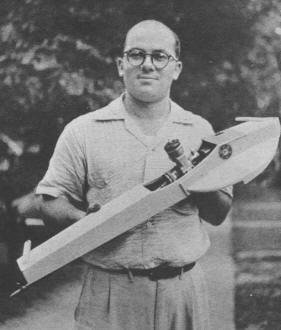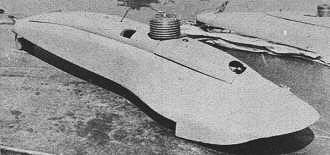 Carved balsa job has plywood bottom, holds B mark with 81.81; 9 1/4-lb craft and engine by Charles Watkins, Chicago MPBC. Length, 3'; beam, 10".

Catamaran type is "Vano" by France's M. Devauze. Hornet powered craft has done 65 mph.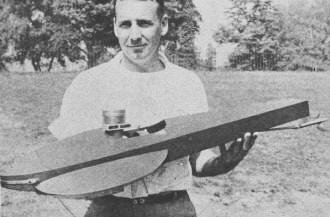 Famous designer is Philadelphia's Walt MacWilliams; former model race car fan, he electrified MPBC'ers by modifying long-accepted Harry Traband hull and setting two new records. Traband-MacWilliams hull is now "it." Engine is home-made; Walt's an expert on Navy steam catapults. Majority of boats are 3-point, surface-propelled racing hydroplanes that actually operate on 2 points: aft, bottom edge of outside sponson and prop tip.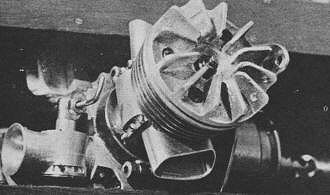 Korean vet (Signal Corps) Jack Scholl of NYC turned out original engine. Four ports (double exhaust, double transfer) allow use of flat-top piston which can be turned from solid stock. Note throttle.
Some hunk of machinery: Max Biederman's home-built "A" mill; bore is 1.5"; stroke, 1.122"; glow plug used.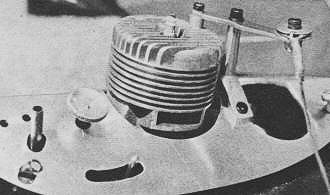 Another original; this by Henry Parohl, watchmaker, is 30cc - 3 times size of plane's .60! Knob is needle valve, arm in slot is throttle adjust, 1/16" stranded steel line attached to bridle support.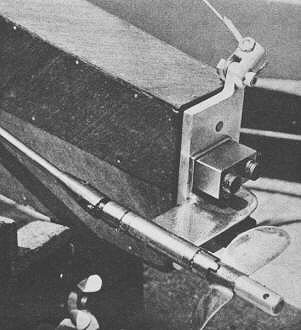 Manderville boat; home-built ball-bearing strut, universal. Metal block balances, lowers boat. Rear swivel for bridle.
Posted November 19, 2016