Straight out of Happy Days and American Graffiti are these reader-submitted car designs from Air Trails - Hobbies for Young Men magazine in the year 1954. In 2023 dollars, the $50, $25, and $10 monthly prizes are worth $556, $278, and $111, respectively (per the BLS Inflation Calculator). That was a lot of dough. About the only requirement placed on designs was that the auto designs be realistic based on current technology - no anti-gravity floaters or rocket powered roadsters. All classifications were allowed - military vehicles, hot rods, family sedans, station wagons, etc., etc.
Auto Design Competition
Awards of $50.00 - $25.00 - $10.00 Every Issue
Cash awards will be made each issue for the three most significant auto designs submitted to this magazine. $50 will go to the top design, $25 to the second and $10 to the third. You may submit sketches for an original design auto, for a restyled car, for sports cars, family sedans, record cars, hot rods, military vehicles or unusual trucks. Include side, front, rear arid top drawings, plus sketches of the proposed vehicle from three-quarter front and three-quarter rear positions. Sorry, we cannot enter into any correspondence about this contest. Send entries to Auto Design, c/o Air Trails Hobbies For Young Men, 304 E. 45th St., New York 17, N. Y.
It's easy to enter - see rules announcement!

First Prize: Two-door sedan by Raymond Wykes of Peoria, Illinois. Mr. Wykes is
one winner also of '53 Fisher Body Craftsman's Guild Competition. The car has a very harmonious shape that achieves elegance in its simplicity of form. It is thoroughly modern without being gaudy. The front bumper is shaped to form the grille, while the twin exhausts are carried through the rear one a la Cadillac. Type: hard-top convertible with wrap-around windshield and rear window. Interesting is the three-quarter circle steering wheel.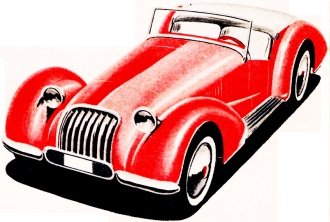 Second Prize: Custom sports car by Walter Scarborough of Houston, Texas. The design is based on 1937 Chevrolet coupe or sedan. The Chevy's body is removed, leaving chassis and fenders. A Ford v-8 engine is installed as well as a '39 Ford floor shift transmission; steering column set back and the headlights relocated on fenders. Hood made of fibreglass, with rest of the body 16 gauge steel. The sloping radiator grille is specially constructed and the entire car reminds you of the 1949 British Allard.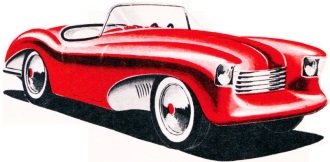 Third Prize: Sport roadster by George Egold, Jr. of Indianapolis, Indiana. A blending of European and American styling in which the front treatment resembles the famous Cord while the fender-headlights combination was borrowed from now defunct Graham-Page. The cut-outs in fenders are typical of Italian sport-competition vehicles such as Maserati and Ferrari; they greatly increase the air circulation around the brake drums, thus preventing brake fade. Low unsprung weight achieved with the use of wire wheels.
All types are eligible: restyled passenger cars, original sport jobs, hot rods, or military types.
Posted February 24, 2023
(updated from original post on 4/26/2014)