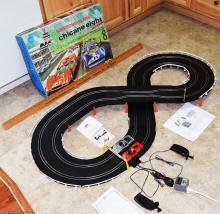 When I was a wee lad back in the 1960s, my parents gave me a small electric slot car race track set for Christmas. I remember that it had Sears' name on it, but couldn't recall the exact set. When this Simpsons-Sears Chicane-Eight 1/32 Scale Road Race Set (manufactured by Eldon) appeared on eBay, I figured it might be the one, so I bought it. As it turns out, this set was sold by the Canadian branch of Sears Roebuck that partnered with Simpsons* department stores. Since I lived in Maryland, this could not have been the slot car set I owned.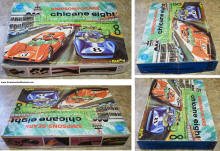 This has got to be one of the best-preserved Eldon Simpsons-Sears Chicane-Eight 1/32 Scale Road Race Sets in existence today. It works perfectly, as the video below shows, and the only real wear on the components seems to have come from some of the pieces shifting around in the box. I checked the car motors with a lab power supply and they are powerful and consistent for their size. The power supply that comes with the set works perfectly as well, and both hand-held speed controllers work smoothly and provide a linear voltage to the tracks (measured with a multimeter). A nice feature with these track sections is that they have built-in male/female connectors that don't require inserting pins for continuity.
The overall race course size is about 24" x 54", so it is compact and will fit in a small space (note the ruler in the photo is 48" long, and floor tiles are 12"x12") . There is not a parts list with the set, but it appears from the photos on the box that everything is present. The only damage I can find is a couple of the clips on the white rails are missing, but that does not affect the usefulness of them. Chicane, by the way, is derived from the French verb chicaner, which means "to create difficulties."
Because of the age of the tires, they have dried out and do not have very good friction with the track surface. That is a good thing for the front tire, but the rear tires need good traction to perform well. Replacement tires are readily available from hobby dealers, but at least for now I cut and stretched some rubber tape around each of the rear tires and both cars do very well with it. The tape is thin enough to be barely noticeable (see photo below). If it happens to come loose, which it has not thus far, use a little rubbing alcohol to wipe the tape and re-stretch it around the tire.
Alas, as nice as this set is, I would prefer to find one like what I had in the days of yore, and since I don't have room for an extra, you are welcome to buy it. Details can be found on eBay. Thanks for looking.
* According to information on Wikipedia, "In 1952 Simpson's started a 50-50 joint venture in Canada named Simpsons-Sears Limited (later Sears Canada) with Sears, Roebuck, the American retailer. Simpsons-Sears stores remained distinct from the Simpson's stores and the parent companies' agreement included language to keep them from competing too directly with each other.
Posted February 23, 2019