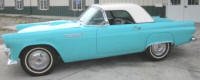 In 1955, Ford introduced the Thunderbird convertible as its first true "modern" personal luxury car. It was not promoted as a sports car, although its 2-seat configuration certainly provided the requisite look. As with all new model years, the 1955 Ford Thunderbird was introduced to the public in the fall of 1954, in time for the December edition of Air Trails to publish a series of scale pencil drawings by Jefferies. The artist much have had access to at least some level of factory drawings because of the detail in the x-ray views; either that or he had an exceptional ability to visualize such things based only on external observations. If you are a Thunderbird fan, then you will appreciate these drawings.
1955 Ford Thunderbird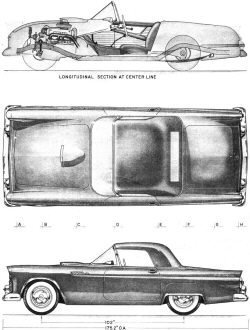 Scale Views by Jeffries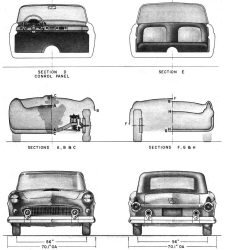 Soon after World War II the American public rediscovered the thrill of sportscar driving. But the fairly large group of enthusiasts had to turn to Europe to satisfy its desire because the U. S. automobile manufacturers were not producing this type of car. Today, however, they are doing just that, with their own designs.
The latest of this type is the Ford Thunderbird, which recently became available. Though the rabid sports car driver may consider it somewhat "fancy" because of luxury-features, the Thunderbird has many aspects of a true sportscar such as an extremely rigid frame, ball-joint independent front suspension, quick steering and telescopically adjustable steering wheel. On the luxury side it has roll-up windows, which together with the rayon fabric top assure comfort in bad weather. Available also is a Fiberglas hard top for those who prefer a coupe, as well as power-operated windows, four-way power adjustable seat, and booster brakes. Instrument panel carries all standard gauges with the addition of a 5000 rpm tachometer and sweep-second hand clock. The Thunderbird is powered with a specially developed V-8, overhead valve engine rated at better than 160 hp. Weight is around 3200 lbs. Body is all-steel construction.
1955 Ford Thunderbird Scale Pencil Drawings
Posted July 14, 2022
(updated from original post on 2/10/2013)