While the originality and craftsmanship exhibited in the model car designs entered in this contest sponsored by Fisher Body Craftsman's Guild is unassailable, I find myself being grateful that most of them never hit the car lot showrooms (although some designs are not too far off of what has been produced here and in Europe). The date of this Air Trails - Hobbies for Young Men magazine article was 1954 and imaginations ran wild with concept car configurations, and while just about anything goes in such competitions, some were downright, dare I say it?, ugly. Of course a look at some of today's concept cars register the same emotions, so I suppose the old adage about the more things change, the more things stay the same holds true here. Scholarships handed out to the teenage entrants were very respectable, especially for 1954 - a $4,000 top prize, which per the Bureau of Labor Statistics' inflation calculator, is equivalent to $41,095 in 2021 dollars!!!
University Scholarships Go to Top Car Modelers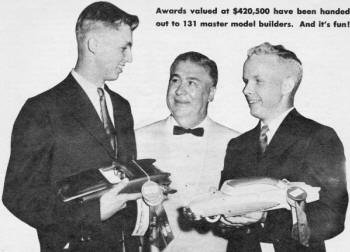 Awards valued at $420,500 have been handed out to 131 master model builders. And it's fun!
Since the Fisher Body Craftsman's Guild was created in 1930 more than 3,500,000 young fellows from ages 12 through 19 have competed for almost half a million dollars in cash awards and college scholarships. This year $90,000 was awarded in the form of 686 "state" prizes, 40 "regional" prizes and 8 university scholarships. Formed to encourage young men in a study of the crafts, the Guild offers gratis membership to any fellow 12 through 19. With your membership card you receive a lapel emblem and manual of instructions on how to enter the 1955 auto designing-model building competition. Members receive periodically the "Guildsman" publication. Information and applications may be secured from Fisher Body Craftsman's Guild, General Motors Building, Detroit, Michigan.

First place scholarship award of $4,000 in the senior division taken by this convertible entered by Gary A. Graham, Bellingham, Washington (left and above). Long-time model plane contest flyer, he's won more than 20 trophies and other plane awards. He spent as much time designing this car as he did building it. Gary's bass wood model is his fourth entry to win regional top honors. Gary now attends Western Washington College of Education. He hopes to become an architectural engineer or industrial designer. James E. Goodman, GM's general manager, in center.

First place award of $4,000 in the junior division went to this sedan built by James C. Fry, Clinton, Illinois, a previous regional winner (right and above). James is aiming for an automobile designing career. After making a clay model he transferred his design to a block of laminated poplar wood using a block plane and spoke shave. Moldings. bumpers, grille and headlight housings were made from sheet brass and polished with emery cloth to a bright finish.
Second place junior prize ($3,000) was awarded to Charles Pelly, Los Angeles, California, for this sleek entry. This was Charles' first attempt in the Fisher Body competition. He says designing the car was the most interesting part of the project. From final sketch he made a set of templates for a clay model. When the clay model was accurately shaped Charles applied a coat of rubber mold material and plaster on the outside. After the model was cast he went to work with sandpaper to give it a smooth finish for painting. Trim work was brass; window moldings were model RR track.
More than 100 preliminary sketches and almost 600 hours of working time were put in by Stanley F. Denek of Detroit, Michigan, on this junior entry which placed third for a $2,000 award. Stanley carved his convertible from a piece of laminated white pine. Outline was traced on the block of wood, excess stock cut away with saw and chisel. After model was accurately shaped he made indentations for the chrome moldings; trim came from aluminum stock. Stan is a high school student; hopes to enter General Motors Institute of Technology and study automotive designing.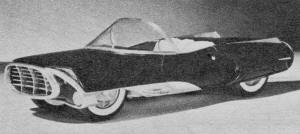 Winner of a $1,000 scholarship and 4th place in the junior section, John W. Bartley, Huntingdon Valley, Pennsylvania, sketched for nearly eight months before he came up with the final design for his entry. Construction took about 240 hours. From his drawings he prepared a clay model; from this he made templates and then roughed out the design in sugar pine with a hunting knife. The finer details were carved out with a very sharp X-acto knife and razor blades. All metal parts were cut from aluminum sheets, shaped, sanded with a wet emery cloth and polished.
Second senior scholarship of $3,000 was won by William C. Bailey, Dallas, Texas, with this 2-door hardtop. He entered the Craftsman's Guild in '50 and won a 1st in state judging. With the money he purchased tools to build more models. William carved his model from laminated poplar wood using gauges, chisels and files. The model was finished with 180 to 320 grit sandpaper and painted. Wheel discs and hub caps were made on a lathe; back wheels are attached by screws; the front wheels are mounted on an axle. Bill has just entered Kansas State College.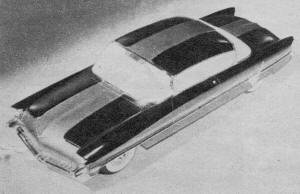 Fifty-six coats of finishing material were sprayed on this car by Aime DeReggi of Wilmington, Delaware, third-place winner in the senior division of a $2,000 scholarship. Made of white pine, this car, when sanded, received 10 coats of sanding sealer, 35 coats of primer and 11 coats of lacquer! Each application was carefully sanded to avoid flaking or chipping. Aime, a long-time model plane builder, came to America from France in 1947. He is a junior at the University of Delaware and is preparing for a career in engineering. Chrome on this car model is simulated by polished aluminum.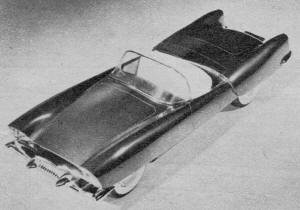 An interest in sports cars prompted Jerry Sutton of Fresno, California, to enter this sleek convertible. Jerry, a student at Fresno State College, majoring in engineering, was awarded 4th in the senior division - a $1,000 scholarship. A piece of locust wood was rasped and filed to rough shape, then sanded. Final painting was with Titian Red lacquer. Last coat was rubbed down with pumice and polished with silver polish, then several coats of hard gloss wax added the finishing touch. Jerry's hobbies are swimming, hiking, fishing, archery, mathematics and physics.
Posted October 30, 2021
(updated from original post on 8/10/2013)