This Hiller Helicopters XROE-1 "Rotor-cycle" looks a lot like the Bensen Gyrocopters that seemed to be in every magazine in the 1960s and 1970s (including this May 1957 American Modeler edition), either as a feature story or in the advertisements in the back. A couple James Bond movies even featured them as high-tech, futuristic flying machines. The U.S. military experimented for a while with the personal gyrocopter concept for surveillance and search and rescue operations, but it never really went anywhere. Remote-controlled drones do a lot of that work these days. Significant improvements have been made in airworthiness over the years and now there are many personal gyrocopters in use around the world - both homebuilt and commercially built.
Gyrenes Pocket Copter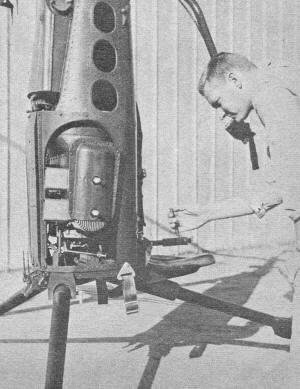 Photos and text by Howard Levy
U. S. Navy reveals the Hiller XROE-1 "Rotor-cycle" made its first flight. XROE-1 is small, lightweight 1-man helicopter that collapses into small package for ease of transportation or parachute drop, then can be reassembled by one man in less than 10 minutes.
Like Gyrodyne's XRON-1 which flew in November 1955, Hiller's "Rotorcycle" is powered by a Nelson 4-cylinder opposed, two-cycle, aircooled engine developing 40-hp. Empty weight of craft is less than 250-lbs. XROE-1 has single 18-ft diameter main rotor and small anti-torque tail rotor on tubular boom. Stabilizing horizontal airfoil section (probably ground-adjustable) is also mounted on boom. The pilot sits on bicycle type seat with engine at his back. "Landing gear" is a tubular tripod with pilot's foot pedals mounted on front leg.
Ex-modeler Hiller has apparently made some changes in his rotor system since it appears that the servo paddles are no longer attached directly to the rotor hub. Servo rotor is probably free to flap independently of the main hub and the relative motion causes cyclic pitch changes in the main rotor, which in turn causes hub tilt. "Rotorcycle" was developed under Navy Bureau of Aeronautics contract for Marines who will use craft for observation, liaison, and small unit tactical maneuvers.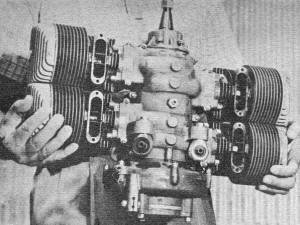 Posted June 15, 2021
(updated from original post on 6/9/2013)