Flying model helicopter development understandably took a lot longer than airplanes because of the complex aerodynamic and mechanical issues that needed to be conquered for successful operation. A few direct drive rotor systems appeared early on, with the engine mounted in the fuselage, but a counter-torque force needed to be dealt with as the fuselage wanted to rotate in the opposite direction as the rotors. Ken Norris' implementation as shown in this 1961 issue of American Modeler magazine, solved that problem by mounting a pair of engines on a boom that was part of the rotor head assembly. Doing so meant the only torque transferred to the fuselage was due to any friction between the free-wheeling rotor shaft and the bearings, and due to accelerations during rotor speed changes. The physical size of the two helicopters shown here is amazing. There is no mention of the flying weight.
Twin .020 Helicopters
Ken Norris has spent the last three years in designing, building and testing a series of highly original twin-engined helicopters. The model in the adjoining photo uses the same rotor-power assembly as the other semi-scale shown in the detailed 3-view plans and photo below. All of Ken's helicopters are remarkable for the beautifully made rotorhead fittings and other metal parts. His latest is an 8-foot rotor scale Sikorsky 5-64, powered by a couple of .049 Cox Space Hoppers. Unveiled at the last Nats, this one has 8-channel CG R/C and features modified German Serud servo motors.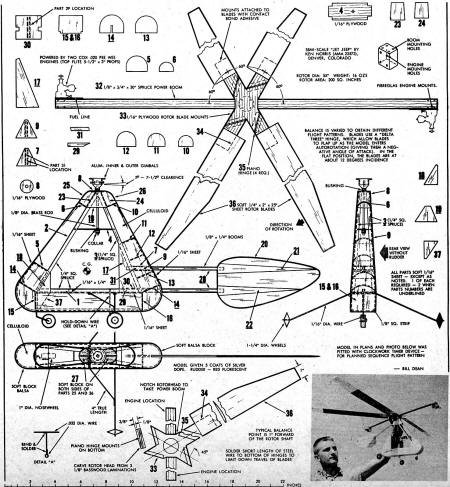 Posted July 18, 2022
(updated from original post on 6/18/2016)