The year was 1961. The place: Royal Air Force station, Barkston Heath in Lincolnshire, about 120 miles north of London. The British National Championships, (NATS) were held in a two-day fight for titles by nearly 1,500 modelers. In the era, R/C was the new kid on the block, and a big deal was made over the use of "relayless" equipment. Oh, and here's a sentence you won't see in 2011 contest articles, "About 75 percent of all equipment used was of U. S. manufacture."

British "NATS"

The 1961 British National Championships were held at the Royal Air Force station, Barkston Heath in Lincolnshire, about 120 miles north of London. Barkston Heath is a satellite airfield of the R.A.F. College, Cranwell, and from this airfield, flight cadets learn to fly in Jet Provost trainer aircraft. The field is a good one for modelers, one reason being the absence of the security measures which, at some sites, have plagued contestants whose models landed inside restricted areas.

Into the two-day meet were packed more than a dozen events, with RIC, Speed and Combat spread over both days. Total entry was upwards of 1,500! The gathering was the biggest of any British "Nats." As usual, a large number of modelers made use of the camping ground alongside the airfield and engines were running far into the night and again at the crack of dawn.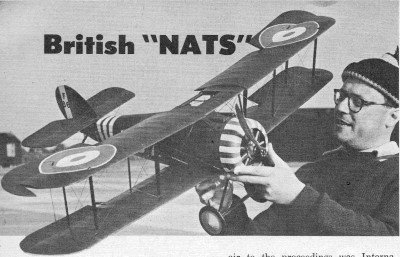 Free flight scale winner, Simmance's superb Yath scale Sopwith Snipe had perfect rib and stringer detail.

Commercial interests were represented by booths and exhibits - on the field. Veron had a roped-off display of kit models including their remarkable ducted-fan jobs. Lending a racy air to the proceedings was International Model Aircraft's colorful truck, emblazoned boldly with the words "Frog Competition Department."

U.S. modelers at the meet included USAF officers Capt. Keith Laumer and Major Gus Johnson-the latter had conspicuous success in speed.

In general, standards at this year's Nationals were higher than ever before. Radio control, which, until two or three years ago, had made little progress in Britain since 1950, was up to top international class. Speed achieved a new high as regards the number of people competing and the general level of speeds reached. In team racing a new time was set which probably rates as an unofficial world record. In free-flight gas, Wakefield and glider, there were fly-offs to decide all the top places.

With so many events crammed into two days (most of them ran concurrently) it is almost impossible to see every notable performance. We started by watching the stunt event for the Gold Aerobatics Trophy. All the "names" were there including Australian expert Brian Horrocks who won the event in 1959; Ray Brown, last year's top British stunt contestant; and Frank Warburton who was the highest placed Briton in last year's World Championships stunt class in Hungary. And that was the order in which they finally placed. Horrocks, who was competing in his last stunt contest before returning to Australia, had a clear win on points with 579, Brown had 548, and Warburton was only one point behind.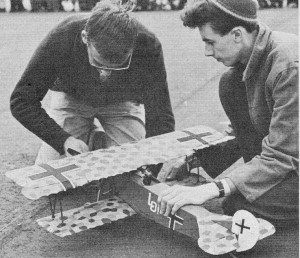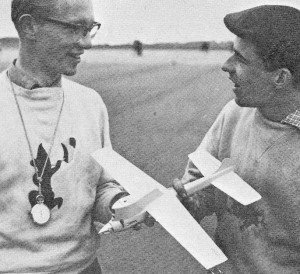 Winner of Knokke Trophy for U-control scale: FAI .15 speed winner was Peter Tribe (right)
Tony Day's Fokker D-VII, Taplin Twin .42 with Super¬Tigre Jubilee G.20, reworked
diesel power. by Copeman (It.).
Horrocks used the same Australian Glo-Chief .49 motor that had won for him in '59. His model was the biggest in the contest: 60 inches span, 830 sq. in. wing area and weighing 3 lb. 12 oz. Unlike most other stunt exponents, Horrocks does not use a four-cycle level-flight needle setting but props his engines for a steady two cycle pull throughout the pattern. Brown had a Merco 35 powered "Crusader," a Mercury kit designed by Merco engine manufacturer Bill Morley. Warburton flew an attractive 505 sq. in. in o.d. also with Merco 35.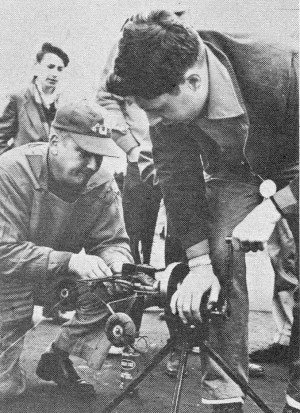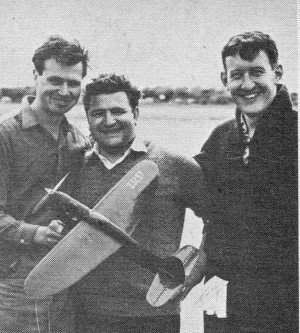 America's Major Gus Johnson, USAF, topped British team race record in Class B

.29 speed with this Eta powered entry, then set in finals by Yeldham, Steward & Taylor

placed second in .60-size class with

.

160.9 mph performance. .

CIL Scale drew a sizable entry and won by Anthony Day's fine Fokker D.VII powered by a Taplin .42 cu. in. twin-cylinder motor. Model looked and sounded just right in the air. Second place went to P. Wheldon's 39 inch Aichi 99 'Val' powered by a Veco 19. Third was D. Nelson with one of several Focke-Wulf Ta. 152H models entered. Notable absentee (through illness) was Capt. Cesare Milani, whose ships are normally a high spot of this event.

British team racing is a highly developed art and the "A" Class (F AI rules, .15 engines, over 10 kilometers) saw a final between three hot favorites, Dick Edmonds, Ken Long and Johnny Hall. This is the class that made the Oliver-Tiger name, but Long clearly had the fastest ship in his Eta 15 powered job and won in 4:52.5, Edmonds' time was 5:02 with Hall a close third at 5: 03.1. The "B" team-race (.30 cu. in) was highlighted by a fantastically fast final with the team of Gordon Yeldham, Charlie Taylor and Len Steward averaging 89.55 mph over the 10 miles, to win in a record time of 6: 42 - breaking the six year old record of John McNess by 27 seconds. MeNess placed third this year with R. E. Lucas in second place. The winning racer was powered by a special built by Fred Carter, modified by Len Steward, and probably based sometime in the past on a McCoy.

Radio control was limited exclusively to multi this year. It was won by Frank Van den Berg, who also won last year. He flew his own design low-wing "Sky-Duster" with Italian Super-Tigre .51 motor in place of last year's K&B .45 and used Orbit 10 equipment. Chris Ohlsen in second place had the latest version of his functional "Uproar" shoulder-wing design with R.E.P. radio equipment. P. Rogers, flying with Super-Tigre .51 and the new British Dekatone 10-channel relay less equipment was third. The next few places were all filled by "Orions," headed by Ed. Johnson with K&B .45, Orbit-10 receiver, Bonner Duromite servos and Min-X transmitter. About 75 percent of all equipment used was of U. S. manufacture.

Free-flight scale got off to a poor start but settled down as the experts showed how to do it with some fine flights with beautiful models. Models were judged for authenticity and quality of construction before the event, then had to make a qualifying flight of a minimum of 30 seconds, with extra points for take-off, etc. Top points went to John Simmance's 1960 winner, a superb Phinch-to-thefoot scale WWI Sopwith Snipe with an automatic pendulum stabilization system coupled to all control surfaces. The model, which has scale rib and stringer locations, is powered by a Frog .15 ball-bearing diesel. Second place, only 1 point behind, went to J. Bridgewood who flew one of three Vultee Vigilants entered in the contest.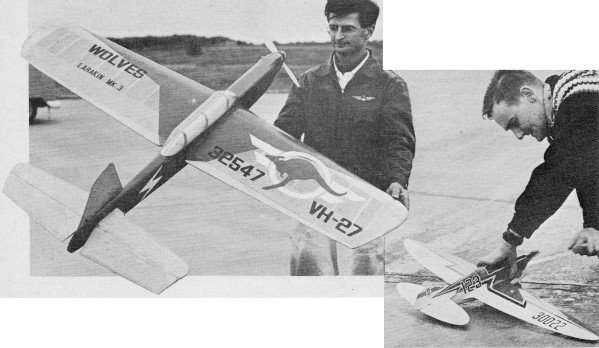 Stunt champ, Australian Brian Horrocks, flew 5', 60-oz entry; Aussie Glo-Chief .49 engine turned
11/6 Tornado nylon prop. FAI team race winner Ken Long (right) starts his Eta 15 diesel for
pre-race warm-up. Model averaged 76.5 mph including pit stops, won by 10Y2 seconds.
Speed was marked by a surprising revival of interest in the big stuff and former F AI world record holder Ray Gibbs topped the .60's with a speed of 162.1 ... 1.2 mph faster than USAF Major Gus Johnson. Another 1.2 mph slower was Pete Drewell in third spot. Gus Johnson won the .30 cu. in. class with a fine run at 144.5 mph (this year Gus was using an English Eta 29 motor) followed by John Hall and Dick Taylor, both bettering 140 mph. The .15 class speeds were low by comparison, due to this class being run to F AI rules which permit only straight methanol! castor fuel. Top time was Peter Tribe at 108 mph, using a Rossi-modified Super-Tigre G.20, further reworked by George Copeman.
In the free-flight events, noted all rounder Ray Monks had a double win by topping a 12-man fly-off in gas and a 5-man fly-off in glider. Both contests were what is known in Britain as "open" events - i.e. unrestricted as regards model design or engine size. There was also a fly-off in the rubber event which was won by J. Turner. PAA-Load was won by George Fuller with the only perfect score.
In all it was a good Nats. Organization was, at times, a bit below the expected standard (due, mainly, to a last minute change of location from Cambridgeshire to Lincolnshire) but rain held off and windy conditions at first gradually gave place to a fine calm weather throughout the second day.
Posted January 22, 2011