This particular advertisement by Guillow's is from page 7 of the March 1955 issue of Air Trails magazine. What caught my attention about the ad was the image of the Barnstormer control line model because it shows the lines exiting the right wing, meaning that it flies in a clockwise direction rather than the now-standard counterclockwise direction. Guillow's is still in operation today.

Major Lester D. Gardner, founder of the Institute of the Aeronautical Sciences (now the American Institute of Aeronautics and Astronautics - AIAA), is honored in the ad. Major Gardner was a friend and confidant of the Wright Brothers and was responsible for the original Wright Flyer being preserved and displayed in the Smithsonian Institute's National Air and Space Museum.

Use the U.S. Bureau of Labor Statistics' inflation calculator to see what items cost in today's dollars. For instance, that $5.95 "Barnstormer" would be $51.92 in 2013 money. That's the low end of the price range for similarly sized models today; e.g., the Brodak Buster kit for a .19 to .40 engine costs $75.

All copyrights (if any) are hereby acknowledged.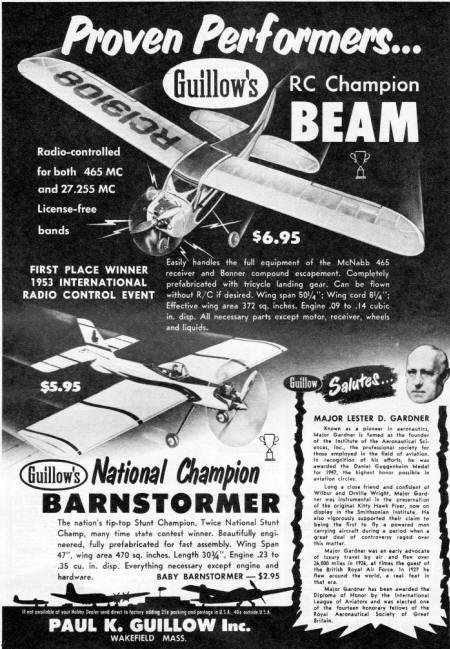 Guillow's Advertisement
BSEE - KB3UON

My Engineering Web: RF Cafe

Carpe Diem! (Seize the Day!)

Even during the busiest times of my life I have endeavored to maintain some form of model building activity. This site has been created to help me chronicle my journey through a lifelong involvement in model aviation, which all began in Mayo, MD ...

All trademarks, copyrights, patents, and other rights of ownership to images and text used on the Airplanes and Rockets website are hereby acknowledged.

Academy of Model Aeronautics