This particular page is from page TBD of the TBD magazine.

Nick Ziroli plans are available on his website. All copyrights (if any) are hereby acknowledged.

Use the U.S. Bureau of Labor Statistics' inflation calculator to see what items cost in today's dollars. For instance, that $50 "Bearcat F8F" would be $260 in 2010 money.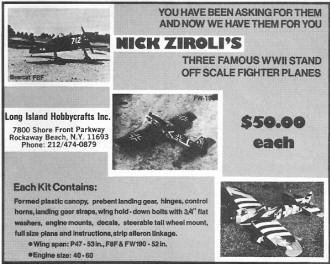 Airplanes & Rockets

Carpe Diem!

(Seize the Day!)

Even during the busiest times of my life I have endeavored to maintain some form of model building activity. This site has been created to help me chronicle my journey through a lifelong involvement in model aviation, which all began in Mayo, MD ...

Webmaster:

BSEE - KB3UON

Family Websites:RF Cafe | Equine Kingdom

All trademarks, copyrights, patents, and other rights of ownership to images and text used on the Airplanes and Rockets website are hereby acknowledged.

(Title)
(Content)