Most aviation enthusiasts, including moi, think of the Reliant series of airplanes when the name Stinson is mentioned. Edward "Eddie" Stinson was born in 1893 and at the time of his death due to an airplane crash, he was the highest time pilot in the world with about 16,000 hours of logged flight time. The Stinson Aircraft Company merged with Vultee Aircraft in 1932 and was eventually bought out by the Piper Aircraft Corporation. Here is some interesting trivia I discovered while researching this 1949 Air Trails magazine article: In 1943, Consolidated Aircraft and Vultee merged, creating Consolidated Vultee Aircraft Corporation, popularly known as Convair. Convair (ConVAir) manufactured the F-106 Delta Dart, the B-36 Peacemaker bomber with six pusher propeller engines (and later four jet engines), and also made that familiar XF Pogo vertical-takeoff-and-landing (VTOL) airplane that had counter-rotating propellers and sat on its tail.
Air Progress - The Stinson Story, by Douglas Rolfe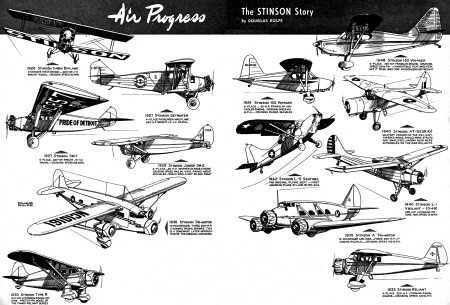 One of the most colorful and significant names in the history of air progress is that of Stinson - pioneers in the field of personal planes.
When Eddie Stinson founded the company in 1925 he was already famous as one of the world's outstanding pioneer pilots, with a sensational record as both stunt flyer and flying instructor. During World War I he served as chief instructor at Kelly Field. After the war he proceeded to hang up several notable records including the first Chicago-New York night flight and the then (1928) World's Endurance Record (53 1/2 hours).
Meanwhile, in 1925, he supervised the construction of the first Stinson airplane, a cabin biplane which was the first American plane to employ wheel brakes and a self-starting mechanism. This successful design was followed by the original Stinson Detroiter, another cabin biplane which was immediately ordered by the infant Northwest Airways to haul passengers and mail on its St. Paul-Minneapolis-Chicago run. In 927 the first Stinson cabin monoplane made its appearance and soon made history with the famed Detroit-Tokyo flight. Designated also Detroiter, this excellent plane, the SM-1, was followed by a smaller model, the SM-2 or Stinson Junior. This ship was the direct ancestor of the later Reliant series.
Shortly before Stinson's untimely death in 1932, the company merged with Vultee. Later it became the Stinson Division of Consolidated-Vultee, and remained so until recently, when it was acquired by Piper Aircraft Corporation - thus passing into the hands of another great pioneer in the field of personal aircraft.
1926 Stinson Cabin Biplane
Stinson's first design - 200-H.P. J-5 Wright Radial - Cruising speed 90 M.P.H.
1927 Stinson Detroiter
4-Place passenger mailplane - 220-H.P. Wright J5-CA Radial.
1927 Stinson SM-1
6-place - 220-H.P. Wright 75-CA Radial - Cruising Speed 103 M.P.H.
1928 Stinson Junior SM-2
4-place - 110-H.P. Warner Scarab engine - Cruising speed was 90 M.P.H. - Range about 600 Miles - Which would not be bad today!
1930 Stinson Tri-Motor
10-Passenger - Three 240-H.P. Lycoming Radial Engines - This is a somewhat later modification of the original 1930 model.
1930 Stinson Type R
215-H.P. Lycoming radial engine - Prototype model of the famed Reliant series.
1933 Stinson Reliant
4-place. 225-H.P. Lycoming radial engine - Cruising Speed 120 M.P.H.
1935 Stinson A Tri-Motor
8-passenger airliner - Three 260-H.P. Lycoming radials. - Cruising speed 163 M.P.H.
1939 Stinson 105 Voyager
3-place - 90-H.P. Franklin air-cooled engine. Cruising speed 105 M.P.H. - Cruising range 394 miles.
1940 Stinson L-1 Vigilant - (0-49)
280-H.P. Lycoming engine - Min. speed 31 M.P.H.
1940 Stinson AT-19 (SR-10)
Military Version of the Reliant. Tapered Wings, Single Wing Struts and Simplified Landing Gear Were Introduced on the 1938 Reliants.
1942 Stinson L-5 Sentinel
The original "Flying Jeep" - First American plane to land on Iwo Jima.
1948 Stinson 150 Voyager
4-place - 165-H.P. Franklin engine. Cruising speed 130 M.P.H. - Convertible features permit it to be used for passengers or freight.
Posted March 12, 2022