Air Trails magazine ran a regular feature called "Airmen of Vision" that was a deign idea contest where readers submitted futuristic designs for everything from small homebuilt aircraft to military jet fighters and large commercial airliners. The 1950's was an era when young men were totally caught up in the dawning age of jet propulsion, transistorized electronics, flying cars, interplanetary flight and moon landings, wind-powered ocean liners, robotic home servants, and even - get this - personal computers! If you search the Airplanes and Rockets website for some of the other aircraft and automobile design contest entries, you will be amazed at how close some of them come to ones that have been built over the years. Check out this SpaceShipOne lookalike in the August 1954 issue of Air Trails.
Airmen of Vision Design Competition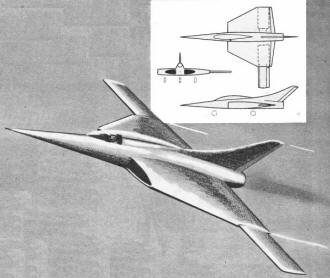 First prize (left) is a single-jet single-seat delta-wing fighter by C. R. Tennant of Leicester, England, a draftsman for Auster Aircraft. Retractable outer wings improve controllability at low speeds giving 10:1 speed range, 75 to 750 mph enabling craft to operate from carriers. Span (super-sonic), 28 ft.; sub-sonic, 49 ft. Length, 46 ft. Wing area (super-sonic), 325 sq. ft.; sub-sonic. 395 sq. ft. Gross weight of plane, 20,000 pounds.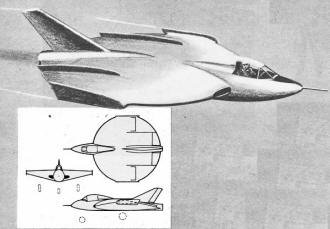 From Midland, Texas, comes Guy A. Landrum's second-place jet trainer (left) which features a Westinghouse J-30 engine mounted on pivoting supports so jet can be swung up and out for easy main-tenance. Span is 12 ft., length 17 ft., 2 in. Maximum speed is 450 mph, stall, 75 mph. Range is 600 miles. Advantages cited for circular-wing planform are strong construction, possible delay of high speed stalls and low vertical sinking speed with minimum forward speed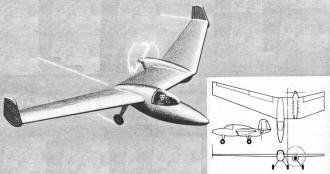 Third place this month (left) goes to Robert Woods, Trenton, N.J., with his "Privateer" design, an asymmetrical flying wing pusher for sport and personal use. Span is 28 ft. ; top speed, 195 mph. Power is to be supplied by a 90 hp, 6-cylinder in-line engine. This single-place job should weigh about 600 pounds. Says Woods, "Although at first glance the off-center motor mount would seem to cause serious yaw, it's not likely: thrust line is less than 2 ft. from C. L. And C. G."
Air Trails has opened its columns to those who are interested in presenting plans for "aircraft of the future." Rules governing the competition are as follows: Three-view sketches of the proposed aircraft will be required. These should not be less than 8 1/2 x 11 inches for the entire three-views. Give sketches of the complete airplane in three-quarter front and rear positions. Photos of a model of proposed design may be included. Information on power plant(s), estimated performance, dimensions, and explanations of any unusual features are required. Data as to age, occupation or schooling of the entrant will be welcomed by the editors and judges. The designs may be of any type: commercial aircraft, military planes (fighters, bombers, troop transports), planes for the private flyer and single-engine sporting or racing craft. The entry each month judged the most practical or of the greatest significance will receive an award of $25. Payments of $5 will go to the runners-up. Entries will not be returned and for that reason those participating should keep copies of all material submitted. Mail entries to Airmen of Vision, c/o Air Trails, Box 489, Elizabeth, J.J. The editors regret that because of large number of entries they cannot enter into correspondence on Airmen of Vision.
Posted October 13, 2018