Every time I read stories in these old model airplane magazines, especially those reporting on contests, I wonder where are all the great models that were represented in them? On a couple occasions people have written to let me know where they have gone, as was the case recently with USAF TSgt. Gordon Ford's incredible collection of giant control line scale, multi-engined flying models. A couple years ago a relative of a contestant (the now husband of a then teenage girl rocketeer, amazingly) wrote in response to an article I published about a model rocket contest in Mankato, Minnesota. Hopefully, someone who knows someone who is pictured here in this coverage of the 1955 AMA Nationals will do the same and write with an anecdote about a father, brother, cousin, friend, etc., who was present at the event 58 years ago. For that matter, there are probably many of the actual participants still around who were there. Send me an e-mail, please.
American "NATS" Biggest Ever!
Reported by Howard McEntee
Photographed by John W. Schneider
Is that determination or hope on the face of Jack Case of Ottawa, Iowa? At National Air-Model meet, he launches limited rubber job.
The Nats have been growing bigger every year and 1954 was no exception. While we have no exact tally of the number of entrants, it was certainly around 1400 (some estimates were as high as 1800!). Whatever the actual number, the Navy put in a fantastic number of man-hours just getting things ready for the meet: it was figured that they spent 25,000 man-hours setting the stage, and that it would take another 50,000 to keep things on an even keel for the actual five days of the contest. As usual, the Navy offered meals at cost for contestants, and housed them on the base for practically nothing. Hundreds of double-decker beds were lined up in the Drill Hall, but we'll bet a good many of those who were supposed to sleep in them never wrinkled a sheet - some could even be found late at night asleep under their benches in the workshop hangar!
Day and night, the latter spot was the most interesting of the meet; always something doing, many fabulous ships that never did get finished for actual competition, dozens of gab-fests going on all over, greetings from old friends whom you see just once a year - at the Nats.
Something new was a necessity this year - the splitting of the meet into two sections during the first two days. Free flight events were held at the Chicagoland Airport, a private field about 12 miles north of Glenview. Transportation between the two areas was not a problem, since the Navy ran a bus service for those who had no cars. But the split-up was not viewed with much enthusiasm by the contestants, especially since Chicagoland was a lot smaller than the Glenview field and was surrounded by cornfields, woods etc. The Navy had a good retrieving service in operation, though, with helicopters, and lots of ground vehicles. Quite a few times we saw a modeler driven along under his wandering free flight, the model actually landing in his hands after it dethermalized.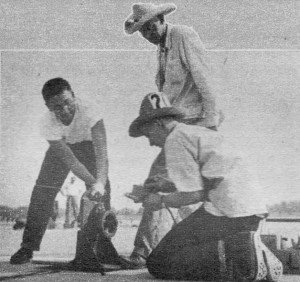 It had originally been intended to conduct all free flight events away from Glenview on Thursday and Friday; however, at least two events, Clipper Cargo and Radio Control, require fairly long and smooth take-off areas; since the Clippers are not expected to fly very far, and the R/C planes are under perfect control (?!), these two were conducted at one end of an unused runway at Glenview. R.O.G. runways of a temporary nature were set up at Chicagoland, for those events that required them.

Another "first" this year was the fact that the meet was cut a day short, with most of the events beginning on Thursday; Wednesday was registration day, the only official flying being in PAA Clipper Cargo and PAA-Load Class AB. It was also test flight day for those who wanted to travel to Chicagoland - and plenty did, though the afternoon rain slowed things considerably (even so, the PAA-Load craft continued to zip upwards every few moments). The Clipper boys back at Glenview were really hampered by the rain - it's tough enough to get one of those heavily laden ships off the deck in perfect weather - and as a result only four flyers succeeded in making official flights, though the very commendable number of 21 tried to do so. While not too many attempted this event, it was watched by large groups of modelers who, it is to be hoped, caught the bug and will try to get in on the fun.
Thursday saw things start off in earnest, with a beautiful day in prospect. Those entered in Indoor events took off for Chicago, and a full day was ahead for them, since these events were scheduled to run from 8 A.M. till 11 P.M. From the times racked up, it is apparent that the boys did not like the spot - an armory with a 75 ft. ceiling - as well as they did the huge hangar at Lakehurst last year. Best time in indoor stick rubber was about 21 minutes. From Thursday morning on, the Glenview base - and Chicagoland - were just a blur of activity. The boys who had entered several events had their hands full; even though they had their own cars, they had to travel between three different sites separated by 20 miles or so, which meant a lot of lost time. This made it all the tougher for those who aspired to win the National Champ trophies.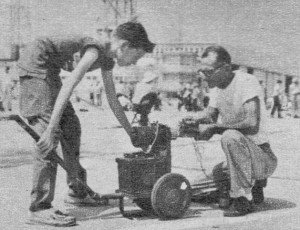 Friday turned out clear and hot, but by Saturday apparently the weatherman thought we had had it too good. Flying was scheduled to stop at 3 P.M. Saturday for the Blue Angels to put on their show, which meant that the model events had to start folding up at 2:30 or earlier. The air was cold and damp, and the ceiling very low. The expected huge crowd of spectators for the big plane show did not turn up, there being probably no more than 15,000 on the field. The scant ceiling kept the Angels from doing all of their high-altitude maneuvers. Many of the spectators got a real thrill from the low-level high speed runs of the Navy Cutlass plane, however; as the plane was coming in over the field on one run it appeared to everyone who could see it as though the wings were breaking off! Apparently the high moisture content of the air and the shock waves from near-sonic speed did the trick, but it was a sight a lot of us won't forget in some time!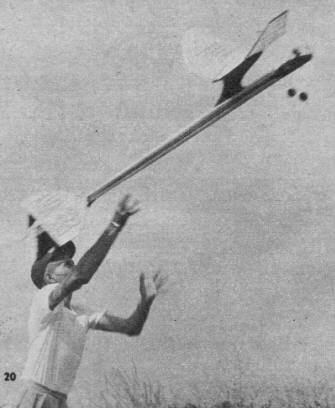 Sunday was again clear, cool and a bit breezy, but nice modeling weather nevertheless; all hands agreed it was a shame to have to quit flying again at 2:30. This day the spectators really turned out in force, estimates placing the number of people. on the field at 100,000 and even more. The Blue Angels and the Cutlass outdid themselves this time. Even to those who have seen the show many times before, it is always a new thrill to watch these jets in their beautifully smooth flying. This feeling was probably not shared by Joe Blow and his mates who were frantically trying to get in just one more contest flight! .
The traditional Banquet was omitted this year; probably just as well, since it has seemingly been on the downgrade for some time. It was thus possible to start the awarding of trophies quite early, and combined with a streamlined award procedure, the ceremonies were over and everyone out of the auditorium by the unprecedented hour of 10:30! There was the usual dazzling array of cups, plaques, mugs, etc. Of course, the last ones to be awarded were those for the National Champs, and here we saw repeats and new names on the honor list.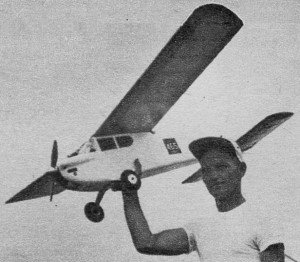 A rundown of these champs might be interesting, since it will show aspiring winners what sort of modelers these Champs are, and what you have to do to come out first in such a huge meet as the Nats. Top man this year was Willard ("Woody") Blanchard Jr., of Hampton, Va., who was also Open Champ (he took the Open honors last year, too). An aerodynamicist for the N.A.C.A., Woody feels that his modeling activities have helped him greatly in working with the big planes, and conversely, that big plane theory can be applied - with common-sense application of Reynolds Number - to his model designing.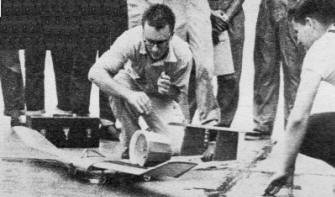 He favors outdoor H/L gliders, PAA rubber, the smaller PAA-Load categories (Half-A and Clipper), Limited rubber, and Half-A and A free flight. His wins at Glenview included a 1st (PAA rubber), a 2nd in Towline glider, a 3rd in Clipper Cargo, 5th's in Wakefield and Limited rubber, plus a couple of low places in AB PAA-Load and R.O.W. Woody started building in 1934 at age 10, and is a member of the BrainBusters Club. As a staunch supporter of the free flight categories, he feels there should be more kits for contest-type free flight models, and hopes sometime to try his hand in this field.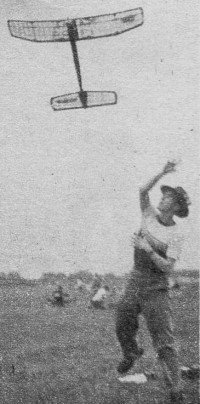 The Senior Champion, Bob Gelvin of Topeka, Kans., says he used to sit by the hour and watch big brother Dick build planes; by the time he reached seven, he was buying 25¢ kits at a rate of one a week; they were rarely finished, though, as he usually lost interest in the one under construction, and bought a new one.
When Dick returned home from war service, he opined that Bob had improved enough to try a model that would really fly, and Bob made his first model covered with Jap tissue (he had always used wrapping paper before!).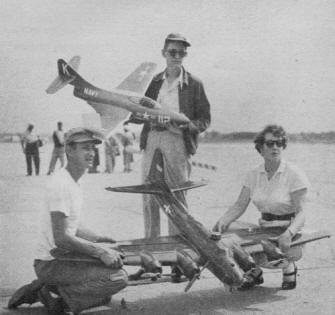 He entered his first contest in 1946, built his first gassie the next year. His first Nationals was in 1948, where he took firsts in A gas and H/L glider - and he hasn't missed a Nats since. Bob is another enthusiast for free flight models of all types, preferring Class A models (he has won Nats Jr. A once and Sr. A. three times); he also favors PAA-Load and R.O.W. He has tried U-control, but didn't care much for it. Bob won his title this year (he was Junior Champ in 1948) with 1st in Class A gas, 4th in AB PAA-Load, 5th in Half-A F/F, and some low points in B gas. Bob builds about four models each summer, many of them of his own design. He is currently getting much interested in R/C-like Woody Blanchard - and has hopes of being a jet pilot, after finishing his course at the University of Kansas, where he is a Junior.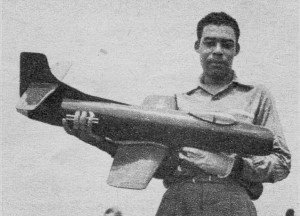 The Junior Champ, Joe White of Sacramento, Calif., turned the tables on his brother Bill this year. At Willow Grove in 1953 Joe was actually awarded the trophy, through a mistake in the listings, only to see it handed over to his brother. But in 1954 Joe was not to be denied again. As is the case with the Other National Champs this year, Joe does best in the free flight events; his wins included a 1st in Wakefield rubber, 2nd in B free flight gas, 3rds in Towline, A gas and Limited rubber, and 4ths in Indoor stick and Navy Carrier.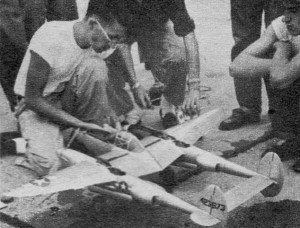 Doubtless everyone has heard of the Club Champs, the Oakland Cloud Dusters, since they have taken the title twice in the past. Rumors reached Oakland that the Detroit boys were out to retire the Team Trophy, since they too had won it twice previously. As a result, seven Dusters made the trip to Chicago - more than attended the Nats in 1952 when they were held a few hundred miles away at Los Alamitos! A model plane Team consists of five members, of course, and those other two didn't go along to compete or just for the ride - they went to help the five Team members, Manny Andrade, Joe Bilgri, Hank Cole, Joe Foster and Carl Rambo. The unsung ground crewmen were Dick Burger and Walt McNeill.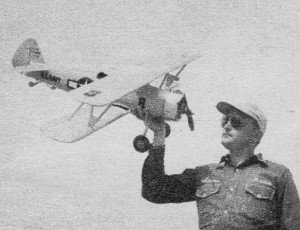 As a Team, the boys had one good event, Indoor glider, taking 1st, 2nd, 4th and 6th. Individually they feel they had one of their poorest years; among them they gathered in one 1st, three 2nd, three 4th, and three 5th places. The Club favors the FAI International events (Wakefield, FAI power and Nordic glider) and Team members entered from 10 to 15 events per person, but missed out flying in quite a few of them due to lack of time.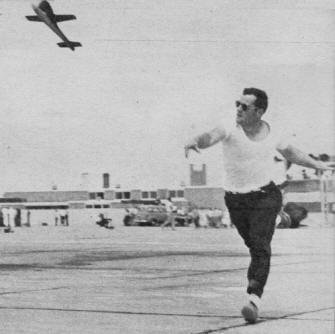 The Cloud Dusters were formed as a Junior Birdmen Chapter about 1934, but none of the original members still belongs. There are now 24 members scattered over a large area, and meetings are held twice each month, with one meeting each month being an indoor club contest; here they go for such events as H/L glider, ornithopters, R.O.G. balloon busting and paper-covered stick models. Two members of this year's Nats Team - Manuel Andrade and Joe Bilgri - have been on all three Championship teams.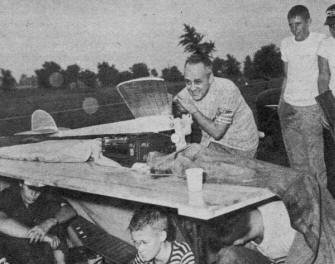 Summing up the Nats, we find most modelers agreed that the Navy and the AMA staff from Meet Director Leon Shulman on down did a fine job in general, with particular thanks to the many timers. Glenview N.A.S. is a beautiful spot (it used to be the site of a country club and part of the golf course is still maintained on the Station), but because it is on 24-hour alert free flight events had to be held at another field for two days.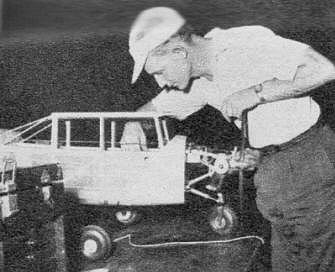 As one model flyer pointed out, the Navy has plenty of fields that can be closed down completely for a full-length Nats - so why not choose one of these? Most of the problems that arose were the result of the shortened meet period and the multi-flying sites. Plus the inevitable periods of bad weather and the fact that flying on two days was cut short by the Air Show. All hands ask that we have a full-length meet in 1955!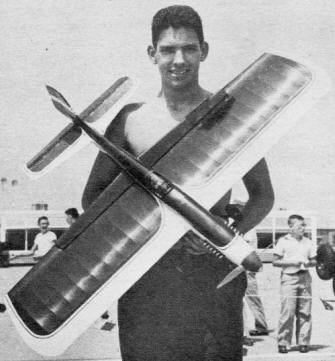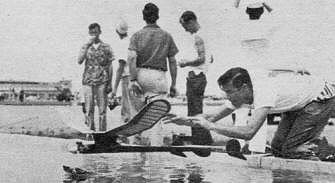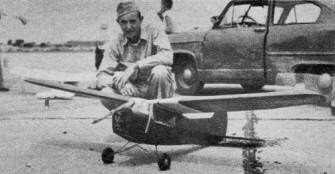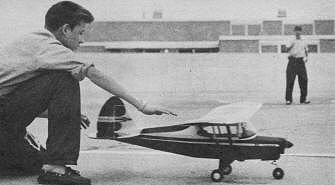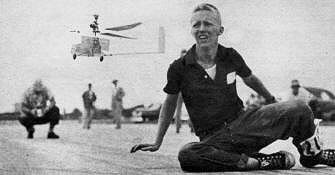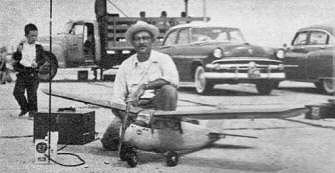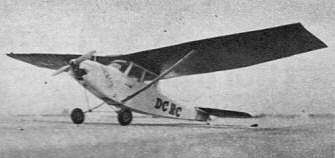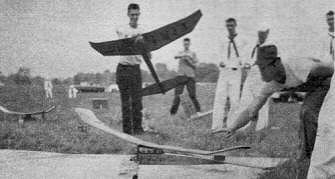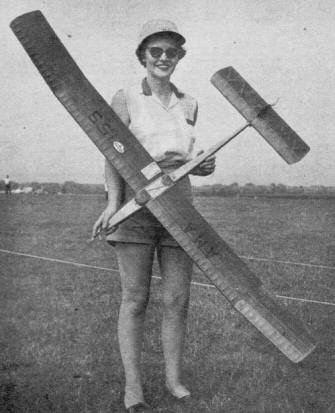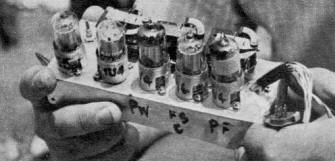 Posted November 23, 2013