It's hard to imagine a time when contemporary news on aircraft development included the Convair B−36 Peacemaker bomber. The maiden flight was just 11 years before this piece appeared in a 1950 issue of Air Trails magazine. I have always wanted to build a control line model of a B−36, but like so many other some-day projects, it will probably never get done. A guy named Joe, who lives at the end of my street here in Erie, Pennsylvania, was a B−36 crewman (I think he was a radioman) during the Korean War era. Joe is in his 90s now, and drives a Ford Mustang. Vanderbilt University professor Franklin Farra has an interesting wall-wood flying wing sailplane that he plans to fly someday. Based on the fact that there are none like it on the circuit today, the concept probably never took off (pun intended). It might make a interesting scale model project.
Development Highlights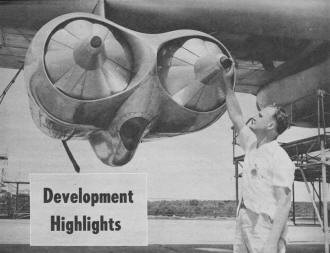 Jet pods of the production B−36s will be equipped with doors to protect the engines from foreign objects when not in operation.
Posted December 29, 2018