"On December 17, 1925, exactly 22 years after the historic flight of the Wright Flyer, barnstormer John Paul Riddle and entrepreneur T. Higbee Embry founded the Embry-Riddle Company at Lunken Airport in Cincinnati, Ohio." So states the Embry-Riddle website. Check out the 1948-era flight line filled with Piper J-3 Cubs and Stearman biplanes!
Back when I was a teenager and thought my life might be spent flying airplanes for a living - or at least as a serious hobby - my sights were firmly set on attending Embry-Riddle. Alas, funding was available, so I decided to enlist in the U.S. Air Force instead as an air traffic control radar repairman. The recruiter told me that there would be opportunity to attend college classes and earn a degree while serving, and with that a possibility of being selected to attend Embry-Riddle to earn a Bachelor's degree, then get a commission. Being assigned to a mobile communications outfit that went of frequent temporary duty (TDY) jaunts put a real damper on those plans, and I only managed to get in a couple classes before separating after my first enlistment period. Anyway, here is a little early history on Embry-Riddle's Miami, Florida location.
Embry-Riddle: An Air Trails Air Career Review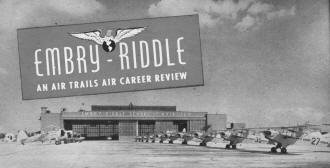 A Florida establishment is this month's subject in series on America's vital aviation schools.
The benefits of specialized training at such aviation institutions as the Embry-Riddle School of Aviation are best indicated by the fact that hundreds of pilots now flying for America's major airlines are Embry-Riddle graduates, and hundreds, of technicians in important posts in the industry are Embry-Riddle trained.
Dominating the vast Opalocka airport, a few miles north of Miami, Florida, the Embry-Riddle School looks forward with confidence to the part it will play in the future of aviation. Its past history has been marked by outstanding achievement.
The rapid expansion of Embry-Riddle with its giant training program before and during the war brought it high-caliber personnel, equipment and properties that spread from Florida to Tennessee.
The school still maintains many of these facilities - the Aviation Building and eleven acres in Miami, the famous Coliseum and a group of apartment houses in Coral Gables. The Embry-Riddle physics laboratory, shops, machinery, tools, engine-test stands, paint and dope shops and other facilities are geared to today's and tomorrow's aviation training.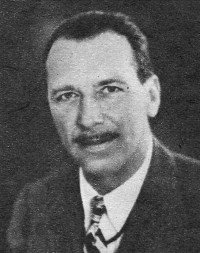 John G. McKay, president and owner of Embry-Riddle.
The Embry-Riddle School of Aviation is approved by the CAA and the Florida State Board of Education. It is authorized by the Veterans Administration for training under the GI Bill. of Rights .
Embry-Riddle is a member of the National Council of Technical Schools, a recognized accrediting association for schools giving training above the trade school level. This group includes many famous institutes of a scientific nature.
It also is a member of the Aeronautical Training Society. E-R's owner and operator, John G. McKay, is one of the directors of ATS. Mr. McKay is a Miami attorney and has been associated with the company for many years. He purchased the interests of the founder, John Paul Riddle, in 1944. John G. McKay, Jr., an Embry-Riddle trained flyer, now a pilot for Pan American Airways, is vice-president and legal adviser.
Another son, Hobert B. McKay, is assistant vice-president. Mrs. Isabel S. McKay, wife of the president, is treasurer, and supervises the student dormitory.
Ernest J. Smith, vice-president and general manager, has an aviation background that covers many phases over a period of years. During the war he was engineering officer at Riddle-McKay Aero College (No.5 British Flying Training School at Clewiston, Fla.).
The school's technical adviser is Lee Malmsten, one of. Embry-Riddle's first directors. He was granted leave of absence during the war to serve the CAA as a civilian pilot specialist.
L. David Carlton, dean of the school, has been with the company since 1940. In his capacity as dean and registrar he is in contact with students from the time they enroll until the completion of their training.
Embry-Riddle flight and technical schools function side by side. Surrounded by miles of concrete runways and occupying a huge Navy-constructed hangar, part of an adjacent hangar and large utility buildings, the school is ideally located for air and ground instruction.
Mechanic and technical training is conducted in airline-size hangars where complete airplanes are handled as practical work projects. The actual overhaul of licensed aircraft that return to flying service is an interesting and important phase during the latter months of A & E training.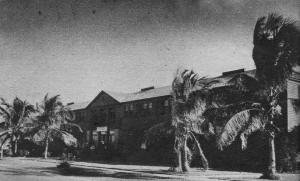 Dormitory for unmarried students is this former Navy BOQ building situated in the pleasant tropical atmosphere of Miami.
Latest equipment in classrooms, laboratories and shops assures up-to-date instruction in Combined Aircraft and Engine Mechanics, Aircraft Mechanics and Engine Mechanics. The school also offers courses in Aircraft Design Engineering and Maintenance, Aeronautical Drafting and Design, Flying Mechanic, Airplane Operation and Maintenance, Special Commercial Pilot and Flying School Operator.
This division is under the direction of Hugh Copeland, who has been an operator of technical schools for 21 years. He has been active in aviation for over 31 years and holds an enviable array of ratings. The assistant director, or chief technical instructor, is Frederic J. Dahne who has been associated with aviation for the past 12 years.
The flight division, with its backlog of more than two million hours of civil and military flying training, operates from the vast airport built to comply with U. S. Navy safety regulations. Its broad runways and well regulated traffic are consistent with the standards set by Embry-Riddle in its training of almost 30,000 pilots.
The school enjoys a very high safety record. Correct flying habits and a sound foundation on the ground to sharpen efficiency in the air is a "must" for the beginner or the commercial pilot seeking additional ratings.
The Embry-Riddle training fleet is comprised of Piper Cubs, Cessna 140's, Stearmans, BT-13's; Navions, and a Douglas that take the student from primary to airline transport training. Private pilot, commercial pilot, instrument, instructor and multi-engine students mount up hours - now well over the two million mark - in the ideal Florida flying weather.
Of immeasurable importance is the school's own maintenance department, under the supervision of George Gibbons. Directing the highly intricate system of flight training is - Robert M. Johnston, a Quiet Birdman and a pilot of many years.
Johnston was Embry-Riddle's first employee when the company started seaplane operations in Miami. General manager of that base, he later acted in the same capacity when landplane operations commenced under the Civilian Pilot Training Program. He subsequently was transferred to the Riddle-McKay Aero College as squadron commander. He remained there until the British flying training school was inactivated at the end of the war, when he returned to the Miami divisions as director of flying.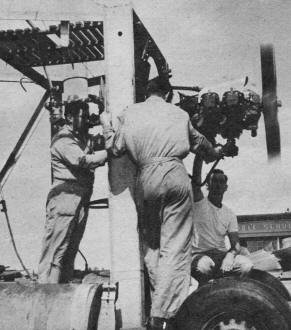 Students in Engine Mechanics courses are running up an engine on a mobile test stand .
The chief pilot is Lewis M. Smith, a perfect example of working one's way up in aviation. He enrolled at Embry-Riddle in 1942, and in due time he had earned his commercial certificate and ratings through multi-engine and was recommended as a member of the instructor staff. He continued to make rapid advancement on the line and when GI flight training was inaugurated in 1946 he was made chief pilot. He also is a CAA Examiner for private and commercial pilots and instrument ratings and is an Examiner for the FCC.
The chief pilot works directly with and for the flight students. With the application of a little psychology, he endeavors to assign a newcomer to an instructor he believes best suited to that individual's temperament. One instructor has infinite patience with the not-too-sharp, another has the ability to handle the "hot pilot," one specializes in the training of feminine students and still another works with the boys from foreign countries.
The majority of students entering the Embry-Riddle School of Aviation are between the ages of 18 and 35, with. the average age about 25. With a few exceptions, they are all high school graduates, many of whom have had some college training and a very large percentage having had previous aviation experience.
Embry-Riddle's placement record is exceptionally high. Last summer the school could have placed many times the number of students available upon the completion of their various flight and technical courses.
Ninety-five percent of the student body is comprised of out-of-state aviation aspirants - from California, Maine, Minnesota, the southeast, the southwest and the middle west. International in scope, there are young men from most of the Latin-American countries, the West Indies, the Dutch West Indies, Canada, Poland, the United States Territories and even far off China.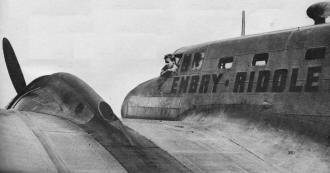 Converted Douglas B-18A used as trainer for students taking their Air Transport rating.
Young women also seek instruction in most of the flight courses and in many of the technical phases of aviation. Hundreds of the gentler sex have been trained by Embry-Riddle and gone on to good positions in the industry.
The school's dormitory is located directly on the airport and only a short distance from the training center. Navy-built bachelor officers' quarters house unmarried students. Private rooms, apartments and houses are used by those who wish to live off the airport or are married and have families. The school maintains its own cafeteria adjacent to the dormitory.
Organized sport is under the direction of the student council, which sponsors basketball, softball, tennis and other competitive games. Swimming, at Miami Beach, Crandon Park and the public beaches on Biscayne Bay, and fishing in the various waters around Miami are available to all.
Like any other school with young men and women from every walk of life and from the four corners of the globe, Embry-Riddle encourages a strong student council. The president of this/council, with his advisers, assists with problems that arise in the hangar, on the flight line and in the dormitory. He is the liaison officer between the faculty and his companions.
The story of Embry-Riddle dates back to the early 1920's when John Paul Riddle and T. Higbee Embry went into partnership in Cincinnati offering flight instruction and carrying air mail, passengers and cargo. In 1929 they sold out to what is now American Airlines, Riddle remaining with American for three years and Embry moving to California and out of the Embry-Riddle picture.
In 1938 Riddle reorganized tile company in Miami and commenced seaplane operations on the County (now MacArthur) Causeway. With the Civilian Pilot Training Program getting underway, he leased a hangar at the Municipal airport and started training students in conjunction with the University of Miami. When the Navy took over that field in 1942, landplane operations were moved to Chapman Field a few miles south of Miami.
Civilian pilot training proved so successful that in March 1941 Embry-Riddle was awarded a military contract and Carlstrom Field was opened in Arcadia, Florida. Known as the Riddle Aeronautical Institute, Army Air Force cadets received primary flying training there and later at nearby Dorr Field, which was activated the following December. In Union City, Tenn., the Riddle-McKay Company (an affiliate) operated still another AAF flying school.
In July 1941 Riddle Field at Clewiston, Fla., became headquarters for No. 5 British Flying Training School (Riddle-McKay Aero College), where nearly 2,000 Royal Air Force cadets were given primary and advanced flying training until September 1945.
In addition to CPT at Chapman Field, navy aviation cadets learned elementary-flight there under the War Training Service, while seaplane operations were devoted almost entirely to private flying.
Concurrently with flight training, the technical school in Miami trained thousands of army mechanics, civilians and Latin-American students. In March 1942 the greater part of what is now known as the Aviation Building came under the AAF Technical Training Command for the instruction of enlisted men in aviation mechanics.
This program soon overflowed into the Coliseum and several other buildings in Coral Gables. Apartments, hotels and, restaurants were taken over to house and feed the detachment.
At the same time Latin-American students, under the supervision of the State Department, came from Honduras, El Salvador, Paraguay, Bolivia, Ecuador, Chile, Venezuela, Cuba, Brazil, Uruguay, Nicaragua and Argentina.
Embry-Riddle, in addition to its training work, operated one of the most complete overhaul stations in the south. Aircraft, engine, instrument and accessory overhaul divisions were set up throughout Greater Miami and in six big hangars at Carlstrom Field.
1943 saw the retrenchment of Army technical training and the inception of technical training for the Brazilian Air Ministry in Sao Paulo, Brazil.
Shortly thereafter the returning service man and woman came to Embry-Riddle, following a contract with the Veterans Administration. Technical training, and later flight training, under the GI Bill of Rights became a major enterprise.
In July 1944 Mr. McKay, vice-president of Embry-Riddle and co-owner of, the two Riddle-McKay units, took over the interest of Riddle, who retained management only of the Brazilian division.
Curtailment of Army Air Force flying training folded the wings of Carlstrom, Dorr, Embry-Riddle and Riddle Fields in the latter part of 1944 and fall of 1945. Outstanding among these great wartime bases was Carlstrom which ceased operations after four years of record breaking achievement. This detachment alone flew over 550,000 hours, 45,000,000 miles, training over 7,500 cadets with only one fatality.
Post-war activities found Embry-Riddle flying operations, overhaul and maintenance at Chapman Field and the Seaplane Base. Technical students were at the Coliseum and the Aviation Building.
French was added to the, bi-lingual school early in 1946 when the school, under contract to the government of France, undertook advanced flying training of French naval aviation officers. This project was carried on at the Homestead Army Air Base, south of Miami, and was completed in November of that year.
This era of another expansion continued with Embry-Riddle moving in the fall of 1947 to the former Navy airport at Opa-locka. The centralization of the flight and technical schools, maintenance and overhaul departments, and the general, executive and administrative offices was then achieved.
Posted September 14, 2015