Are you an aeromodeler and does your name happen to be Carl Hermes, Rolf Hagen, Robert Dunham, or Donald MacKenzie? Were also you contesting in the free flight realm during the mid 1950s? If so, you might find yourself among these photos taken during the 1954 international championships held at the Suffolk County Air Force Base, sponsored by now defunct Convair aircraft company. All those young men are old timers now, as are the models they were flying. Maybe one of these fellows is your father or grandfather. Print out the photo and send it to him if you want to see a grown man cry. Take a close look at the last photo and you will spy none other than Lt. General Jimmy Doolittle taking part in the awards ceremony.
International Meets: Rubber Power Wakefield F.A.I. Free Flight "Gas"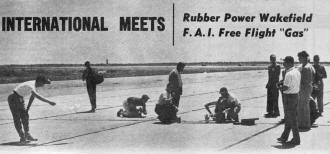 Aeromodeling's 2 top events combined last season to produce Model Olympics of the Air. Sponsor: Convair. Host: USAF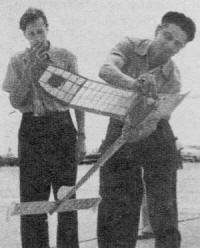 The United States won three out of four major events to take top honors in the first World Model Olympics staged last season at Suffolk County Air Force Base on Long Island, N.Y. The lone foreign victory was scored by Australia when Alan King of Victoria defeated entries from 8 other nations to win the historic Wakefield Cup for rubber-powered model planes.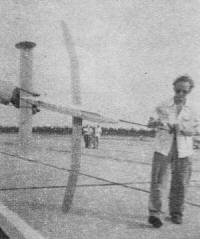 Americans won team titles in the Wakefield and also in the F.A.I (Federation Aeronautique Internationale) engine-powered contest, and a member of the U.S. team, Carl R. Wheeley of Washington, D.C., took the individual championship in free flight.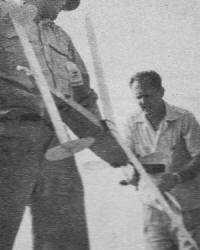 The famous Franjo Kluz Cup, emblematic of the world supremacy for engine-powered endurance models, was awarded to the U.S. power team. This trophy was donated by the Aero Club of Yugoslavia. The F.N.A. Cup, donated by the Aero Club of France, went to the American Wakefield team. Twelve nations were represented at the Model Air Olympics with more than 50 individual contestants on hand from all six continents. The competition was sponsored by Convair Division of General Dynamics Corp; the U.S. Air Force served as official host.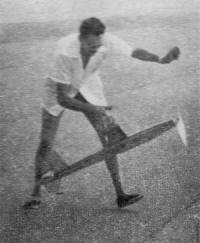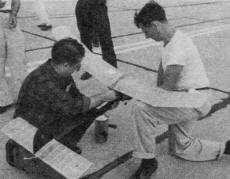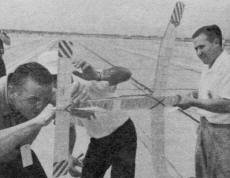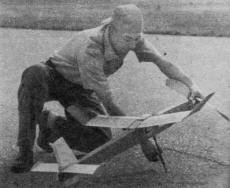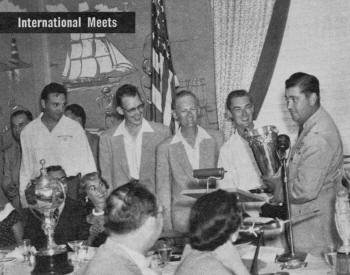 American Entrants Capture Both Top-Team Trophies
Winning United States team enjoys complimentary remarks offered by Air Force Colonel Jack Bradley as the Air Defense wing commander presents the F.N.A. team trophy at the Awards Dinner. This highly coveted group prize is given for the rubber-powered Wakefield event. Team members who amassed a total of 2,404 points were (from left) Robert DeBatty of Oaklawn, Ill. (738 pts.); Robert Dunham of Tulsa, Okla. (835); Warren Gillespie, Jr., of Hampton, Va. (771); and Richard Baxter of LaMesa, Calif. (798). At left side of table is the well-known cup donated by the late Lord Wakefield of Hythe; at the right can be seen the fabulous Franjo Kluz trophy which is awarded to the top performing group in F.A.I. power flying. This team prize also went to the U.S.A. for the 2,204 point total racked up by gas modelers Carl Wheeley, Dave Kneeland, John Tatone and Ray Lagermeier.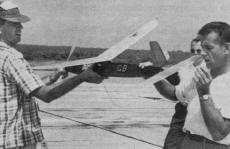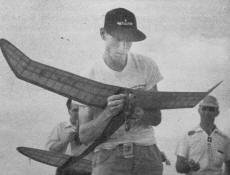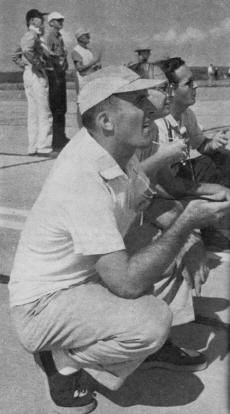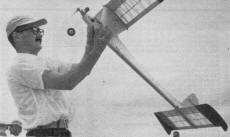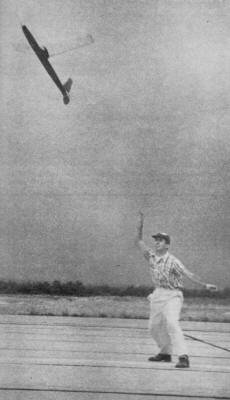 Take one good model. ship it across the Atlantic Ocean, give it to a proxy flyer by name of Hermes and here's the result!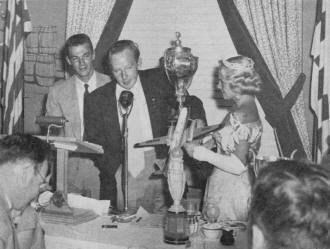 Here's the Storey:
A King and a Queen
Australia's lone entrant in the Lord Wakefield competition, Alan King (center) is crowned "king" of all international rubber powered model flying with the awarding of the famous old blue ribbon cup. Five perfect flights of 3 minutes each brought him the prized trophy. Standing at left is Keith H. Storey of Pasadena, Calif., president of the Academy of Model Aeronautics and a famous control line speed and team race flyer. Representing women in aviation as "Miss Air Olympics" was Joan Nelson of Sea Cliff, L. I., an airlines stewardess. Scene of presentation was the Henry Perkins Hotel, Riverhead, L I., following the conclusion of the two-day Convair-sponsored Model Air Olympics. King, aged 26, was three times Australian National Champ, is an industrial chemist. With a 5th place in the F.A.I. Gas event he very nearly became the first individual to score a double win.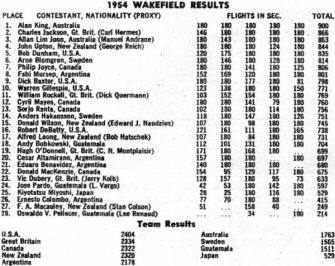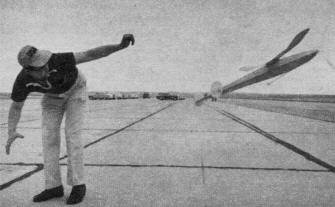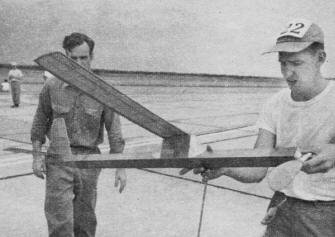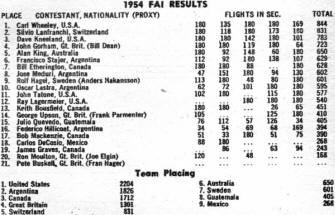 Among the celebrities from left): Thomas Lanphier. Jr., president National Aeronautic Assoc. (and V.P. of Convair, the Model Olympics sponsor): Lt. Gen. James H. Doolittle, USAF (Ret.); Queen of the Meet, Joan Nelson with Frank Lashek's F-92 Dyna-Jet control scale (from last year's AT Annual): and Keith Storey, president, A.M.A.
Posted March 23, 2014