By 1960 when this "And Aweigh They Go!" article appeared in the Annual edition of Air Trails magazine, radio control systems had advanced to where they were providing a semblance of proportional control, were smaller in volume and weight (thanks to semiconductors rather than vacuum tubes), and were more affordable and reliable. Model engines, too, were more convenient and easier to operate thank to the advent of glow fuel and glow plugs rather than gasoline and spark ignition systems. Some modelers still employed the older equipment or a mix of old and new, but the serious contenders did then as they do now by tending to go with the latest and greatest engines, electronics, hardware, and construction techniques. The model boats featured here are examples of the latter.
R/C Model Boats - And Aweigh They Go!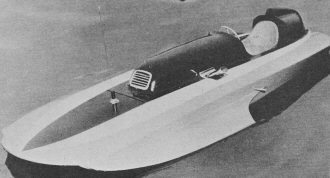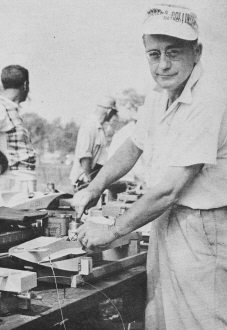 Holder of Class D record at a scorching 94.73 mph Charles Oslanci of Detroit is one of the fastest moving fellows in the world of model boat racing. Photo taken at International Regatta held in Indianapolis.
Posted January 8, 2022