Model railroading is probably as big a deal or even bigger today than it was when this "Basement Railroad" article appeared in a 1954 issue of Air Trails Hobbies for Young Men magazine. The level of engineering and artistry exhibited by model railroaders is utterly amazing. The same can be said for most forms of modeling, but the layouts created by model railroad enthusiasts trumps what you typically see for model car, model boat, or model airplane displays. As shown here, there are elaborate railroad layouts hidden away in basements, garages, and back rooms all over the world. Pitifully, the decades-long work of some modelers is lost when he passes on, and the parts are sold off in estates sales or auctions. It pains me to think of the creations that have ended up in a landfill because the inheritor did not appreciate the value of the work and equipment. Of course that happens much less frequently these days with the availability of Etsy and eBay. In fact, some pretty amazing prices are paid for vintage trains and layout components. Modern equipment has added higher quality, functionality, and reliability to the basics available in 1954. Onboard microcontroller enable control of speed, direction, whistle, lights, and other functions unique to each train and/or car on the track by sending encoded signals along the tracks. Operation of track switches, lighting, and other nifty things can be programmed for automated operation via computer.
Model Railroading - Look Out Below!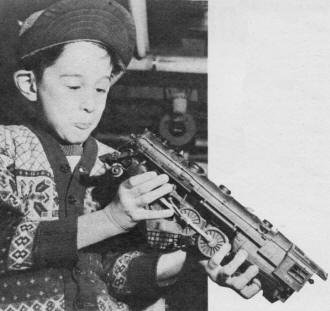 America's Basements Blossom with Privately Owned Railroads
Bob's entire life is wrapped up in railroads; he works for one, owns one, even lives on "Railroad" Avenue!
In any ordinary house the basement may still serve as either a storage place or a rumpus room, but Robert McKeand, Jr. owns no ordinary home. Rail trunk lines and spurs take up all the available floor space in his basement. A railroad man by trade as well as avocation, he works for the New York Central. McKeand gave his trains places to go; they do not run just on bare tracks, but wind their way through communities, over bridges, pull in and out of stations and freight terminals. On "streets" adjacent to the tracks there are stores, homes, vehicles and pedestrians. There is no question - it all looks real. Tracks are secured in concrete to prevent damage from vibration. The McKeand miniature railroad has grown to such an extent that its operator has assistants to help him run it. It is a prize diversion for his two youngsters and their neighborhood friends who can be found in the basement at almost any hour ready to call out the traditional "All Aboard!"
Posted October 31, 2020