Phantom Motors, out of Los Angeles, California, was one of the early manufacturers of ignition motors for model airplanes, boats, and cars. This full-page advertisement appeared in the November 1946 issue of Air Trails magazine. This particular ad had a Christmas theme, as did many of the other ads in that edition. If you do a search on eBay for vintage Phantom Motors ignition engines, not much shows up, so that probably means there were either not too many of them made, or they were not sturdy enough to survive hard landings and frequent usage so that the engines were trashed. Oh well. The $14.95 price tag in 1946 is the equivalent of $288.31 in 2021 per the BLS inflation calculator.
Phantom Motors Christmas Advertisement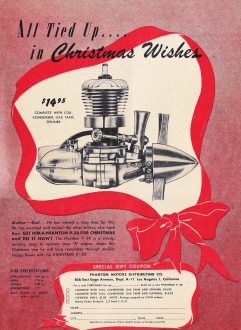 All Tied Up ....
in Christmas Wishes
$14.95
Complete with coil, condenser, gas tank, spinner
Mother - Dad ... He has waited a long time for this. He has watched and envied the other fellows who have them. Get Him a Phantom P-30 for Christmas and Do It Now The Phantom P-30 is a sturdy, reliable, easy to operate class "B" engine. Make this Christmas one he will long remember through endless happy hours with his Phantom P-30.
P-30 Specifications
Displacement .29 cu. in
Bore .715 in
Stroke .750 in
Horsepower 1/5
Rate Class "B" Under NAA Rules
Special Gift Coupon
Phantom Motors Distributing Co.
806 East Gage Avenue, Dept. A-11 Los Angeles 1, California
For a real Christmas for my ___________. Send me a new Phantom P-30
Complete with coil, condenser, gas tank and spinner, $14.95
Complete with coil, condenser, gas tank and flywheel, $15.95
Flywheel Only, $1.85 (Note: Postage prepaid on cash orders.)
Money Order Enclosed
Send C. O. D.
Name __________
Address __________________________
City ___________ Zone ______ STATE ____________
Add 3% if in California. Prices slightly higher in Foreign Countries
Posted December 25, 2021