Cox is undoubtedly was the world's largest manufacturer of ready-to-fly control-line model airplanes. Nearly all used some form of their equally famous .049 glow fuel engine. A couple used the .020 engine. Back in the 1960s through probably the 1980s, most kids who learned to fly control line did so with a Cox model - most notably the Cox PT-19 Trainer, which is the one with which I learned to fly. The other contender for control line flyers was Testors, famous in its own right for model dope, enamel spray and brush-on paint, and glow fuel, also produced a few ready-to-fly control line models. Both Cox and Testors used molded plastic construction. This advertisement from a 1949 issue of Air Trails magazine pitches a stick and tissue free flight kit for a Piper Cub Super Cruiser model. That 25¢ price in 1949 is the equivalent of $2.97 in 2022 money (a 12x increase), with is still way less that you would pay for a kit of that type today.
Testor's Piper Cub Super Cruiser Ad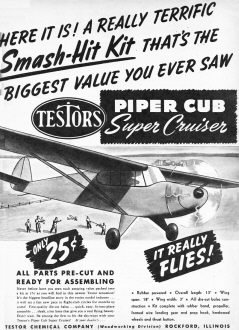 Here It Is! A Really Terrific Smash-Hit Kit That's the Biggest Value You Ever Saw
Testors Piper Cub Super Cruiser
Only 25¢
It Really Flies!
All Parts Pre-Cut and Ready for Assembling
Never before have you seen such amazing value packed into a kit at 25¢ as you will find in this newest Testor sensation! It's the biggest headline story in the entire model industry ... it will set a fast new pace in flight-club circles for months to come! First-quality die-cut balsa ... quick, easy, fit-into-place assembly ... sleek, trim lines that give you a real flying beauty. Don't wait. Be among the first to hit the sky-ways with your Testor's Piper Cub Super Cruiser! At your dealer's ...
• Rubber Powered • Overall length: 13" • Wing Span: 18" • Wing width: 3" • All die-cut balsa construction • Kit complete with rubber band, propeller, formed wire landing gear and prop hook, hardwood wheels and thrust button.
Testor Chemical company (Woodworking Division) Rockford, Illinois
Posted April 2, 2022