Maybe it is because my first R/C model airplane was a 1/2A Skylane, but I have always have a great admiration for Carl Goldberg, whose eponymously named company manufactured the kit. Sadly, both the man and his company are gone now. Mr. Goldberg, whose biology can be found on the Academy of Model Aeronautics (AMA) website, aptly summarizes his contributions in the following statement, " 'Mr. Modeling,' title given by American Modeler magazine, hailed by expert builders and beginners alike as 'Expert Designer.' Carl is typical of the many designers who have come to the top from the rank of model builders and flyers and herein represents a host of individuals with similar talents." Having previously won a few competitions and owned a hobby shop, Carl began his design career working for Comet Model Company and then went on to co-found Top Flite Models, whose propellers he promotes in this advertisement from a 1951 issue of Air Trails magazine.
Top Flite Ad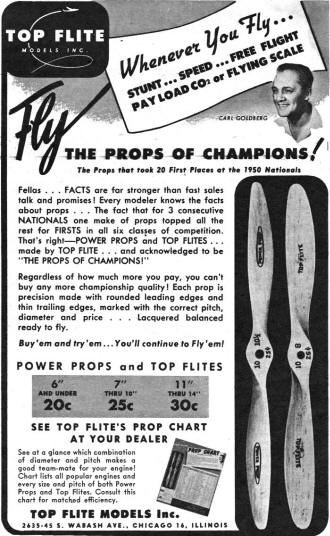 Top Flite Models Inc.
Whenever You Fly
Stunt ... Speed ... Free Flight
Pay Load CO2 or Flying Scale
Carl Goldberg
Fly The Props of Champions!
The Props that took 20 First Places at the 1950 Nationals
Fellas ... Facts are far stronger than fast sales talk and promises! Every modeler knows the facts about props ... The fact that for 3 consecutive Nationals one make of props topped all the rest for Firsts in all six classes of competition. That's right - Power Props and Top Flites ... made by Top Flite ... and acknowledged to be "The Props of Champions!"
Regardless of how much more you pay, you can't buy any more championship quality! Each prop is precision made with rounded leading edges and thin trailing edges, marked with the correct pitch, diameter and price ... lacquered balanced ready to fly.
Buy'em and try 'em ... You'll continue to Fly'em!
Power Props and Top Flites
6 " and under 20c
7" thru 10" 25 c
11" thru 14" 30c
See Top Flite's Prop Chart at your Dealer
See at a glance which combination of diameter and pitch makes a good team-mate for your engine! Chart lists all popular engines and every size and pitch of both Power Props and Top Flites. Consult this chart for matched efficiency.
Top Flite Models Inc.
2635-45 S. Wabash Ave., Chicago 16, Illinois
Posted February 21, 2020