These hand-dandy model building tips are as useful today as they were in they appeared in the 1960 Annual issue of Air Trails (Hobbies for Young Men) magazine. Readers submitted their brilliant ideas to the editor, who then created drawings and brief descriptions. I find myself doing many of the things that appear in this and of editions of the vintage modeling magazines - of course that might have something to do with my being "vintage" at this point in life (born in 1958). Back when these items were published, availability of most tools and material was nowhere near as abundant as today. IT's hard to imagine anyone nowadays making a drill bit out of a nail, but in a pinch you never know.
Workshop Tips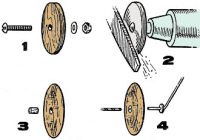 Tough, streamlined model wheels are made by David Hall, Belmont, Mass., using plywood discs and electric drill. Shape is turned using file, sandpaper. Hardwood hub completes wheel.
Instead of bolting or pinning rib stock between metal or plywood templates for shaping, Bud Walters, Midland, Texas, uses "C" clamps, changed them to opposite side during shaping.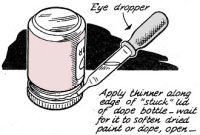 Rubbing castor oil on dope bottle threads will prevent lid sticking. Stuck lids can be loosened, says Eugene Block, Tucson, Ariz., by inverting bottle and applying thinner along edge of cap.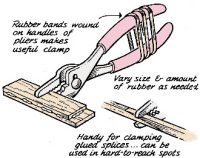 Real worthwhile idea is from Richard Hedderick, Trenton, N. J., who wraps rubber bands around handles of pliers to make them serve effectively as clamps. Long nose pliers for hard-to-reach places.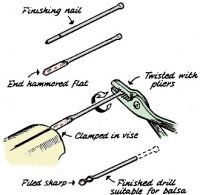 Improvised twist drill for balsa or soft woods can be quickly made from finishing nail. Flattened end is twisted, point sharpened with file. Idea from Jerry Sorrell, Olympia, Wash.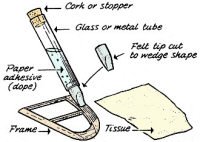 Handy dope applicator for use in covering models utilizes porous felt tip to spread adhesive evenly. Noble Carlson, Willoughby, Ohio, says tips harden after use; make several.
Posted November 20, 2021