Website visitor Mike S. wrote to request a scan of one page from this article in American Aircraft Modeler that covered the 40th AMA Nationals contest sponsored by the U.S. Navy at the Glenview Naval Air Station. Mike knew a couple of the control line guys from the Cincinnati area whose photos appeared in the article. It must be nice to see someone you recognize (or even yourself) in a decades-old magazine. That is one of my reasons for making these articles available. If you would like a full copy of one of the magazine editions you remember from days of yore, whether it be American Modeler, American Aircraft Modeler, Flying Models, RC Modeler, Model Airplane News, etc., there is a good chance you can buy it on eBay for about $5 (+ shipping). You can even do a saved search to have eBay send you an e-mail when what you're looking for becomes available.

40th AMA Nats: Control Line

By Bill Boss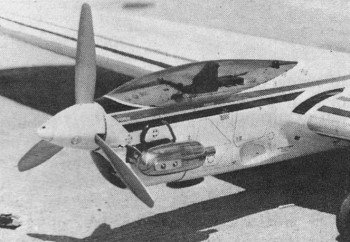 Bill Werwage's USA-1 Pacemaker, which won Open Stunt and Jim Walker trophy is S.T. 46·powered and weighs 56 oz. In best flight, he scored 470½ points.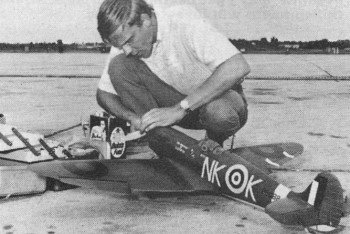 The magnificent Spitfire by Malvin Meader took over a year to build from scratch from information gathered all over the U.S. and England. Won Open Scale. Navy photo.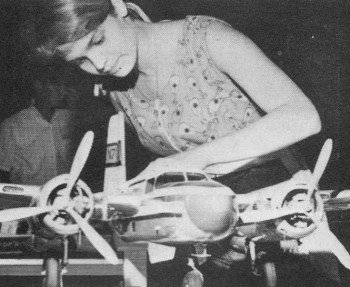 Winner in Junior Scale, Cathy Burnstine checks the details on her B·26 Invader. Color scheme is of an executive transport conversion of this WWII Bomber.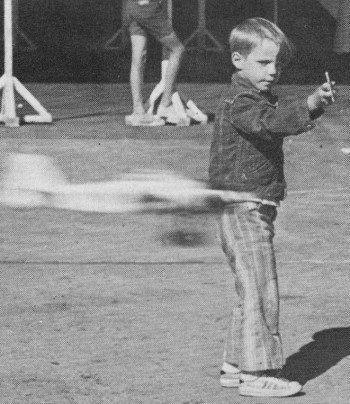 Navy's photo of the Testor's teach-the-kids-to-fly program. In a hangar with these plastic ready-to-fly models, hundreds learned to fly successfully.
Class A speed ship by Rick Wisniewski has 2'12 years of flying. This year it won A and FAI speed, setting records in each class. This was Rick's first Nats. Speed is in the family.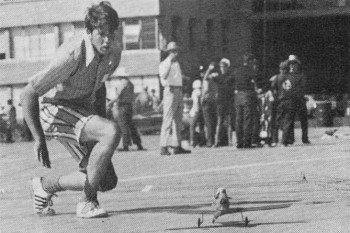 Good launching form shown by Bill O'Connor (releasing Skyshark with K&B 40 by Charles Beverson) who placed first in Senior Class I Carrier. Note, the model is already flying!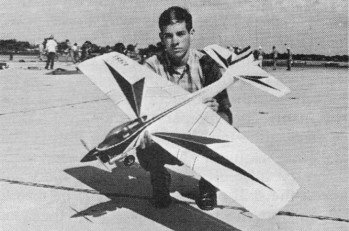 Senior Stunt winner, Mike Jackson, was also last year's winner. Plane is modified Dick Williams Electra Wing with O.S. 35 and muffler. Has 56" span and weighs 52 oz.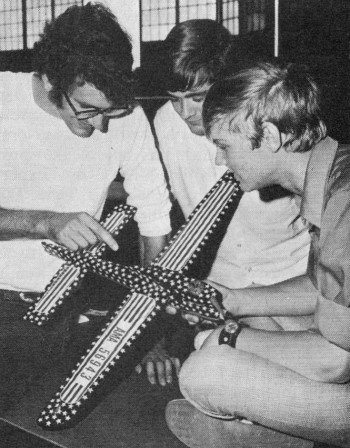 Only 596 stars on rat racer by Rick Draper. Plane placed 4th last year and has flown regularly since. Beautiful finishes are not usually found in this fast racing event.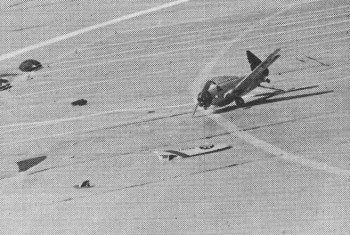 This Devastator is still being devastated, the crash is in progress. Note parts flying, prop is still turning and plane is in the air yet. Roland Baltes lost this round.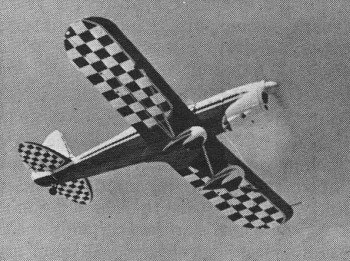 Ryan S.T. Super 200 Special is prototype Sig kit. CL model weighs 9 1/2 pounds. Flown by Mike Stott. Nearly identical model was winner in RC Scale. Beautiful finishes.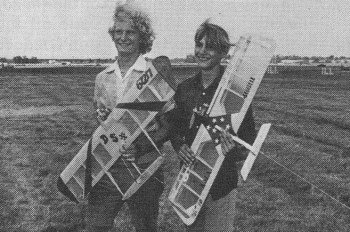 First place in Sr. Combat by Bernie Varnau with his Dinosaur, at right, and second place Dave Bush with his Motivator II. Both used S.T. 35 and pen bladder tank.
The 40th Annual National Model Airplane Championships was hosted by the U. S. Navy and run by the Academy of Model Aeronautics. This year's competition was held at the Glenview Naval Air Station during the week of July 26th to August 1st.
Why do more than a thousand airplane modelers from all over the USA enter each year? Well, to some it's a week that permits modeling friends to gather together to renew long-standing friendships. Whole modeling families attend this yearly competition as a vacation, living in motorized campers or tents. For many young model fliers it's the chance to rub elbows with the big names and to observe the techniques required to reach the winners' circle. For still others the Nationals can be the culmination of all their dreams, sweat and toil of perfecting models, and flying skills, in hopes of making it big by winning. And then there are those who go back home in defeat only to return again next year to try for that Nats trophy and the right to reign for a year as a National Champ.
Flying Scale was just that this year, with almost all contestants getting in an official flight. Not only have the control-line scale boys learned how to fly their ships, they have also greatly improved in the fidelity to scale and workmanship departments. The quality of planes was very high, making it a real chore for the judges. A considerable number of new models were entered. All incorporated plenty of operational features, bomb bay doors, flaps, lights, cockpit controls, super con-struction detail and even retractable landing gear (on Malvin Meador's winning Spitfire in the Open category). Malvin, of Suitland, Maryland, also won the Sterling Award of $100 for having received the highest static score for fidelity to scale and workmanship. Cathy Burnstine, Danville, Illinois, and John Glab, Chicago, Illinois, were winners for the second year in a row in the Junior and Senior Categories. Cathy flew a Douglas A-26 and John a camou-flaged P-51 Mustang.
The Precision Aerobatics event, more commonly known as Stunt to the com-petition flier, saw a large increase in the number of semiscale-type planes adding to the color and excitement of the event. However, the most conventional stunt designs with their fine detail and finish dominated the winners' circle. Bill Werwage, Cleveland, Ohio, took first in the Open Class, winning the Jim Walker Award, while Mike Jackson flew an excellent pattern to capture Senior Class for the second year in a row. Performance in both of these classes was superb among the finalists.
In the Junior Class, however, there was a marked contrast. Ralph De Palma Jr., Los Angeles, California, winner of the Jr. Category, did the pattern with all the professionalism of Senior and Open fliers, while Charles Retay, Parma, Ohio, did an incomplete pattern. Having been flying for only three months, Charles openly admits having had trouble doing the hourglass and four leaf clover ma-neuvers. However, as he remarked to me, "I go out in the circle and do what I can - that's all." Certainly this is the attitude and confidence that make future champs.
Approximately 140 contestants took part in the Combat event with 90 of them flying in the Open class. The matches were wild with many fliers demonstrating some real skill in making the cuts and kills. During the three day combat competition there were sufficient ZAPS (mid-air collisions) and THUMPS (dives in to the ground) to satisfy the destruction-hungry crowd. Once again Super Tigre engines and pen bladder fuel tanks dominated the scene-almost all used iron-on coverings.
The planes, however, were another story.
It seemed like all had their own designs using longer moments for better stability. Jerry Haupt, Dayton, Ohio, used a "Wedge" designed by father Jack, while Bernie Varnau, Cincinnati, Ohio, used his own design in the Open and Senior classes. Donald Morris, Euclid, Ohio, used the standard Voodoo machine to make his win in Junior.
The speed merchants were out in full force and had rumors really flying about the possible speeds that were going to be flown at this year's Nats. I heard predictions of 230 mph or thereabouts, but when the engine exhaust and dust cleared away we found that while many records fell, the speeds were only slightly higher than last year's. Danny Bartley Sr. from High Point, North Carolina, who established three records at last year's Nationals, put in another amazing performance by setting five new records - ½A Proto, B Proto, B Speed, C Speed and Jet Speed. The team of Frank Garzon and Nick Arpino, Long Island, N. Yo, took first in the Big C Speed event by turning 184.73 mph with a conventional ST-65 and a Mini-pipe. Myrle Hoyt, Newton, Iowa, set a new Jet Speed record of 185.49 mph, while Dennis McGraw, Memphis, Tennessee, captured Jr. Jet category with 137.44 mph. Other Juniors turning in record performances were Brian Pardue, Greensboro, North Carolina and Bruce Pailet, Brookville, New York, in the ½A Speed and ½A Profile Proto events,
If you enjoy flying in circles for 70 and 140 laps at a time, Rat and Scale Racing are the events for you. These fellows have great stamina holding onto a plane averaging approximately 120 mph (including pit stop) for 140 laps in the finals.
The pit crew action in the Open and Senior classes was outstanding. Fast refueling and quick starts were the key to some good times being turned in this year. Ed Wallace, Dayton, Ohio, turned in a time of 5:12:4 in Rat and 7 :25:9 in Scale Racing to take first in both Senior events. Tim Zimmer, pit man for Wallace, was last year's Senior winner. Wallace-Zimmer certainly seems to be a winning combination. Fayette Estell, Hous-ton, Texas placed first in Open Rat with a time of 5:24:5 about 12 seconds slower than the Seniors, while Dan Barker, San Diego, California, took the junior category. Scale racing Open class was won by Frank Sanders, San Diego, California. Mike Waldron of Lisle, Illinois, captured Junior. In the equipment department there was nothing really new. Super Tigre and K & B engines were most common, quick fuel fillers and all sorts of fuels were used and many had fuel cutoff devices.
While reviewing Carrier results, I recog-nized many of the winners' names, so I dug out the 1970 Nats results. Yes, the names were the same only it was a year later. Willman, Johnson, Bedard, O'Connor, Hackett, Flinn, Herron, Wright and the Sawickis dominated again this year. The only difference might have been the place won or the age category entered. The Sawickis (Richard, Robert and Marion of Wayne and Wyandotte, Michigan) took six places in the Carrier I and II events. The highest score posted in the Open events was 580.50 by Ray Willman, Normandy, Missouri, in Class II flying a Grumman Guardian. Senior high score was made by Terry Herron, Wichita, Kansas, flying a Japanese Judy in Class I, while Junior high score of 446.15 was made in Class I by 9-year-old Robert Sawicki, with his French Loire Newport.
Rossi and K & B engines are still the main power plants used, and Grumman Guardians were in abundance as usual, but there were a number of other planes representing France (Late Core), Great Britain (Fairey Fulmar and Spearfish) and Japan (Judy), all of which reached the winners' circle.
Another Nats has come and gone, the circles are clear and quiet and the smell of model fuel has left the air. Now is the time for the winners to boast about "How they did it" while the losers plan for the big comeback next year. This Nats seemed to be the greatest ever, but I am sure next year's will be even bigger and better.
Do you find it hard to imagine a 14-year·old hanging on to a 137.44 mph jet? Well, Dennis McGraw did - flew at record speed but did not post a back-up flight.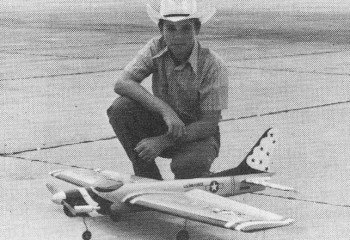 The Bob Lampione design plane used by Ralph De Palma Jr. for his win in Junior Stunt. McCoy 40 and a McCoy muffler. AeroGloss finish. A confident young flier.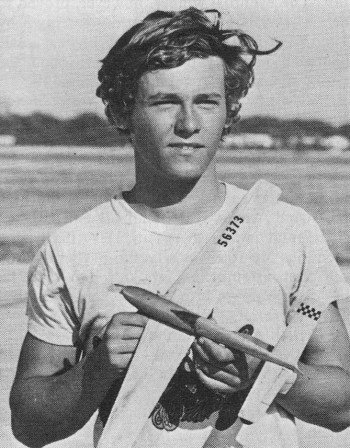 Danny Bartley holds his 1/2A Proto record setter which used a TD 049 (of course). He also set records in B Proto, B Speed, C Speed, and Jet Speed in Senior categories.
Posted October 2, 2013