Airplanes & Rockets

Carpe Diem!

(Seize the Day!)

Even during the busiest times of my life I have endeavored to maintain some form of model building activity. This site has been created to help me chronicle my journey through a lifelong involvement in model aviation, which all began in Mayo, MD ...

Webmaster:

BSEE - KB3UON

Family Websites:RF Cafe | Equine Kingdom

All trademarks, copyrights, patents, and other rights of ownership to images and text used on the Airplanes and Rockets website are hereby acknowledged.
AMA Headquarters Staff Photo, 1968

March 1969 American Aircraft Modeler
Here is a photo of the entire staff at the Academy of Model Aeronautics (AMA) headquarters in 1968. John Worth was the Executive Director at the time. Thirteen people ran the organization's administrative functions. The AMA began in 1936 and had grown to 25,000 members and 459 sanctioned clubs by 1968. In 2010, those numbers are 150,000 members and 2,500 clubs. Headquarters moved from its 1968 location in Washington, D.C., to Reston, Virginia in 1983, and finally to its current location in Muncie, Indiana in 1992. I visited Muncie in November of that year, just a couple months after the grand opening. The paint still smelled fresh, and there was a lot of work in progress. Hard to believe that was nearly 20 years ago, and I haven't had the occasion since then to visit. A LOT has changed, and I'm really wanting to go back.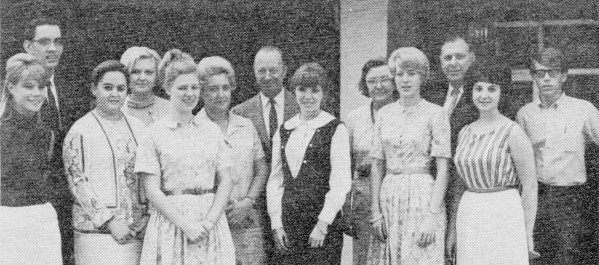 The AMA Headquarters staff, responsible for servicing over 25,000 members and 459 clubs in 1968. L to R: Helen Costello, chartered club secretary; Carl Whee ley, Publications Director; Gretchen Cantrell, membership clerk-typist; Lisa Katel, membership/film library clerk-typist; Jocelyn Cardin-ale, FAI/Contest/Records secretary; Giselle Jackson, accountant; Frank Ehling, Technical Director; Pamela Walker, membership clerk; Lucille Ward, Office Manager; Lesley McGill, Mail/Supplies secretary; John Worth, Executive Director; Dorothy Severson, addressing clerk-typist; Jim Stone-back, National Meet secretary. About two-thirds of those shown are full-time employees - most do at least two basic jobs and share several responsibilities.

Posted January 30, 2011