If you became involved with the Academy of Model Aeronautics (AMA) and its annual Nationals Aeromodeling Championships (Nats) contest anytime after 1995, then you never were part of the crowd that chased the venues around the country from year to year. Although AMA headquarters had been located in Washington, D.C., and then Reston, Virginia, prior to then the Nats organizers attempted to hold the contest in East Coast, Midwest, and West Coast areas. Doing so helped to spread out the hassle involved in packing up models and equipment and traveling all the way across the country every year. The current Muncie, Indiana, location was chosen specifically to provide a centralized spot with easy access, relatively decent weather, and with real estate cheap enough to procure a very large parcel of land. The 1974 Nats was held in Lake Charles, Louisiana, which though centrally located, is extremely hot and humid in the middle of summer. Things went well enough during the 1974 Nats, presented here, but next year, also at Lake Charles, was a miserably hot and rainy time. Nevertheless, the AMA elected to hold the Nats again in Lake Charles in 1978 and 1986. Here is a list of AMA Nats venues from 1932 through today.
AMA Nationals 1974: Control Line Scale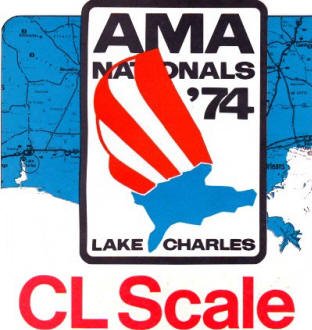 by Mike Stott
There were some new faces and new airplanes around the CL section of the scale cage this year. Most outstanding from a scale fidelity standpoint was Bill Koster's sensational Dornier DO 335A-O. Eleven years went into the construction of the push-pull fighter. Operating features included flaps, bomb drop with bomb bay doors, retracting gear with functional shocks and wheel brakes. The fine details of access doors, machine guns, dummy engines and the aluminum covering were amazing.
During research for accurate information, so much data was collected that he was able to draw his own three-views which, along with his historical material, have been published in Air Combat and other magazines.
Soon after arriving at Chennault, Bill ran across an old flying buddy, Ralph Burnstine. When Ralph heard that Bill hadn't been doing any flying for two years, he dug out an old Corsair from his car and helped out, in a typical scale flying gesture, with some practice flying sessions to get Bill ready for the big day.
The Dornier had two engines installed, but to get the CG in the right place for proper balance, the rear Supertigre 19 with an 8" extension shaft had to be removed, leaving an Enya 45 in the nose. In the flight circle, this wasn't enough power to lift the 7 1/2 lb. airplane off safely, and Bill wisely decided not to take off. Since he didn't get in a qualifying flight, the scale score was not announced, but it had to have been the highest of any scale model at the NATS. We will have to look out for him when he gets the Dornier flying.
Bright red and beautiful is the way to describe Ernie Violett's new deHaviliand Comet "88" racer. It not only ended up in first place in CL Scale Open, but took home the Sterling Award for the best scale model, any class - plus a check for 100 bucks, the only cash prize of the NATS.
The finish was polyester resin over lightweight glass cloth on the planked areas. The rib stitches on the fabric covered parts were the best I have ever seen. The canopy opens and flaps are fitted. It took two years to build the 7 1/4 lb. model, then one more year to repair and refinish after a test flight that was a success until the gear wouldn't come down. The neat, white, "Dunlop" brand name lettering on the wheels was accomplished in a simple fashion. He had a rubber stamp of the logo made and used that to imprint the tires. The Comet flew well in the gusts at Lake Charles and he took and held the lead without having to use his retract gear.
Ralph Burnstine returned with his Thorp T-18, flush riveted and with other small details included since last year, to place third. One clever trick was the way he got the trademark on the Du-Bro tires used on his model. PVC repair liquid for Naugahyde upholstery (obtainable at auto supply stores) was applied to the tire with a hypodermic needle. After drying, it was heat-treated with a MonoKote iron and literally became part of the tire - the "Goodyear" looking like it had been molded in when the tire was made. Ralph thinks that special tread designs can also be done this way.
Another returning model was my battle-scarred Meyers 145. Just before the NATS I put in a new electrical control system using insulated lines and servos to control the Webra 61 throttle, Rom-Air retract gear and flaps. Unfortunately, I didn't get it to flying as well as I would have liked, but it did go from fourth in static judging to second place in the final results by making the best score during flight judging. (Someday I will get that thing to land!)
Tom Fluker had a cute little P-40 that flew well in the wind, but he needed more options and placed fourth. Bill Rutherford's fifth-place Yak 18 was a smooth and steady performer. After a safe flight in the first round he decided to go for broke, and in the second round tried a loop. A couple of inches more and he would have had it made, but the nose gear caught the ground and ended the flight. He told me that his next maneuver would have been inverted flight. Maybe next year we'll see this!
In Senior CL Scale, Cathy Burnstine won with a Thorp T-18, almost as good looking as her dad's and with a better flight. (Ralph had some motor trouble.) Dan Arhelger flew his Spirit of St. Louis Ryan NYP to second spot in Senior. Junior CL Scale went to Bruce Matthews and his familiar Volksplane.
CL Sport Scale, in its first year in the rule book, was a great disappointment with only two entries. They were closely flown and made an interesting combination. Lew McFarland had a semi-scale Akromaster stunter and did a lot of precision aerobatics for his points. My scale Grumman Tigercat, using electrical controls and insulated lines, went the mechanical options route by dropping the gas tank, retracting the gear and using flaps, winning first.
When I proposed this event for the rule book I thought that, considering the large number of semi-scale stunters around, it would take right off. It has at local meets. Maybe next year we can have people like Al Rabe, who design their stunters more toward scale than semi, get into the act. Sport Scale, which is easier to run for contest officials and doesn't need so much detail, is really catching on in RC, and there isn't any reason it shouldn't do the same in CL, given time to get started.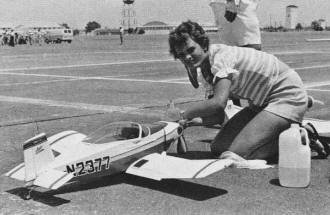 Posted October 3, 2020