Did you know that Citizen-Ship Radio was a division of Curtis Dyna-Products Corporation - the company that produced the Dyna-Jet engine? Me neither. This uniquely done full-page advertisement from a 1971 issue of American Aircraft Modeler broke the news. I'm not sure when Citizen-Ship stopped making radio control gear, but it couldn't have been too long after 1971 because they didn't appear in the model airplane magazines much after then. Cutris Dyna Products, by the way, is still in business producing fogger machines for crops, special effects, and other needs.
Citizen-Ship Radio Advertisement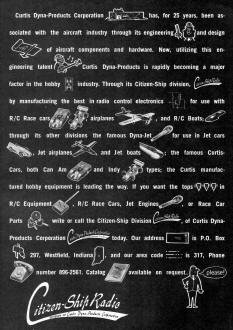 Curtis Dyna-Products Corporation has, for 25 years, been associated with the aircraft industry through its engineering and design of aircraft components and hardware. Now, utilizing this engineering talent Curtis Dyna-Products is rapidly becoming a major factor in the hobby industry. Through its Citizen-Ship division, by manufacturing the best in radio control electronics for use with R/C Race cars, airplanes, and R/C Boats; through its other divisions the famous Dyna-Jet for use in Jet cars, Jet airplanes, and jet boats; the famous Curtis-Cars, both Can Am and Indy types; the Curtis manufactured hobby equipment is leading the way. If you want the tops in R/C Equipment, R/C Race Cars, Jet Engines, or Race Car Parts write or call the Citizen-Ship Division, of Curtis Dyna-Products Corporation today. Our address is P.O. Box 297, Westfield, Indiana, and our area code is 317, Phone number 896-2561. Catalog available on request.
Citizen-Ship Radio
Division of Curtis Dyna-Products Corporation
Posted January 3, 2019