The 1971 Toledo R/C trade show as a major event in large part because of the new generation of transistorized pulse proportional radio control systems being introduced that were rapidly replacing legacy vacuum tube and some solid state reed and escapement systems. A large selection of new model designers were also offered to accommodate the lighter weight, smaller, and more highly functional radios. Fast forward nearly half a century to what will soon be the 2019 Toledo Show and you will find an incredible array of high technology electronics and airframes. Most models will be factory-built, with balsa and plywood kits being mostly extremely small or extremely large models. Glow fuel engines will barely have a presence, having been replaced by large gasoline engines and brushless motors. Transmitters are highly programmable and have no extendable antennas. 8-channel receivers are smaller and lighter than an S3003 type servo. Interference is a thing of the past. Drones dominate as a class of aircraft over fixed wing and helicopters. Onboard cameras, telemetry from air to ground is commonplace, self-flying-self-recovering-self-return-to-home-self-landing systems take a lot of the risk out of flying and learning to fly. To paraphrase the old Virginia Slims commercial, "We've come a long way, baby!" A half century from now, the same sort of then-versus-now comparison will be made regarding the crudeness of today's awesome technology.
Toledo - World's Biggest RC Show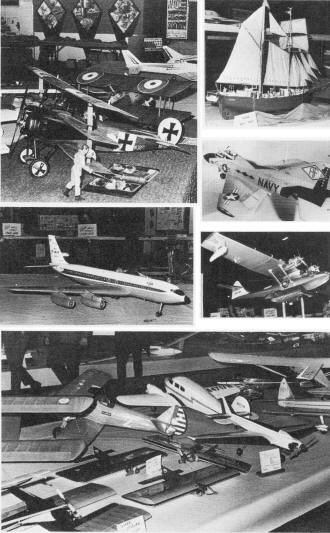 The years 1969 and 1970 must have been pretty good for our radio control model industry, considering the significant investment in new products shown at this 1971 Toledo trade show. The booths and business policies of the industry show confidence in a growing and prosperous future. Every line of equipment, planes, boats, cars, and accessories showed improvement and attention to detail.
For example, one maker showed an all-fiberglass scale Cessna Aerobat. Even the flaps, rudder, ailerons, and other small parts are molded in glass. Every line, door handle, and panel is etched into the master mold. The nose gear is vertically sprung.
In a different area, the radio systems showed investment in special or hybrid integrated circuitry. Those going heavily into servo amplifier integration have also taken advantage of the bridge amplifier circuits to eliminate center-tapped battery packs. One of the new IC chips has 31 semi-conductors. Some manufacturers offer fast-rate chargers so that a complete battery charge takes only a few hours, not the usual day and half the night. A good uniform battery pack is needed, but not special cells.
Other radio manufacturers have continued to refine their well-proven systems and designs. Changeable crystals are offered by some and one maker offers a switchable frequency option. Either of two adjacent channels can be chosen by a flick of a switch. Without question retractable landing gears are here to stay. The experts require them for polished performance, and reliability of the new units and their improved simplified installation puts retracts within the range of avid Sunday fliers. No longer is the retract unit a delicate plaything. At least four completely new retract systems were shown.
Boats showed further development in the exclusive use of fiberglass. Ready-to-use boats have existed longer than ready-to-fly planes. One now can go boating, after only two evenings' work, with a metal-flake-finished, rugged hydro. Cars also are getting the fiberglass treatment. Plastic bodies are becoming stronger through the use of more durable plastics. Dragsters are becoming popular. Flex-chassis appear to be the way to have an effective suspended GT sidewinder car.
It had been planned to have a demonstration of the proposed RC Combat rules by holding an open contest, but the wind kept the planes grounded. Gusts up to 50 mph were recorded. However, a reasonable quantity of combat models was displayed and, instead of having the combat flying, prizes were awarded to the static-display combat models for workmanship and design. Dremel Mfg. and J. K. Miller donated a Shop Tool and an Air Brush Spray outfit respectively for these awards.
The Toledo show always is operated by the Weak Signals Club. They had quite a time selecting winners in their many categories and had a full table of beautiful prizes.
The models on display were, as usual, awe inspiring. Winner of the Art Christen Award for the best model displayed by a Junior went to 15-year-old Ray Hosttler for his Dyna-Jet-powered McDonald Phantom F-4 (built from AAM plans). Both Military and Non-military Scale awards were won by Walt Mocha for his JN-4 Jenny and his Fly Baby. In Boats, awards went to Don Boke and Harold Van Horn. Best Pattern design was won by Jerry Worth; Pylon was topped by Dave Gierke. Best Car design was won by Stuart Stanfield.
Perhaps the best news of all is that next year the show area will be double the present size, but at the same place and time. Attendance was well over 8500 this year. Next year the crowded Swap Shop and display areas will be big enough for all comers. Ed Sweeney
Posted January 12, 2019