By the time these aeroplanes arrived on the world's airfields, barely a decade had passed since Wilbur and Oliver Wright made their famous flight in 1903 at Kitty Hawk. World War I broke out in the middle of 1914, and planners quickly realized the value of air power as soon as daring pilots proved the unmatched ability (by ground forces) ability to conduct surveillance and attacks well behind enemy lines. Avoiding ground fire was a relatively simple matter of flying high enough to keep out or range of bullets and rockets. However, it was not long before opposing forces found themselves battling each other high above the ground battle. Air-to-air combat had begun, proving the ruggedness of both man and machine. A time period of 1908 through 1919 is presented in this installment of "Air Progress" appearing in a 1960 issue of American Modeler magazine. Biplanes stilled ruled the day, with monoplanes being too fragile to hold up under the demands of high-G aerobatic maneuvering.
Air Progress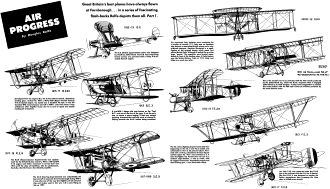 Great Britain's best planes have always flown at Farnborough ... in a series of fascinating flashbacks Rolfe depicts them all. Part 1.
1912-13 B.E.
The B.E. (British Experimental) series was designed by Geoffrey deHavilland. First B.E. had warp-wing lateral control, was powered with a 70-hp v-8 air-cooled Renault engine.
1915-17 B.E2c
Developed from the original B.E. the 2c had aileron control, cleaned-up landing gear, vertical fin. With a 90-hp RAF (Royal Aircraft Factory) V-8 air-cooled engine, top speed was a doubtful 70 mph. It was the standard RFC reconnaissance aircraft in WW-I until 1916 when it was withdrawn after frightful losses due to its lack of sped and totally inadequate armament.
1913 B.E.3
A pre-WW-I design this was known as the "bad B.E." and one of the few of the type, if not the only one, to mount a rotary engine. It had very serious spinning characteristics and did much to arouse ill feeling toward the R.A.E. before being scratched.
1917-19 R.E.8
The R.E.8 (Reconnaissance Experimental) was replacement for the ill-fated B.E.2c and 2e's. With a 120-hp RAF V-12 engine and better armament it served from late 1916 until the close of hostilities. Like its predecessors, the B.E.s, the R.E.8 had a four-bladed propeller.
1917-1919 S.E.5
The S.E.5 (Scouting Experimental) was undoubtedly the best aircraft to emanate from Farnborough during WW-I. It was also one of the very best fighters of all nationalities and makes used in this war. S.E.'s were flying as late as 1937.
Farnborough, now famous as the scene of the annual SBAC (Society of British Aircraft Constructors) displays in which the British show off their aviation wares, was, many years ago, the very cradle of British military aviation and it was here, on Laffan's Plain, that S. F. Cody, an employee of the Royal Aircraft (Factory) Establishment, made the first official airplane flight of 496 yards in 1908. Prior to this historic event the "establishment" had been chiefly engaged in producing man-lifting kites (Cody), free balloons and dirigibles, the most famous of which was the "Nulli Secundus" flown in 1907. Besides Cody the outfit retained the services of Dunne, noted designer of automatically stable, tailless aircraft. Around 1910 Dunne and Cody were replaced by the brilliant young designer, Geoffrey deHavilland, who was responsible for the B.E. serles of tractor biplanes and who later became founder of the still existing deHavilland Aircraft Company. The role of the government factory at Farnborough has often been criticized in aviation circles and it was probably due to the mounting opposition that the purely manufacturing end was abandoned after WW-I though research goes on to this day.
1908-12 Cody
The mammoth Cody biplanes were interesting for a number of reasons. S. F. Cody was an American who became a naturalized British citizen and a rule-of-thumb designer. Machine illustrated is a modification of the original design which made first official British flight. Although it looked like a rather large "pusher" the propellers were located immediately in front of the leading edge. A Cody biplane won the British Military Trials in 1912. Cody was killed in a crash soon after.
1910 DeHavilland No.2 Re-Designated as the F.E.I
This is the aircraft (not to be confused with the later D.H.2) produced by the deHavilland Co.) which the R.A.E. acquired when it engaged deHavilland as its chief designer. It takes some imagination to connect this crude boxkite with the 600 mph Comet jet airliners produced by the same famous name.
1915-19 F.E.2B
The F.E. series (Fighting Experimental) had their beginnings in the F.E.2 and F.E.3 models and culminated in the F.E.2b pictured above. Powered with a 160 h.p. Beardmore 6-in-line liquid-cooled engine the "Fee" was intended as a 2-seat day-fighter but finished the war out as a medium night-bomber, a role to which, with its rugged construction, dependable engine and oleo landing gear, it was admirably suited.
1913 F.E.3
1915-17 F.E.8
The little F.E.S was patterned after the D.H.2 (not to be confused with the D.H. No.2 shown). Like the D.H.2 it was designed to combat the Fokker monoplanes then sweeping the skies clear of Allied recon aircraft.
Posted April 30, 2022