Leroy (Roy) M. Cox built his glow fuel powered model empire by being not only an innovator and skilled craftsman, but also by possessing marketing savvy. The models originally went by the trade name Thimble Drome. This advertisement from a 1961 issue of American Modeler magazine is a prime example. Here, Cox encourages modelers to spend the money they might have received for Christmas from friends and relatives to buy some the many alluring models the company has to offer. I know that as a kid, I drooled over every Cox airplane, helicopter, boat, and car seen in magazines or in a store. A lot of the more models like the Prop Rod air-powered car, the Super Sabre F-100 jet, the Water Wizard air-powered hydroplane, and the original Super Cub 105 sell for high prices on eBay, especially if they are in new or excellent condition and come with the original boxes and accessories. These predated my flying days by about six or seven years. It would be nice to have a couple of them for display, but the budget won't justify it.
Cox Thimble-Drome Ad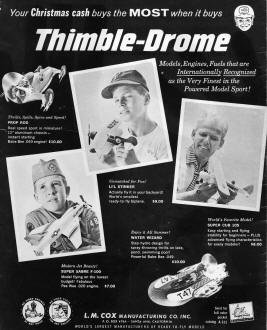 Your Christmas cash buys the most when it buys
Thimble-Drome
Models, Engines, Fuels that are Internationally Recognized as the Very Finest in the Powered Model Sport!
Thrills, Spills, Spins and Speed!
Prop Rod
Real speed sport in miniature!
12" aluminum chassis - instant starting
Babe Bee .049 engine! $10.00
Unmatched for Fun!
Li'l Stinker
Acutally fly it in your backyard!
World's smallest reayd-to-fly biplane. $9.00
World's Favorite Model!
Super Cub 105
Easy starting and flying stability for beginners - Plus advanced flying characteristics for every modeler! $8.00
Enjoy it all Summer!
Water Wizard
Step-hydro design for spray-throwing thrills on lake, pond, swimming pool!
Powerful Babe Bee .049. $10.00
Modern Jet Beauty!
Super Sabre F-100
Model flying on the lowest budget! Fabulous Pee Wee .020 engine $7.00
Send for full color pocket catalog A-161
L.M. Cox Manufacturing Co. Inc.
P.O. Box 476A - Santa Ana, California
World's largest Manufacturers of Ready-to-Fly Models
Posted November 23, 2019