This expertly rendered 3-view drawing of the Luscombe Silvaire appeared in the June 1959 issue of American Modeler magazine. Draftsman Jim Trigs provided many such detailed drawings for modeling and full-scale aircraft publications. According to this 2012 Capital Journal newspaper piece on Jim Riggs, he flew from 1953 through 2008, with 28 of those 52 years devoted to United Airlines. Being a South Dakota native, he was inducted in to the South Dakota Aviation Hall of Fame in 2012. Jim soloed in a Cessna 140 in 1953 when he was 16, then went on to log nearly 22,000 hours of flight time over his career. He flew helicopters in Vietnam, and spent decades in the Civil Air Patrol - a true aviation enthusiast. Jim left us in 1995.
Luscombe Silvaire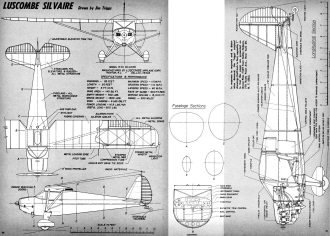 Drawn by Jim Triggs
Founded in the mid 1930's, the Luscombe Airplane Corporation pioneered the development of die-cut metal construction in lightplanes. The first successful Luscombe was the all metal "Phantom" which was equipped with a 145 hp radial engine and a $7,000 price tag. Subsequently a lighter model with a 90 hp radial engine was produced for $4,000.
First of the "Silvaire" type of Luscombe airplanes was introduced in 1937 and by 1941 had evolved into a line of slick, modem lightplanes even by today's standards.
The airplane shown in the drawings is the 1941 Model 8C1 with the 75 hp Continental A75 engine. This, the DeLuxe Silvaire model, came with de luxe upholstery, full panel, wheel pants, etc. The Model 8A was first equipped with a Continental 50 hp engine, later changed to 65 hp (Model 8A2). The Silvaire Trainer (Model 8B2) had a 65 hp Lycoming O-145 engine. Both 8A2 and 8B2 were lacking in extra equipment such as found in the de luxe Silvaire models which could be supplied with two 12 gallon wing tanks, greatly extending the range of the airplane.
During the second World War, Luscombe manufactured many different products and accessories for military aircraft. In 1945, the company expanded from its original plants at Trenton, N.J. and added a modem plant at Dallas, Texas, resuming the manufacture of the Silvaire line.
During the post war years, Luscombe further developed the 65 and 85 hp Silvaires making many small refinements over the early models.
Currently in production in Colorado by Silvaire Aircraft Company, the new Silvaire is almost identical to the 1941 de luxe model in appearance although it now sports a 90 hp Continental engine with speed of 120 mph and a 500-mile range.
Posted November 13, 2021