At some point you have probably read about an old model aircraft contest event called "PAA-Load." This advertisement for participants appeared in a 1961 issue of American Modeler magazine. As its name implies, the challenge involved hauling specific weights of "payload" aloft and vying for the longest flight. What you might find surprising is that the "PAA" part of the event title comes from Pan American Airlines (PAA, aka PanAm), who created and sponsored the activity as an educational effort to encourage youngsters to consider the necessary accommodations to efficiently and profitably transport people and cargo from point A to point B. Careful attention to airframe configuration and weight, powerplant size, propeller, wheel size and weight, covering material and finish, etc., was required to win. PanAm eventually ceased its sponsorship and, ultimately, closed its doors in 1991.
Here is a bit more on the PAA-Load event from the 1955 Air Trails Hobbies for Young Men Annual Edition.
PAA-Load Events for 1961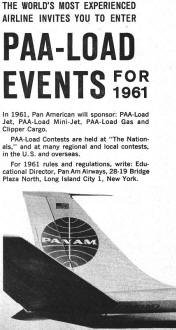 The World's Most Experienced Airline Invites You to Enter
PAA-Load Events For 1961
In 1961, Pan American will sponsor: PAA-Load Jet, PAA-Load Mini-Jet, PAA-Load Gas and Clipper Cargo.
PAA-Load Contests are held at "The Nationals," and at many regional and local contests, in the U. S. and overseas.
For 1961 rules and regulations, write: Educational Director, Pan Am Airways, 28-19 Bridge Plaza North, Long Island City I, New York.
Posted August 1, 2020