This particular page is from page 47 of the July 1957 issue of American Modeler magazine. If you can find one of these older Thimble-Drome (Cox) model PeeWee .020's on eBay in the original packaging, it will typically end up selling for $75 or more. Thimble Drome is no longer in operation.
Use the U.S. Bureau of Labor Statistics' inflation calculator to see what items cost in today's dollars. For instance, that $3.95 PeeWee .020 would be $35.19 in 2018 money - a factor of nearly 10x!
Thimble-Drome Advertisement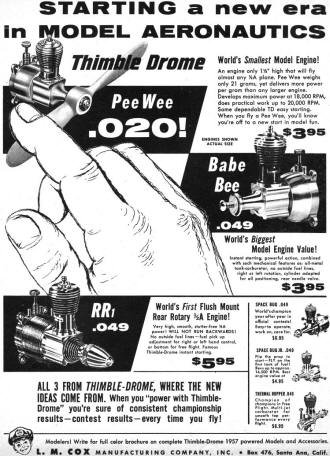 Starting a new era in Model Aeronautics
Thimble Drome
Pee Wee .020!
World's Smallest Model Engine!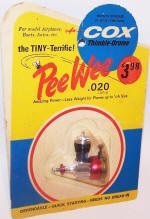 An engine only 1-1/2" high that will fly almost any 1/2A plane. Pee Wee weighs only 21 grams, yet delivers more power per gram than any larger engine. Develops maximum power at 18,000 RPM, does practical work up to 20,000 RPM. Same dependable TD easy starting. When you fly a Pee Wee, you'll know you're off to a new start in model fun.
$3.95
Engines Shown Actual Size
Babe Bee .049
World's Biggest Model Engine Value!
Instant starting, powerful action, combined with such mechanical features as: all-metal tank-carburetor, no outside fuel lines, right or left rotation, cylinder adapted for all positioning, rear needle valve.
$3.95
RR1 .049
World's First Flush Mount Rear Rotary 1/2A Engine!
Very high, smooth, stutter-free 1/2A power! Will not run backwards! No outside fuel lines - fuel pick up adjustment for right or left hand control, or bottom for free flight. Famous Thimble-Drome instant starting.
Space Bug .049
World's champion year after year in official contests! Easy to operate, work on, care for.
$6.95
Space Bug Jr. .049
Flip the prop to start - Fly on the first tank of fuel! Revs up to approx. 14,500 RPM. Best engine value at
$4.95
Thermal Hopper .049
Champion of champions in Free Flight. Multi-jet carburetor for smooth top performance every flight·
$6.95
All 3 Fromm Thimble-Drome, Where The New Ideas Come From. When you "power with Thimble-Drome" you're sure of consistent championship results - contest results - every time you fly!
Modelers! Write for full color brochure on complete Thimble-Drome 1957 powered Models and Accessories.
L. M. Cox Manufacturing Company, Inc. Box 476, Santa Ana, Calif.
Posted September 15, 2018
Posted April 11, 2010