Table of Contents
The Boy Scouts of America has published Boys' Life since January 1, 1911. I received it for a couple years in the late 1960s while in the Scouts. I have begun buying copies on eBay to look for useful articles. As time permits, I will be glad to scan articles for you. All copyrights (if any) are hereby acknowledged. Here are the Boys' Life issues I have so far.
"Be careful or you'll shoot your eye out." That is the famous line from A Christmas Story, where the plot centers around Ralphie Parker scheming to get a Daisy Red Ryder BB gun, aka the "official Red Ryder carbon action 200-shot Range model air rifle with a compass in the stock, and this thing which tells time." Although the year was not specified, the original story indicates it was during The Great Depression era, and Ralphie is shown with the January 1939 issue of Boys' Life magazine. This Daisy (founded in 1880) BB gun advertisement appeared in the December 1935 issue.
Daisy BB Gun Advertisement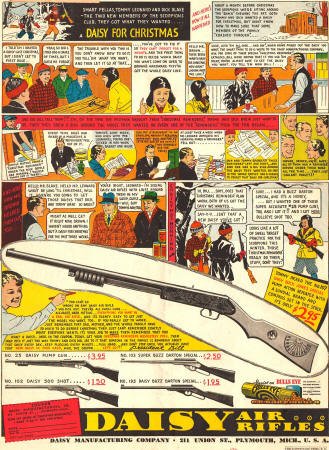 Smart fellas, Tommy Leonard and Dick Blake - the two new members of the Scorpions Club. They got what they wanted ..... a Daisy for Christmas.
You can't go wrong on any Daisy air Rifle you pick out. They're all swell guns ... accurate, hard hitting ... everything you want in a real air rifle. And it's plenty easy to get just the model you want, too ... if you really get to work. Just remember that Dad, Mothers, and the whole family have so much to do before Christmas they just can't remember exactly what everyone wants. It's your job to make them remember that you want a Daisy ... Mail in the coupon ... today ... get your Christmas Reminders absolutely Free ... then snap it into it just the way Tommy and Dick did. See to it that someone in the family is reminded about that Daisy every day.
Posted December 10, 2016