Table of Contents
The Boy Scouts of America has published Boys' Life since January 1, 1911. I received it for a couple years in the late 1960s while in the Scouts. I have begun buying copies on eBay to look for useful articles. As time permits, I will be glad to scan articles for you. All copyrights (if any) are hereby acknowledged. Here are the Boys' Life issues I have so far.

This edition of Boys' Life, BTW, is the one that Ralphie Parker is shown reading in bed in the movie A Christmas Story.
These are close-up photos of common household objects. Your mission, should you decide to accept it, is to identify each one. Most are fairly easy, but a couple are a little outdated since they appeared in a 1939 edition of Boys' Life magazine. Answers are way down at the bottom of the page.

BTW, this January 1939 Boys' Life is the one Ralphie Parker is reading in the movie A Christmas Story. In the movie, a full-page Red Ryder BB gun advertisement is shown on the back cover, but the ad was a fake made for the movie. The real back cover had a Baby Ruth candy bar advertisement.
Have You Seen Them Before?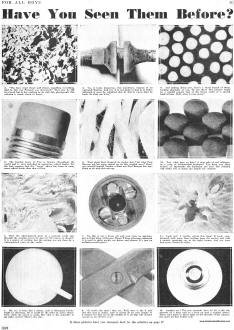 Posted December 12, 2015