Model aviation magazines have a long-held tradition of dedicating a page or two of each issue to reporting on new products. When I happen to notice an instance of the first announcement of a model, engine, radio, or device that is now in common use, I like to post it along with everything else on the page(s). This September 1967 edition of American Modeler introduced Su-Pr-Line Products' "Nyrod." That was 60 years ago! I know I have been using Nyrod and its clones for as long as I can remember, which is since at least the mid 1970s. When properly supported along its length, Nyrod results in very slop-free control surface connections. I have used it for both R/C and C/L models, and rarely ever use the old-fashioned threaded pushrods glued to the ends of wooden pushrods.
Also featured here is the Starduster 350 - a very popular line of competition free flight models.
Check List New Products

To Our Readers - You will find in this section the latest New Product Information. Write the manufacturer for more data. Say, "I read it in American Modeler."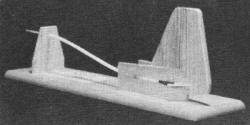 Su-Pr-Line Products / Nyrod. This comes in that area, "why wasn't it done before?" Su-Pr-Line did it now. Equip your RC ship with Nylon control rods as rigid as standard push rods and yet flexible. Line-of-sight push rod installations are no longer necessary; narrow fuselages become painless.
Check the photo of Su-Pr-Line's "Dealer Demo" rig. Note curvature and compactness.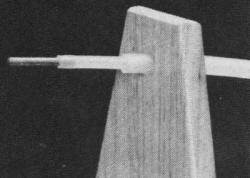 Next photo, a close-up of Nyrod's servo end, explains the operation. The section of moving rod is Nylon tubing about 7/64" OD. Its ID is such as to make a tight fit on 2-56 threaded rod, allowing for adjustment of quick-link. Push rod moves in its own guide, a length of Nylon tube about 11/64" OD; ID large enough for free movement. Guide tube must be epoxied in position at each end. It then prevents bowing and buckling under high "G" loads. Bonus - fast installation of push rod with adj. screws intact, without fishing around and through a long fuselage section. Nyrod will work in any length. They are sold in 30" sections at 95¢ and 48" pieces for $1.50. Custom lengths available upon request. Su-Pr-Line Products, 34 Copper Dr., Plainfield, Ill. 60544.
Bonner Specialties/Digimite 4RS. Bonner's Digimite 4RS (RS mean Real Small?) is compact and lightweight. For example the total airborne weight with one servo is 6 oz. and with four servos it is 12 oz. Transmitter is the standard size Bonner layout, available in left or right elevator configurations. All RC frequencies will be available too. Price to be announced. More scoop from: Boner Specialties, Inc., 9522 W. Jefferson Blvd., Culver City, Calif. 90230.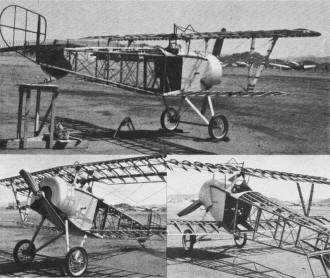 Lou Proctor/Nieuport XI. Lou Proctor, originator and kitter of that Era Plane "The Antic," is hard at work again on a new RC scale model. This time it is the Nieuport XI. In fact this one is still in the prototype stage; see photos. Kit price to be announced. Later, conversion kits will be offered to allow you to build models 17 and 23 from this kit. Ask for more info: Lou Proctor, P.O. Box 9641, San Diego, Calif. 92109.
B & N Model/Mufflers. B & N has quite a complete line of mufflers. Sizes are presently available for the following: Enya 29 IV, 35 III, 60; Fox 59; K&B, 35RC; 45RC; Merco 49,61; OS Max 58, H 60; Supertigre 45, 51, 56, 60, G 61, G 71 and the Veco 45 61. Price is $10 each with spring mount or s/less steel strap. They are finely made assemblies machined from light alloy stock and attractive in appearance. There's a one yr. warranty against defects too. Write:
B & N Model Accessory Co., 94 Cedar Drive, Plainview, N.Y. 11803.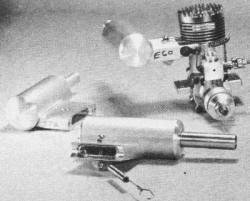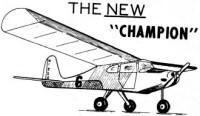 deBolt/New Livewire Champ. What can be said about the Champ? Who hasn't flown this RC model for sport or as a multi-trainer over the past 13 years? It continues to be popular. So Hal deBolt retained the design and aerodynamics but updated the structure. It's now simpler and quicker to construct, lighter in weight with all parts finished ready to assemble. No fitting needed. Trike landing gear is offered as an option. A new instruction booklet shows step by step assembly and installation diagrams of modern radio gear. As Hal says, "whole idea is to make a RC model a bit easier in all ways for the newcomer to the sport." Kit price is $18.95. Ask for info sheet and price list: deBolt Model Eng. Co., 3833 Harlem Road, Buffalo, N.Y. 14215.
More-Craft/Boat-Tote. More-Craft is now supplying the model boating enthusiast with a lightweight field box, the Boat-Tote. Adjustable, foam padded supports will fit any hull and let you work on your craft safely. Use it for drydock storage between boating sessions. There are two drawers for tools and parts and a bin for larger items. High grade ply is used in the construction. Build it yourself from the kit at $12.95 or get it assembled at $17.95. Easy to transport Boat-Tote is newest aid marketed by More-Craft for the modeler. Earlier items were the Plane-Mate all purpose field box and work stand, kit $22.95, assembled $39.95; the Tote-All tool box and model holder, kit $7.95, assembled $12.95; the Fuse-Away rack for storing four fuselages at $4.95 and the Wing-Away for holding four wings at $4.95. For info: More-Craft Products, 52 Hillsdale Ave. South, Plainfield, N.J. 07080.
Scientific/Sea Witch. Another kit has been added to Scientific's Collector's Series - the historic Sea Witch. Clipper ships were the fastest vessels afloat 100 years ago, and the Sea Witch set the records. Thousands of sq. feet of sail area drove her at remarkable speeds. The deluxe kit contains a nearly completed carved wood hull, cast metal fittings of all original hardware, sails and a wood display stand. Over 27" long and 17 1/2" high it makes a fine showpiece. Instruction sheet is well detailed and large - makes the assembly time quicker. Write: Scientific Models, Inc., 113 Mon-roe St., Newark, N.J. 07105.
Jess Krieser Plan Service/1/2A Sky Squire. Jess Krieser sells a fine looking plan. They are clean, Ozalid prints from inked originals. And the detail is there - Jess has the knowhow to do a plan right. First offering is the 1/2A Sky Squire. Wing span is 39" and the area 269 sq. in. It's an ideal size for Galloping Ghost or single channel RC flying. Price of the plan, SP-1 is $2, and that's postpaid first class mail. Same model is available in a larger version - 48" wing span and an area of 420 sq. in. Suitable for engines in the .09 to .19 size range.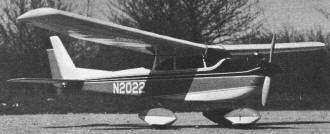 This one, SP-2, costs $2.75 postpaid. Also ready is the semi-scale Cessna Skyhawk. Wing span is 54" and the area 468 sq. in. It takes .15 through .35 engines. Price of this plan, No. SS-1, is $3 ppd. Later this year plans will be ready on the semi-scale Aero-Commander 100 and Aermacchi-Lockheed "Santa Maria." More details and prices to follow. Write: Jess Krieser Plan Service, 19024 Jonathan Lane, Homewood, Ill. 60430.
Champion Products/Widgett Multi RC Kit. Champion is entering the RC field with several new items. First is the Widgett, a multi RC design by Harold Coleson that has many contest wins to its credit. Champion plans to outdo every kit now out. They guarantee the Widgett kit to be the most accurate and complete. It will have perfect balsa, all hardwood cut to precise angles and tapers, new style nose gear and push rods. Ply nose plate will be pre-shaped with side and down thrust. All you need to finish the kit is sandpaper, razor knife, silk and dope. Price expected to be about $40.
Their special blend of fuel "Glo Go" will be sold around $6.95 per gallon, with a minimum order of 12 gals. Clean burning and hot, this fuel will not harm an engine due to special lubricants used. Also in the works-a Twin 58 and a Twin 80. Above items will be available about the time you read this. Detailed info. from: Champion Products, 5620 Peachtree Rd., Chamblee, Ga. 30005.

X-acto / Adjustable Jeweler's Saw. This new saw has a feature we like and that is - it's adjustable to take blades from 2" to 7 1/2" in length. Break a blade - you can still use the remaining piece by adjusting the saw length to fit. And who hasn't broken blades around the shop? Throat depth is 2 1/2". Price of the No. 43N saw is $3.25 with two blades supplied.
Another new set from X-acto is their No. 365C-ST Jeweler's Screwdrivers, price $1.20. This set contains three tiny screwdrivers, each complete with alum. handle, swivel head and steel blade. Blade sizes are 0.055", 0.070" and 0.100". Illustrated sheet from: X-Acto, Inc., 48-41 Van Dam St., Long Island City, N.Y. 11101.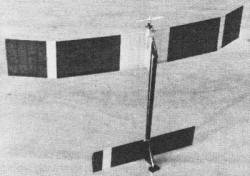 Competition Models / Starduster 350. A new Starduster has joined the stable of high performance, winning FF designs kitted by Competition. Named the 350 since the wing area is 350 squares, it has a multi spar wing and stab with flat bottom airfoils. High thrust line design suitable for .049 or .051 engines. Flying weight should be 7 oz. Wood looked good - light, 1/4 grain stock - in the sample kit. Ribs cleanly die-cut with remaining parts printed. Trailing edge and spar stock was straight. Covering material included too. Price is $4.75.

Competition also introduced a Tankmount, CM-1, for the TD 049-051 or Holland Hornet. You couldn't ask for a simpler set-up. It replaces the engine's own backplate, threading into the TDs and bolting to the Hornet. Machined of alum. and anodized, the tank has a diameter of 1 1/8" and a length of 15/16". Weight only 12 grams. Price $2.25. Write: Competition Models, Inc., P.O. Box 8012, Long Beach, Calif. 90808.
Posted October 28,2017