Today's ubiquitous presence of cameras in cellphones, worn around necks to capture entire days of activity, and compact models that fit in a shirt pocket for easy retrieval, has resulted in billions of images being captured in the last decade. You have probably seen the time lapse videos of kids and pets growing from newly born to 12 or 15 years old after daily pictures had been snapped. Nobody from this time forward will have any problem finding a visual record of him/herself. In the 1960s, the only people who had the benefit of photographic progressions of their lives were the famous and those who had parents or friends with a camera obsession. Übermodeler Nick Ziroli belonged to the first group - the famous - and deservedly so. Born in 1939, Nick would have been around 30 or 31 in this photo of him holding his SE-5 biplane. He has designed, built, and flown a huge number of scale models in his lifetime. His son, Nick, Jr., is filling Dad's shoes to keep his father's legacy going. Scale model meets are one of the few places these days where you can see model aircraft an be pretty sure the pilot built his craft. At the time of this Poughkeepsie IBM Radio Control Club meet in 1968, most people built their own models regardless of type.
Crosses and Roundels
World War 1 Contest at Cole Palen's aerodrome was a rousing success.
Bill Coons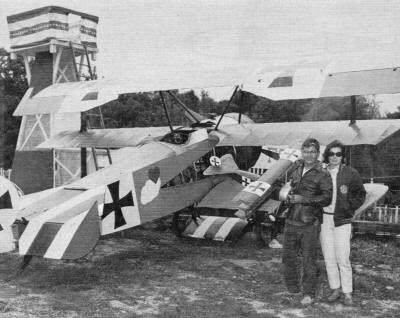 The large and small of it: Lou Perretti and wife Nancy with this true-scale DR-1 Fokker Triplane. S.T. .60 RR, Logictrol, and flies like the big one. Lou probably flew more than anyone else, too.

The action was at Cole Palen's W.W.I airport, where the boys from the Poughkeepsie IBM Radio Control Club on Sept. 23 staged a one-day affair destined to become an annual event. Scale ships by the carload kept pouring in from allover the northeast for the first RC scale contest devoted exclusively to W.W.I aircraft.

It was without doubt the finest collection of vintage model aircraft ever assembled at one time. The authenticity and attention to detail were truly amazing, and as each contestant flew his turn, the applause seemed to place it far above the usual stunt pattern event seen at most contests. This is real spectator sport.

The landing strip was scale to the extent of real stones, rough ground, and a rock or two. Only the large scale wire wheels made it possible to take off and land safely. Several events were offered and most contestants flew in more than one. Included were: scale, W.W.I maneuvers, team dog fights, balloon busting, bombing and landing skills. The Endicott Aeroguidance Society boys made a clean sweep in the victory column. The Poughkeepsie club was host and did not compete.

First in scale was Bob Noll, with his Nieuport 27. Bombing and landing skill prize went to Jim Hoover who also placed first in W.W.I maneuvers. The prize for the youngest entrant went to Hale Wallace.

Nick Ziroli's Morane Saulnier turned out to be a real balloon buster. He hit it twice and succeeded in carrying it off for some distance still inflated. Tom Wensel won the worst crash award. Still it wasn't beyond repair.

The real show stopper was the mock aerial dog fight between Hale Wallace's Bristol Bullet and Jim Hoover's Halberstadt. At times they seemed to abandon all thoughts of self preservation and concentrated entirely on making the kill, sometimes only a whisper apart at the breakaway. A real crowd pleaser.

Dick Allen, the contest director, Bruce Blake, and Ed Lorenz, to mention a few, can take a curtain call for this one.
Nick Ziroli's magnificent SE-5. Careful attention to detail makes it special. It has the same number of ribs as real one.

Destined soon to be a kit by V.K. Models, the Nieuport 27 by Vern Krehbiel is true masterpiece of modeling - excellent flyer.

Pilot is "done in" after Tom Wensel's D-7 won the worst crash award.. Wish Snoopy "The Red Baron" was there to see it!

The Sopwith Triplane with S.T. .60 and ACL radio flew exceptionally well for Bill Underkofler. Lots of ailerons!

RC Columnist Howard McEntee, left, with Cole Palen, who operates the Rhinebeck Aerodrome. He restored the many real WWI airplanes at the field, and put on a real WWI show on Sunday flying those fabulous antiques. Bob Noll, scale winner, on right.

Left to right: Jim Hoover, flying a tough Halberstadt, won the bombing and landing skill event. Bob Noll, first in Scale with a Nieuport 27. Hale Wallace conquered Hoover with a Bristol Bullet in the Dog Fight contest. Many great WWI models were shown and flown. Germany, with most planes, would have won the game.

Joe Tschirgi entered this outstanding Fokker D-8. The camouflage pattern is correct in shape and location of each patch. Hectagons of individually dyed Silkspan! Digimite 4RS on 72 Mhz.

Photographs by the author

Lou Perretti's Fokker caught an instant before bursting the balloon in that event. It has lots of flying surface area.

Ralph "Von" Jackson entered a Fokker D-7 equipped with ACL gear and a .60 engine. The model appears to be true scale in its dimensions, but construction simplified.

Ralph and his daughter came to the event dressed in the clothing of WWI vintage - goggles, boots, and all. It takes plenty of time to rig these planes, as this picture suggests.
Posted September 27, 2014