The North American B-25 Mitchell twin-engine, medium bomber was named in honor of General William "Billy" Mitchell. Its maiden flight was made on 19 August 1940, which was only a few months before this edition of Flying Aces would have gone to press, so the editor had to make a few educated guesses as to its specifications and features, especially since back in the day getting official numbers would have been very difficult. This was breakthrough design with an all-metal airframe, tricycle landing gear, twin vertical stabilizers, and a full cantilevered wing, not to mention the tail turret.
North American B-25 Bomber
The Plane on Our Cover
At this writing, there is very little information obtainable concerning North American's B-25 Medium-Bomber. However, it appears to be a development of the NA-40 which was presented in "Modern Planes Album" some months ago. And because of this lack of information, we find it necessary to draw upon deduction for details.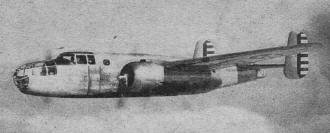 First off, probably the most interesting and important feature incorporated in the B-25 is the use or a tail turret. RAF bombers for years have had this type of protection, but when all-metal ships became the vogue, America seemed to drop the idea. One of the few U. S. bombers equipped with a tail turret since the days of the old Curtiss B-2 Condor is the Consolidated B-24, 26 of which were recently ordered by the British.
The B-25 is an all-metal, full-cantilever mid-wing monoplane, carrying its bomb load in special bays within the fuselage. The mounting of the engine nacelles is exceptionally interesting. They are slung almost entirely beneath the wing, with just a small fillet portion above. The undercarriage retracts directly into the nacelles and is housed in by folding.
Apparently, a crew of either four or five is carried. This would include a nose gunner, a tail gunner, a pilot and co-pilot, and possibly a radio man-bomber.
After our cover went to press, incidentally, North American requested that we change our cover line from "B-25, Fastest Medium-Bomber" to "B-25, Fast Medium-Bomber."
Posted August 29, 2015