These modeling tips might be over 70 years old, but the content is as relevant as ever. For example, it is still good practice to store your paint and dope jars and cans upside down since doing so seals the lid/jar interface so that air cannot enter and ruin the contents. Miniature brass and aluminum washers can be made by poking a needle through the sheet and then using a paper punch to cut the outside rim. Flying Aces magazine had a batch of these handy-dandy items each month.
Notes from the Workbench
By Ray Weeks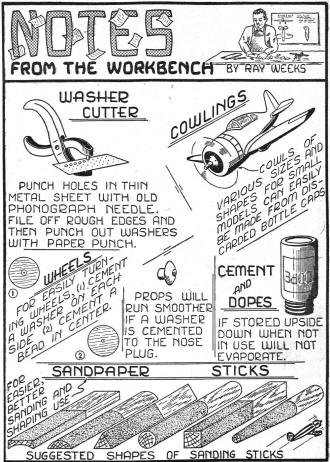 Washer Cutter
Punch holes in thin metal sheet with old phonograph needle. File off rough edges and then punch out washers with paper punch.
Cowlings
Cowls of various sizes and shapes can easily be made from discarded bottle caps.
Wheels
For easily turning wheels, (1) cement a washer on each side (2) cement a bead in center.
Props will run smoother if a washer is cemented to the nose plug.
Cement and Dopes
If stored upside down when not in use will not evaporate.
Sandpaper Sticks
For easier, better sanding and shaping use sandpaper sticks.
Posted September 12, 2015