Airplanes and Rockets website visitor Michael M. wrote to request that I post this article, along with the ones for the Satellite 1000 free-flight champion, and one on covering with Mylar. His reason was that he wanted to get his flying team back together again in Bill Hunter, who passed away recently.

This article reports on the November 1972 San Valeers Annual contest. As the title suggests, it was attended by the big players of the day. Although not an "invitational" type like the Top gun R/C competition of today, the wheat was separated from the chaff by the entree fees: $50 for each class - huge for 1972! ($271 in 2011 dollars). Master builder/flyer Bill Hunter won 1st place for the Night Flying event, and 2nd place for Class C and Class D events. Bill's father, Bob, who designed the Satellite series of models, was there and tied son Bill for 1st place in Night Flying with a time of 12:00 - to the second! So, was the exact performance due to the airplane or the genes of the two fliers? I'm guessing both.

See the e-mail that Mike Schwartz sent regarding the Satellite series.

Model World

The Giants of Free Flight

By Bill Hunter Photos by C.P. "Lucky" Moody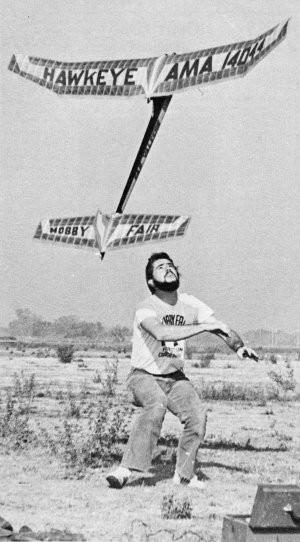 An old but potent Johnson 35 pulls Bob DeShield's "Hawkeye" aloft.

The San Valeers Annual (November 1972) was a very special meet. In terms of events and prizes, it was the biggest club-held Free Flight Contest ever, but there was more still. This contest had something for everyone. Twenty-seven events filled the Free Flight bill with 80 trophies and a half ton of merchandise. All Gas events were (J) (SO) with Hi Time Junior receiving a K&B 40 RR. Team competition was encouraged by trophies through third place team. Power, Non-power, and Overall Grand Sweepstakes trophies were presented. FAI events were directed by Bob VanNest and the S.C.A.T. Club (Southern California Aero Team). Old-Time classes were handled by Bruce Chandler and the S.C.I.F. Club (Southern California Ignition Flyers). They both did a great job! Thanks to both clubs for your cooperation. A special Commercial (foam) HLG class was flown just before the end of the meet for AMA contestants and spectators alike (J) (SO).

Blended in with our regular events and using official contest times was a money jackpot for each event. The highest time recorded by a jackpot entrant won the loot regardless of his placing in the event itself. Then to top it all off, the "Gold Coast Eliminations" for the big Gas classes, "C" and "D." The Gold Coast Eliminations were offered for those who felt their ships were hot enough for some real competition. After all, what better way to prove confidence in a particular design than to raise the stakes! The entry fee? "Fifty dollars each class." The fee had to be posted before official flying began for the day.

Our events originally were split up equally over Saturday and Sunday, but due to a very unexpected rainfall that lasted all of Saturday, the CDs, Chuck Thompson and I, were forced to post-pone Saturday's flying until Sunday, and change to Cat. II. Rain stopped at 6 pm Saturday and Night Flying started at 7 pm.
After an official flight, Schwartz's plane dethermalized right onto the flag pole at the officials' tent.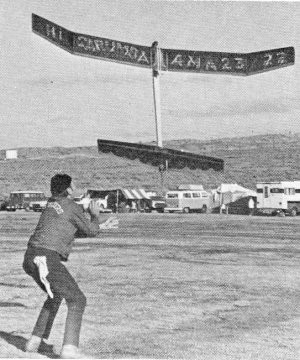 Open spaces needed when flying the big ones. Ralph Prey releases the colorful "Hi Carumba " 1200 with its screaming ST 56.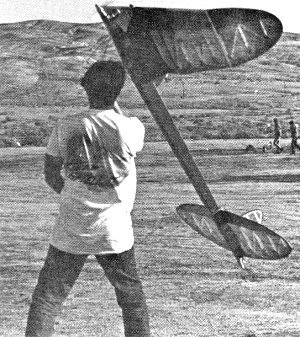 Mike Schwartz releases the Class C-D record-holder, a Satellite, with an ST 65. Design was published last year in AAM's May issue.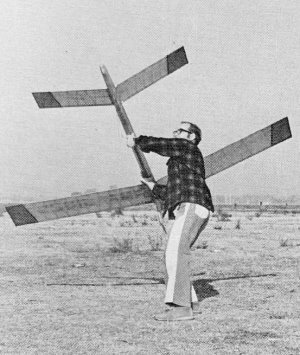 Carl Taylor is known for his canard design flown in many sizes.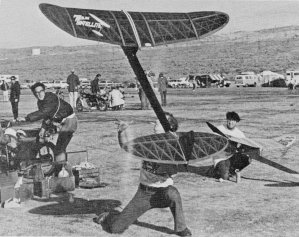 Team Satellite member Hulan Matthies sends his Rossi 60-powered Satellite 1300 aloft.
For those who have never seen Night competition, I can tell you it's the greatest. To hear a C or D class engine roar to life in the dead of night, then to watch the big job disappear into a black sky with only one or two pen lights for visibility, is breathtaking. A ship must be well trimmed for this event. There is no room for adjustments from one flight to the next. Class C and D ships are most often flown in night competition as they are least affected by the added weight of batteries, and because of their size they have more inherent aerodynamic efficiency. Be sure your ship is well doped or use Mylar -"A wet bird never flies at night!"
Unlike daytime flying, the air stabilizes after sunset. In other words, there is no help from big thermals. It's almost like flying indoors. Everything depends on a consistent climb and very low sink rate in the glide portion of the flight.
Official flying began Sunday at 7 am and was to last until 4 pm. Maxes came fast and furious from the start and, before the day's end, 451 maxes were re-corded.
C and D competition was well represented by all the top California modelers. Jerry Dyer of Canoga Park (San Valeers), was quick to max out in D with his Torp 41-powered "Star Duster 900," and just for good measure put up a fourth max to take the early lead before switching to another class. Jerry was flying for the sweepstakes awards and had to move fast as all his events were being flown that day.
Mike Schwartz; also of Canoga Park (San Valeers, Team Satellite), began flying his ST-powered "1300 Satellite" official a little later and didn't quit until he had racked up six straight maxes taking the lead in D.
Bob Vinson of Costa Mesa (SHOC) was next to post three maxes. Lee Hunt of Canoga Park flying a K&B 41 on the business end of his "Condor 800" was stopped by an overrun on his fourth flight. Mel Schmidt of LaHabre (SHOC) powered his "Shocer Design" with an ST 46. The ship goes well.
Ralph Prey of Inglewood (San Valeers) had his beautiful mylar-covered 1200. sq. in. "Hi Carumba" trimmed perfectly. A pacifier burst on his second flight at five sec., but he still only dropped 44 sec. on the flight. From a VTO an engine cutoff would be disastrous for some ships, but Ralph pulled out right on top. He went on to max on his third flight.
Bob Hunter of Arleta (San Valeers Team Satellite) with his "Satellite 1300" ST 65 put up four maxes before hitting a hole. I flew my "1300 Satellite" to the fifth max when I had to switch to Class C as it was 2:30 and I hadn't flown any C flights.
Sal Taibi of Lakewood, flying one of his famous "Star Dusters" had five maxes on the board. Great to have you back in contemporary Gas Sal. Jim Scarbourgh of Lakewood (SHOC) and his "Texan" had four maxes and a 2:07. Walt Prey of North Hollywood (San Valeers) flew his "Series 60 Satellite 800" to maxout. Johnson 35-powered.
Bob DeShields of Canoga Park (San Valeers, Team Satellite) had a new 800, but had pacifier trouble on the third flight causing a short run. He dropped only one second on this flight. Good show Bob. Dick Myers (Gridey, Calif.) just missed his fourth flight, but did win the ST 65 raffle later in the day.
Hulen Mathies of Lomita (San Valeers, Team Satellite) had a new "1300 Satellite" for C. The ship powered by a Turning Rossi 60 flew to the fourth max despite developing a cracked rotor which drastically reduced the Rossi's power.
While all this was going on, Walt Ghio of Stockton was sitting on a substantial lead of 20:24 with his C "Witch Doctor." A hard time to beat.
I put up my first C flight at 2:45 in the afternoon and, as fast as I could, put up four more. Then decided to switch to my new 41-powered "1000 C special Satellite" for the rest of the flyoff flights being five-sec. runs. The "1000" went up for the fifth and sixth max. On the sixth max however, there wasn't time to retrieve the ship, so the 1300 was used on the seventh flyoff. A four-sec. run on this flight caused me to come down four sec. short of Walt's winning time. Unfortunately Walt hadn't entered Gold Coast Eliminations.
A great thrill of the contest is night flying. Author's model blasts into the still night with only a small penlite strapped to fuselage for visibility.
GOLD COAST ELIMINATIONS
Class "C" - Bill Hunter, Satellite
Class "D" - Mike Schwartz, Satellite
Official Contest Results

For Big Gas Classes: CAT. II
Night Flying
1st Bob Hunter, Satellite 1300, ST 65 12:00
1st Bill Hunter, Satellite 1300, ST 65 12:00
3rd R. B. McKenna, Matador 800, K&B 40 10:36
Class "C"
1st Walt Ghio, Witch Doctor, K&B 40 20:04
2nd Bill Hunter, Satellite 1300, ST 65 20:00
3rd Sal Taibi, Star Duster 900, K&B 40 17:35
Class "D"
1st Mike Schwartz, Satellite 1300, ST 65 20:10
2nd Bill Hunter, Satellite 1300, ST 65 15:00
3rd Bob Hunter, Satellite 1300, ST 65 14:04
Posted October 9, 2011