To call P.E. Norman multi-talented doesn't do him justice. Aside from being recognized, at least circa 1962, as Britain's most accomplished aeromodeler, he made and played professional violins (aka luthier), wa a wood carver, a silver smith, a sculptor, and even an artist who painted the image used on the cover of this February 1962 American Modeler. P.E. is credited with designing, building, and flying the first pendulum-operated-elevator free flight model and has designed and built many ducted fan scale jet models (long before commercial ducted fan units were available).

"P.E." - Britain's Best Designer

Britain's most skilled model plane builder is a quiet, still youthful looking fellow who just celebrated his 50th birthday.

Back in 1927 he built and flew the first pendulum-elevator fitted free flight - a rubber-driven Fokker D-7.

In '59, he chalked up another world "first" by demonstrating unassisted take-offs with a highly successful ducted-fan propelled R/C plane which later won the R/C spot-landing event of a big model meet!

His latest "Rapier" (depicted in his own painting on this month's cover) is the most advanced model of its type now flying.

He has never built or flown a control line craft.

His name is P. E. Norman and he is "P.E." to practically every British modeler.

When he's not building planes, P.E. teaches sculpture, wood-carving and silver-smithing. An accomplished painter in both oil and water color, he is a regular exhibitor at the famed Royal Academy in London. He has received numerous awards for his violin and viola playing - often accompanied by his wife, who is a concert pianist. P.E. plays on" his own hand-made violins 1

If you've been aboard the liner Queen Elisabeth, you probably admired the magnificent mural wood-carvings in the main lounges. Many of these were executed by P.E. His book, "Sculpture in Wood," is considered one of the best on the subject. Some of the most original and elegant trophies awarded at the British Nationals and other major model-plane contests have been designed and crafted by P.E.

P.E.'s model plane building started in 1925 inspired by annual visits to the famous Lympne Light Aeroplane Trials. This was a Beardmore "Wee-Bee" - a particularly unfortunate choice because of its almost complete lack of stability! This was but a minor setback to one whose earliest memories were of stories dealing with WW/1 aircraft as related by his two older brothers, both Royal Flying Corps pilots who had flown such exotic mounts as Sopwith Pups, Camels and Bristol fighters.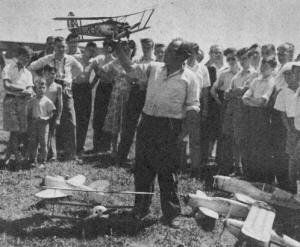 Something we didn't realize England's Epsom Downs race track attracted (above): P. E. Norman, surrounded by scale free flights and usual fascinated crowd.
Not only does P. E. play a professional violin, he makes them! Each takes about 5 weeks, after which varnishing and final finishing requires a full year.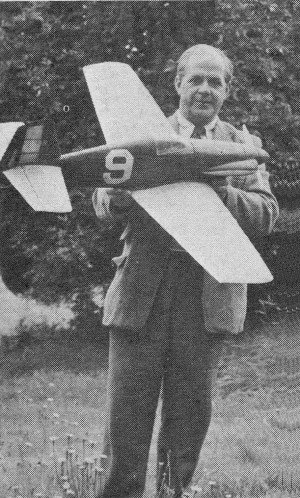 Long Midget R/C is recent, fairly rare prop job.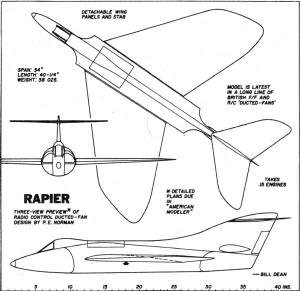 Most of P. E.'s attention these days is given to modern fighter types.
Trophy was designed and crafted by the sculpture-teacher.

Soon P.E.'s models were staying in one piece longer and turning in better flights. He was building and flying compressed-air, gas and diesel powered types, as well as rubber jobs. One thing has" always stood out on every one of his scale models - they were and are true scale, with no enlarged tail-surfaces, boosted dihedral angles or oversize props.

Right up to his present-day ducted-fan jets, P.E.'s scale free flights have always looked like the real aircraft, as well as having near-scale speeds and flight characteristics. To watch a P.E. Spitfire part company with the ground and start its climb skyward recalls the contrail-festooned skies during the Battle of Britain. Or when a P.E. ducted-fan MiG-15 whips around in a tight bank, it seems natural to look for an attacking Sabrejet.

Most Norman models still in existence are in top flying condition. P.E.'s idea of fun is to fly at least three or four every time he can get out to his usual flying field - Epsom Downs Race Track, scene of the world-famous Derby. How can P.E.'s models keep on flying year after year? They are probably the toughest, most rugged ever to become airborne.

The first flight by one of P.E.'s pendulum-controlled scale models usually results in the spectacular kind of a crash you associate with such movies as "Hells Angels!" Pieces fly off in all directions. Even hardened model builders avert their eyes. But as the dust starts to clear, P.E. can be seen busily putting all the bits back together again - snapping fasteners, replacing bands and balsa dowels.

In a few minutes he's flipping the prop for another attempt. The next crash will probably be a little less violent. Before long P.E. has it trimmed perfectly, with all the bugs ironed out!

The only time we ever saw a P.E. model badly wrecked was when one dove into (and almost through!) a car door. Yet with hardly a scratch on the model - that is, until the irate auto owner broke the plane across his knee! Like all members of the Society of Model Aeronautical Engineers (the British version of our AMA) , P.E. carries model flying insurance.

Because of the structural methods and materials he uses P.E.'s models tend to come out on the heavy side. Initial test flights are usually made under power, with unassisted ground take-offs. Many Norman models feature pendulum ailerons, as well as elevators and rudder - plus such other tricky gadgets as timer-operated retractable and extending landing gears. One memorable 1952 design was a 46" span (1/6 scale) replica of the Percival Mew Gull. Powered by an E.D. diesel of 3.46-cc (about .208 cu. in.), this free flight had an all-up weight of 50 ounces and little more than 300 sq. in. wing area. Not surprisingly, it flew at over 50 mph; gliding speed was slowed to 30 mph by wing slots. Utilizing its pendulum elevators and rudder, it could put on an impressive aerobatic performance before power cut and it settled into a stable approach glide.

P.E. considers it a poor afternoon if he racks up less than 50 flights (with several models!), so he always draws a big crowd. We remember just such a performance - back in Britain a few years ago, at one of the annual Northern Heights Gala Days at Hawker Aircraft's airfield.

Test pilots like Neville Duke performed aerobatics with both vintage and modern Hawker aircraft; big names from the aircraft industry and the R.A.F. were out in force. We even got into the act, putting on a demonstration of control line flying for the guests of honor, the Queen and Princess Margaret. But as usual the star attraction was P.E., happily launching Bulldogs, Camels and Fokkers in all directions. He usually had several in the air at one time and just kept on flipping the props, while awed youngsters did all the recovery work.

Many of P.E.'s older free flight scales are being converted to radio control; latest ducted-fan models have R/C installed from the start. One of his few prop-planes built recently is a Long Midget R/C pylon racer. P.E.'s models are often fitted with his own home-built engines. So far he's turned out 26, several without the use of a lathe!

P.E.'s early gas models in 1935-36 mounted Baby Cyclone, Brown Junior and Ohlsson powerplants, He started using the "hollow-log" method of fuselage construction for near-scale gas jobs, fore-runners of a whole breed of clipped-wing cabin models dubbed "Antspants" and "Natsneez." Several appeared in kit form after WW/2, but their wing loadings proved to be too much on the high side for most fliers."

A typical P.E. model such as his 50" span Hawker Fury Mk. II will feature separate plug-in lower wing panels, one-piece upper wing attached to a parasol mount atop the center-section wing struts, cowling formed from thin aluminum, shock-proof engine mount and a sprung landing gear, with rubber bands passing through hollowed struts.

Wing construction on a biplane like this is started by forming the outlines with 3/16" dia. reed, curved to shape and pinned in place over the plans. Bamboo spars 1/8" x 3/16" and balsa 1/8" sheet ribs, 1/4" x 1/2" leading edges and 1/4" x 1" trailing edges are then added. Reed is carved and sanded until it fairs into the airfoil section.

Fuselage construction consists of four 1/4" square hard balsa longerons, cemented to a 5-ply wood firewall and 1/16" plywood formers. Strips of 1/8" x 1/4" bamboo are bound and cemented to the longerons back to the cockpit area. Very hard 1/16" x 1/8" balsa stringers are used; the structure around the engine and wing attachment points is covered with 1/32" thick fibre sheets. Vertical triangular-frame engine mounts, cut from 1/2" thick fiber, are tapped and screwed to 1/4" sheet fibre detachable engine former.

Fiber's advantages over plywood for engine mounting are that it won't soak up fuel and is stronger. The engine former is held by a spring. In addition, P.E. uses flexible "Truflex" props, so engine damage is virtually unknown on his models. Fiber sheet is used for wing-tongue boxes, the tongues being cut from 5-ply wood. Silk or nylon covering is standard for general strength and to provide protection from trees and bushes.

P.E. is always coming up with new construction methods or new materials. For him a visit to a five and dime store usually yields at least one item such as a black plastic belt. This cut into strips becomes dummy rear braces on a "V" landing gear. He was among the first to employ metalized silver paper to simulate the "skin" of metal planes. Aluminum saucepans become radial cowls on his Fokker Triplanes and Camels. Guns and exhausts are made from painted plastic tubing.

Years before anyone used fiberglass cloth in model building, P.E. turned out cowls, wheel spats and large fairings from buckram - the resin impregnated cloth used in binding hard-cover books. He makes a balsa form, soaks buckram to make it pliable, then applies it to the form (greasing latter to prevent sticking). When "the resin in the buckram has hardened slots or openings can be cut - before or after the shell is removed from the form. The shell is dipped in clear dope several times, then strengthened by a covering inside and out of silk or nylon. Parts made by this method are flexible, yet sturdy enough to stand plenty of wear and tear.

P.E.'s ducted-fan models are a story in themselves - so their design, construction, flying and the very latest dope on efficient "fans" will be given in next A.M. There's a new world of flying fun in store with ducted-fan free flight and radio control models!

Posted August 4, 2013