West Coast AMA Nationals

November/December 1963 American Modeler
Take a look at the variety of models at the 1963 West Coast AMA Nationals and you will notice that the overall types and outlines have not really changed all that significantly for the different categories. Stunt, speed, scale, free flight, and other models, if the pictures were in color, would look like what you might see at the 2013 Nats in Muncie this years (OK, the helicopters were more crude). Only a discerning eye could spot the true vintage from the photos. Up close, there is undoubtedly a lesser degree of precision and detail on the models since competition always moves the bar higher over time. If anything betrays the era, it is the haircuts and less slovenly attire of the participants. I hate to point it out, but there's probably an average weight difference of about 20-30 pounds less per entrant - and I'm not referring to the models ;-)

West Coast Nationals

Blue Ribbon Air-Modeling

by Dick Everet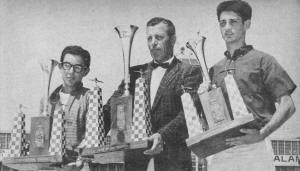 National Champs, and all Californians! From left: Tom Smyly, 15, Los Angeles, Junior (under 16 years) Champion; John Lenderman, 39, Santa Clara insurance man, Open (over 21) and Grand Champion; Dennis Bronco, 17, Lakewood, Senior Champion. Dennis was Junior Champ in 1961, is a letter man in basketball and baseball at St. John Bosco High School, Class of '64 V.P. Lenderman served in USAF, is married, has three sons, 14, 11 and 1 1/2 years old.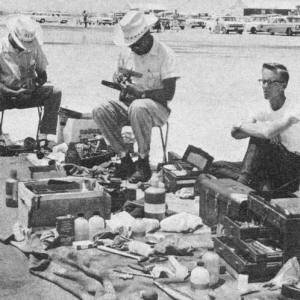 Ye Olde California Apothecary Shoppe or what it takes to fly speed at the Nats. Entrants from Fremont, Cal.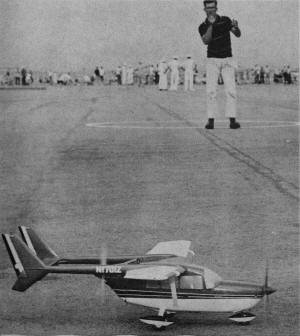 Top honors in Senior C/Line Flying Scale were taken by Bob Welch, Tracy, Cal. Cessna Skymaster is 1" to foot from "Air Progress" plans; 38" span; two Fox 15RC's.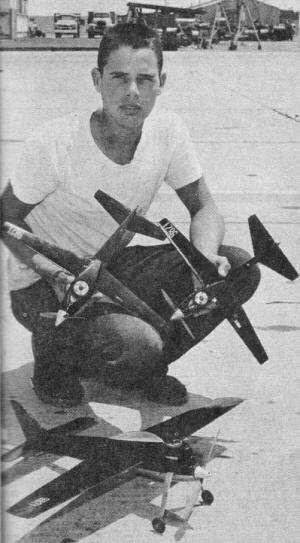 Dallas' Dubby Jett: 1st in Sr. Speed 1/2A, A (ST 15), B (ST 29), and C. Second in Proto Speed (Fox 29X). Mighty fast Texan!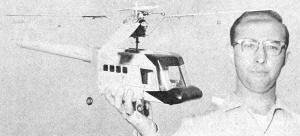 Dr. Lee Taylor, Lakewood, Colo.; original Husky Pup III helicopter with Cox 051 whirled off to first place in chopper event. Doc's a whizz with the whirly-birds.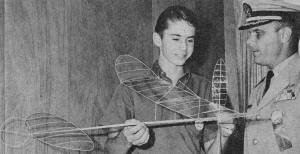 Bob Deshields, Van Nuys, Calif., shows his indoor microfilm-covered stick-type endurance job to USN's Cmdr Paul Boyer of Naval Air Training Command. Bob flew off with firsts in three Junior Indoor categories: Microfilm Stick, Cabin, Hand-Launched Glider.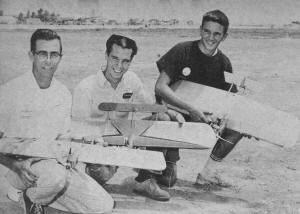 Top Combat Seniors from lt., Jerry Pearce, Pico Rivera, Cal., 2nd, Johnson BB36, Voodoo; Danny Jones, Long Beach, Cal., 1st, Johnson Combat, Egad; Art Jerome, Detroit, 3rd, Johnson Combat, Sneaker.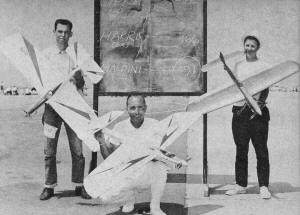 Stunt champs, from lt., Steve Harris, Fullerton, Cal., Sr., 56" original, 60·oz, K&B 45; Bob Gialdini, Milwaukee, Open, 56" Sting Ray, 48-oz, Merco 35; Gerry Cipra, Cleveland, Jr., Nobler, Fox 35.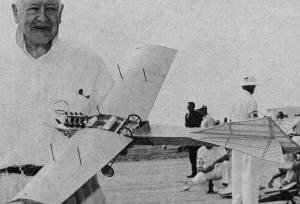 First F/F Scale: C. O. Wright's 1908 Antoinette, 30", Atwood 049, Topeka, Kansas.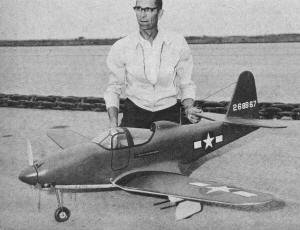 First R/C Scale: Max Hester, Des Moines, Iowa, P-63 King Cobra" Fox 59, Orbit 12-channel.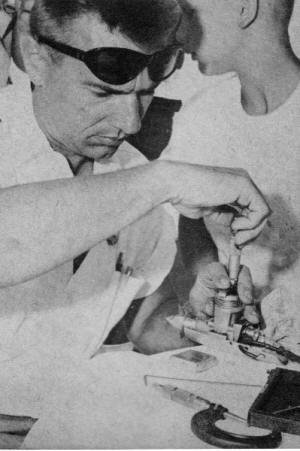 Bill Wisniewski checks displacement; California swept speed.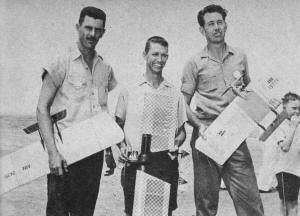 Open Combat, from lt., Howard Henry, Slaton Tex., 2nd Johnson Combat Spl, Sneaker; Billy James, Ft. Smith, Ark., 3rd, mod'ed Big Iron, Fox 35X; Carl Berryman, Altus, Okla., 1st, Big Iron, Johnson BB36.





In FAI F/F fly-off, standing, Craig Cusick (4th), Saturn III (lt.); Al Vela (3rd), Lipstick. Front, lt., Roger Simpson (2nd), JAI-FAI; Robert Cherny (1st), Hi Society.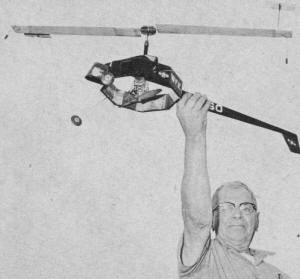 Oldest contestant, William Ellerman, Madison, Wisconsin, 3rd with original copter, Fox 15.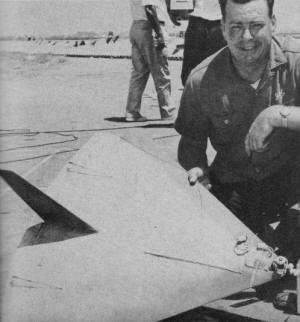 R/C Pylon Speed winner , Zel Ritchie, Westminster, Cal., Capan design, Space Control.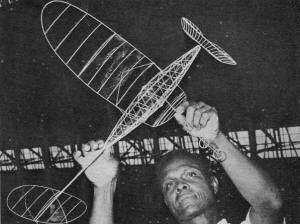 Former Nats' champ Frank Cummings with indoor cabin that set national record.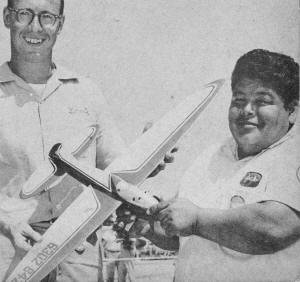 Open Class AMA Team Race champs: Bernie Tautz (lt., below), Jack Garcia; ETA 150, mod Tigeress.


From the Monday morning's opening indoor events at Santa Ana's blimp hangars thru Sunday's final outdoor events at the Los Alamitos, Calif., Naval Association, the 32nd National Model Airplane Championships saw records shattered every day. The contest, held July 29 thru August 1 drew an advance registration of 114 Junior, 154 Senior, and 707 Open Class contestants from 34 states.

John Lenderman, 39, Santa Clara, California passed the early leaders early Sunday morning to become Grand National Champion as well as Open Class (over 21) Champion. Needing at least 9 minutes in C gas to win this honor, John passed this on his 2nd max, then to put frosting on the cake - he maxed out to make a 4th flight. These 100 points were 43 more than he needed.

Dennis Bronco, 17, Lakewood, who had been Junior champion when in that age bracket, topped all Seniors (16 to 21) to become the Senior National Champion.

Tom Smyly, 15, Los Angeles, topped a field of excellent junior flyers to be Junior National Champion. This was indeed a great year for the California flyers.

Being real curious about what events John competed in, we asked him and got the following information. He flew in A-1, A-2 Nordic where he placed second, Wakefield for 1st with 25:36 - and a new National Record, Unlimited Rubber. For the gas events, B & C gas, and for control line, Proto Speed and Stunt. John had been National's stunt champion in 1952. This year's win was well thought out with some excellent flying.

In John we have a true national champion, proficient in U-Control and Free Flight - both gas and rubber. Contrary to some thinking that a champion doesn't win events, here is one who not only won an event but set a new national record while capturing a first place trophy. John is a member of the "900" Club of the Northern California Free Flight Council.

John is an insurance salesman; he's been moved from town to town in California by his company. In each community he joined or formed model clubs and has been an active modeler for 31 years.

Los Alamitos Naval Air Station was opened to the modelers early Monday morning. The huge workshop hangar was soon thriving. There were so many work benches that they were never all used. Registration was fast and easy, all indoor entrants picked up their envelopes at the Santa Ana Marine Air Base which opened real early for lots of flying.

The huge balloon dock was crowded with contestants and helpers. Models of all sizes and description filling the air. It was difficult early in the morning to find space to throw a glider. As the time went on, the place thinned out, the open winners not making any flights til late in the evening.

In the rubber powered indoor endurance events, the eventual winners just stood around and watched til almost noon, when things thinned out some then started flying their tissue jobs. It seemed that hardly any of the name flyers were doing any early flying, certainly no serious attempts.

Warren Williams started the dock buzzing when he pulled out a twin cabin model with contra rotating propellers. This model practically stopped all other flying. Everyone just couldn't believe it, they had to see it for themselves.

When the flying started in earnest, it was soon evident that it was going to take real high times, possibly record performances to win. Ed Stoll and Bill Atwood had a ding-dong battle in paper stick with Bill finally on top with 23 :22 to Ed's 23:16.

Along about 5 o'clock the big boys started breaking out their good mike stuff. Bill Atwood set an early cabin mark of 23 plus, Lew Gitlow topped this with 23:41 only to have Frank Cummings turn in 24:35 ... which looked like a sure winner. Gitlow then came back with a near record flight of 25:16. Then Joe Bilgri put in a flight of 25:26. This looked like it til Frank Cummings put up his last flight at about 7:15 p.m. for a new record of 27:43. (Incidentally, all three of these high times came with all the models in the air at the same time.) Joe Bilgri then came out for his third flight but with enough winds for a 30 minute flight the wing just wouldn't take the added strain. A new wing was put on the model and a new motor was put in but, like the wing, it just wouldn't take the power. Splat.

Meanwhile, the big mike stick jobs were eating up the time. First, some flights of 30 minutes plus were made, then it seemed like every watch had a 40 minute possibility. Joe Bilgri "hung up" in the girders or roof on every flight ... Frank Cummings had trouble hanging up ... then suddenly amid all these crumpled wings and tails, Dick Kowalski put up a perfect flight which stayed in the exact center for 40:10! The magic USA 40 Minute Circle now had two members since Tom Finch had set a national record in the FAI elims. (The 40 minutes must be done in this country since indoor modelers feel that Cardington in England is 5 to 10 minutes better than any building in this country.)

One by one, the top western flyers made a run at Dick's time. Paul "Bud" Romak coming the closest with 39:40, Lew Gitlow 37:28, Carl Redlin 35:02, but all fell short.

There seems to be one basic problem with these very light record models and that is their light structure. Most seem to take the normal forces of forward flight but if one hits on obstruction and/or tail slides downward, things start happening, tips, tails and etc. fold. They just aren't stressed for anything other than normal flight.

Meanwhile, at the other end of the Santa Ana hangar the guys with the one long arm were having a field day from a floor literally filled with modelers launching gliders. But as the day went on, the crowd grew thinner. Bob Deshields of Van Nuys posted a real good 1:10 to easily top the Junior field; William Vanderbeek whose 1:022 was second. Bob Beecroft of San Diego was the best Senior with 1:11.5, beating Bill Blanchard's 1:07. In open, the pre-contest favorite, Lee Hines, again waited til late in the evening, until 8 p.m., to post his winning 1:17.6. Curtis Stevens made his last try at about 8:45, his best was 1:13 for second. Reid Simpson of the Air Force team was third with 1:08.9.

On Tuesday the outdoor events were spread out over the entire Los Alamitos N.A.S. field. Each morning we'd get up real early after the usual wee small hours' bull session and make it to the free flight gas events soon after flying started. No matter how early it was, it seemed like some one was always going after his 3rd max by the time we arrived! Outdoor air at Los Al seemed to be real good by 7 a.m., so good that max's were the order of the day.

Ray Van De Walker flew his Stardusters to the most amazing "record" we have ever witnessed. He maxed out in 1/2A, A and B, only to goof the fourth flight in each event! We know of no one else who has ever maxed out in all these let alone flub every 4th flight. Sure was nice to see him on C day still smiling and trying. Some record.

[From outdoor gas events let's take a trip across runways to the non-gas battle. This normally took up most of each morning. From this to the R/C events held upwind from the free flights. After a stay at R/C we spent the rest of each day at U-control. When Ukie shut down came a trip back to R/C for Pylon speed flying. Friday and Saturday afternoons had been set aside for trips to the indoor FAI elims but this schedule got upset when the field was closed and all flying stopped as the Blue Angels and other full-scale aircraft landed. So indoors on Friday was passed up when it became obvious that C speed was going to be a ding-dong battle. Saturday tho we made it to Santa Ana.]

It was obvious early Tuesday morning that it would require some real good free flighting with high 4th flights to win anything at this 32nd Nats. Tom Smyly went from his winning B gas Junior on to win his championship. Gary Hover of Visalia won Senior B gas with 24:40. In Open Woody Gregory flew his Starduster to 1st place with a fine 28:25. Vic Cunningham and his Mexi-Boy were second with 25:40; 3rd, 4th and 5th went to Dick Neugebauer, Art McNamee and Merrill Combs all of whom bettered 23 minutes.

Over in A-1, Manny Andrade posted an early 5 max's and waited around til Frank Steinle of Mt. View put in his 5 max's, then Manny beat Frank in the flyoff, 20:30 to 19:04. Both times very fine for A-1. Bob Beecroft won his second 1st place trophy by topping all Seniors with 5 max's for a 15 minute total. In Junior Don Elliott was best with a 13:13 total.

Back to the U-Control events and some real fast flying - so fast that you needed new national records to win in the Junior and Senior events. Stephen Mueller of Phoenix posted 134.98-mph to win Junior; Dubby Jett of Seagoville, Texas, won Senior with 135.59.

In Open A Speed Bill Wisniewski accomplished the first of his unprecedented wins by posting 143.94-mph. (Bill flew in 3 official events and one impromptu FAI affair, winning them all!) Henry Mullin of Albuquerque was second with 137.37, followed by John Newton with 135.28. Walter Menges, Jim Nightingale and Eldon McRae flew as the "Zoom Team" and nosed out Don Jehlik by virtue of a faster 2nd flight.

While all this was going on qualifications for Stunt and Combat eliminations were underway. At R/C Les McBrayer was directing 140 or more radio qualifications flights each day. Lots of activity out on that field.

Wednesday was typical, an overcast comfortable morning, a clear comfortable afternoon and a cool evening. Half-A day was termed by one flyer as being "instant garbage" time. Needless to say, this day produced the most flyers. It seemed like everyone registered in the meet entered 1/2A. In the Open class, one had to better 20 minutes to even place. Mark Carman of Santa Ana totaled 26:04 to win, Toshi Matsuda 24:45 for second. Senior Champion Dennis Bronco, did 20:12 to narrowly nose out Joe Heflin's 20:06 to win. Karl Allmendinger won Junior with 25:26. This day saw Mike Taibi - Sal's son - winning 3rd place in his first Nats.

Doctor D. Lee Taylor of Lakewood, Colorado, won his second Helicopter Nats in a row but was closely pressed by Glenn Lee of McFarland, Wisconsin. Taylor had 131.28 points, Lee had 125.

John Lenderman put in an early 5 max's in Wakefield, then had to wait while Reid Simpson ran off his 5th max to force a fly-off. At the 4 o'clock moment-of-truth John got off to a fine max while Reid, who had neglected to make up a new motor, floundered around with a decidedly tired hunk of rubber to a 1:07 sixth flight. No one else posted max's. Gytis Tamulaitus won Junior with 12:23; Ronnie Young did 10:35 to narrowly nose out Steve Houlihan's 10:04 for a Senior win.

In Junior B Speed Stephen Mueller bettered Dannv Wakerley of Napa - 147.24 to 144.40. Dubby Jett continued his Senior winning ways with 146.40, Jim Ketterer of Milwaukee was pushing Dubby at 144.52.

In Open you had to top 150-mph to place. Bill "Wis" won; others - Bob Carpenter was 2nd; John Newton, 3rd; Ernie Miller, 4th; and Laird Jackson, the only out-of-stater, 5th. Speeds were 159.23, 153.26, 153.26, 151.07 and 150.57 respectively and, I'd say, respectfully!

Thursday morning after practically an all-night session kibitzing on the cutting of indoor rubber (to the last .001 inch) we got out to Class A at 8:50 to find that lots of flyers already had 3 max's and were making their 4th flights. 1/2A's with .051 mounted seemed to outnumber the "strictly A-built" models. Some flyers flew FAI jobs with good results. Except in the Junior class, which Randy Hill (Stan's son) won with 14:40, if one didn't max out he was lost in the shuffle. Senior Dave Parker won with 22:15; Paul Hatzl was 2nd with 21:25. In Open - what was then the highest time of the meet - 31:12 won for Eugene Bartel of Albany, Ore.; Ralph Prey was next with 30:30, Stephen Geraghty, 24:15, Virgil Coker, Phoenix, 22:37; and Toshi Matsuda, 22:09.

Contrary to all other free flight events, it didn't take max's to win Nordic A/2. Not one contestant made the 5 max's tho Sam Belcher of San Francisco came very close with 14:58. Craig Cusick ran afoul of bad luck. He had 5 max's but one timer lost track of his model on one flight and so Craig had to do it all over again only this time to land on a barracks roof and be blown off, badly smashing the model. His SCAT club-mates helped him for 45 feverish minutes to put the matchsticks back together. Without a test flight he managed to tow off as the contest ended, only to have his model fall off the tow line and stall in.

John Lenderman had a 14:33 total for second in Open. In Junior Gytis Tamulaitis won his second 1st place trophy with 13:05; Hal Osborne was next. Larry Van Nest won in Senior; with Larry Loucka, Cleveland, 2nd.

In Junior Proto Speed Danny Wakerley and Stephen Mueller traded places, Danny's 119.32 nosing out Steve's 177.45 for first. Dubby Jett suffered his first defeat when John Shannon of Shreveport, La., got his Proto off to a 127.79 Mile. Dubby's 125.65 was still good for second.

In Open Proto Glenn Lee of McFarland, Wis., got off a very fast 132.33 to easily top the pack and show the West Coast speed boys how to go fast-fast-fast. The Barr-Norsikian Speed Team was next with 124.95; Joe White took 3rd at 123.58. Then John Newton put his Torp 29 in Roger Theobald's Proto and on a record try Roger posted 134 - plus for a splendid Proto record. Western flyers expect this can be topped since the acceleration on this flight was a bit on the slow side.

Friday - FAI power day was one event we were anticipating. For this the SCAT Club was ready to go all out. By 8:45 Bob Cherny from the Northern Calif. Free Flight Council, Roger Simpson of the USAF team (and Reid's twin brother), and Al Vela had already put in their 5 max's; shortly thereafter Craig Cusick scored his. We had expected more, but Bob Van Nest managed only 2:53 on one flight so ended up in 5th place. Cherny put up flight after perfect flight for a new record of 25:46 and 1st place; Roger totaled 21:52 for 2nd; Vela, 3rd; and Cusick, 4th.

In Junior FAI Derek Van Dyke, Phoenix was first; Kit Taft, Barney's son, Salt Lake City, 2nd; and Kent Nogy, John's son, 3rd.

In Senior FAI Ed Carroll of Davis won with 14:08; Jim Bradley, Orlando, Fla., 2nd; and Bill Blanchard, 3rd.

Outdoor hand launched gliders filled the air like huge swarms of mosquitos, hundreds of them at a time. Most flyers flew their old indoor jobs which proved to be superior to the heavier standard outdoor types. Another overcast day, but lots of lift. Kenny Happersett came close to 3 max's with his 14:15 far out-stripping Dick Neugebauer's 2nd placetime of 10:15. Stephen Geraghty, San Jose, was a close 3rd with 10:09.

Faust R. Parker, Jr., Fort Worth, set a new record in winning Senior with a 12:33 total. Mike Arak of Miami was 2nd with 10:03; Blaine Miller, Orlando, 3rd, 9:50.

Bill Salisbury of Salt Lake won Junior OHLG with a fine 9:54; Kent Nogy 2nd with 9:17; and Eric Albinson, 3rd,9:02.

Over in C speed the guys were really moving. Some early fast times were put in. Doug Ward and Jerry Bradshaw worked as a team with a home-built engine to take an early lead with 168.31. Along about 1:30 the contest was shut down to allow a dress rehearsal the forthcoming Saturday and Sunday show by the Blue Angels et al. This bugged most flyers since they had to clear even the pit areas and were not allowed to work on their models. When one Shore Patrol boy stated that the full scale practice air show would not start til the area was cleared, one modeler was heard to mutter, "Good, if that's all it takes, we'll stay and fly!" Well, anyway - after the show-boating was over - it was back to model flying.

Bill Wisniewski had two flights left but the needle valve on the 2nd go-round was too short. Bill's 3rd was just right - Jim Nightingale got that needle right after what seemed like an eternity on the ground hunting for the set - and the flight was perfect - a smooth run throughout for a contest winning 171.03. All eyes were now on Cliff Telford who had not yet attempted a flight. Cliff had a tight engine so he had been off out of the way running the mill to loosen it up. Late in the afternoon he pull-tested and took a flight. Every watch in the pit area was on this one, for she was sure going. This was 167 plus, so the local guys know they had to sweat this baby out. Cliff tried, managed 169.74 for second. Ward and Bradshaw hung on for was 3rd; Don Yearout came in 4th at 168.16; Henry Mullin next at 165.99.

This was by far the fastest flying ever at a Nats, Shortly after the contest closed the Ward-Bradshaw team went for a record try and made it with a 174 plus flight. Then two days later, at 12:25 on Sunday, they pull tested and put their same bird in the air for one flight of 1/2 mile in 10.09 seconds for a mark of 178.32 mph.

In C Speed Junior Steve Mueller continued his winning ways, posting 156.46 for 1st; Richard Crabbe's 150.57 was 2nd; Danny Wakerley, 3rd, 145.46. Dubby Jett again topped Senior with 155.11; then John Shannon, Shreveport, 154.44; and Jerry Imboden, Napa, 150.95.

The Stunt finals were also flown on Friday. Gerry Cipra of Cleveland easily bested the Juniors with his 397 points; next came Jim Murray, Odessa, Texas, 371; and Bob Harness, 348.

In Senior Ukie Aerobatics Steve Harris beat the favored Bart Klapinski in a heated duel, 402 to 400 points. Ed Elasick, Garfield, N.J., was 3rd with 381.

In Open Stunt Bob Gialdini and Bill Werwage outstripped all others. Bob's 405 beat Bill's 397 for 1st. Ed Southwick posted 365; Clair Sieverling, Phoenix, had 359 points.

Friday also saw the Combat finals scheduled. Carl "Big Iron" Berryman of Altus, Okla., showed once again that he is the cream of the Open Class by beating Howard Henry of Slaton, Texas, in the finals. Billy James of Fort Smith, Ark., was 3rd. Senior Danny Jones topped Jerry Pearce in their finals; Art Jerome of Detroit was 3rd. In Junior, Marty Klimaitis and Les Bramblett put on a real battle with Marty winning. Jim Murray of Odessa was 3rd.

Saturday morning after another wee small hours' session with Bob Champine and Bill Bigge, who were busy all night rebuilding FAI indoor models, we found the Free Flight ROW models breaking records with lots of max's.

Dennis Matsuda won Junior with a new record of 12:47; Larry Simpson of San Diego was 2nd with 12:07; Wayne Verrell, Bakersfield, 3rd at 10:55. Jerry Niven set a record in winning the senior class with 15-min flat. Sandy Norton was 2nd with 13:29; Bob Beecroft, 3rd, with 13:10. Bill Bell, Delray Beach, Fla., won Open with a record 23:43; Curtis Stevens was 2nd with 20:30; Bill Thompson, San Diego, 3rd, 20:16.

Unlimited Rubber was another must-max event. Manny Andrade won Open with an excellent 30:45; this was record. Andy Peterson, an old "Thermal Thumber", now from Marietta, Ga., was next with 24:35, Charles Sotich, Chicago, 3rd 22:53. Tom Smyly proved what champs are made of by setting a new mark and winning Junior with 24:20, Gytis Tamulatis was 2nd with 13:45, Dave Maystrand 3rd with 12:00. Senior went to Steve Clark of Walnut Creek with 10:47. Ronnie Young did 8:50 and Mrs. Shaye Diebolt, Orlando, Fla., scored 7:50.

Half-A Speed found those two fast juniors, Steve Mueller and Danny Wakerley, once again fighting it out, with Steve topping Danny - 94.40 to 90.87. Billy Armstead of Dallas, was 3rd with 86.50.

In Senior Dubby Jett had some anxious moments but ended up on top by .53 mph topping John Shannon's 97.26 with a 97.79. Jim Ketterer, Milwaukee placed 3rd with 97.15 - a real close contest.

In the Open circle Warren Kurth suffered a rare defeat when Don Yearout posted 105.72 to Kurth's 105.16. Lee Ward was next with 104.98.

Junior and Senior Control Line Scale was flown off Saturday. In Junior Don Thomson, San Jose, nosed out Rick Stice, Arcana - 223.5 points to 214. Mark Kuhlmann, Columbus, Ohio, was 3rd. In Senior Bob Welch, Tracy, topped all with his 304.5 points. Johnson Quarles, L.A., placed second (266.5) and Tom Moore, San Francisco, 3rd (211.5).

Open Class Carrier Landing became a real battle with Frank Miles beating Earl Carpenter - 448 to 444.5! Gene Cooper, Glendale, Ariz., was 3rd with 425. In Senior Jay Heffelfinger, Chicago, beat Rusty Fried, Phoenix, 442 to 416; Tony Naccarato was 3rd with 402 points.

Saturday afternoon we traveled over to Santa Ana to take in the finals of the FAI indoor team selection. If you couldn't total over 80 minutes for two flights - you were but nowhere. Winning time for the previous Monday's indoor events would have made you an also-ran. Ernie Kopecky had the highest time, 43:42 for a new record, but could not get in a second 40-minute flight. Bill Atwood posted 43:17 and 42:06 for 85:23 and 1st; Ed Stoll did 41:11 and 41:21 for 82:32 and second; Frank Cummings racked up 43:28 and 37:56 for 81:24 and 3rd place. We have a strong team!

Sunday, the last day of the 32nd Nats, was the day for the C-birds, the most gracious of free flight gassies. The longest flights of the contest were made this day. Allen Ross, Phoenix, totaled 43:22 for a record and a Junior 1st; Dennis Matsuda was 2nd with 21:35; Jim Carlsan, 3rd, 14:52.

Al Kramer had the highest time in the contest with his 53:50 record - shattering win in Senior. Dennis Bronco was 2nd with 28:40; Ronnie Young, 3rd, 28:15.

In Open Bud Romak, Moraga, flew his huge 128 inch span Mac 60 powered job to a 29:11 win. Tom Smith, Santa Clara, was 2nd with 28:22; Kenny Mathews, 3rd, 27:15.

Free Flight "Rocket" events didn't draw many entries but still your times had to be good to win. Paul Osborne took Junior with 5:36; Dennis Matsuda was 2nd with 4:24; Mike Taft, Salt Lake City, 3rd, 3:35. Senior was won by Leonard Bedford, Seattle with 8:20, far outstripping Sheridan Asklund's 2nd place 4:22; Faust Parker, 3rd, had 4:10.

In Open Ray Hansen set a new mark in winning, 1 :00; Dr. Don Chapton in 2nd place was pressing Ray with 12:47; Ed Eliot, Laimto, was 3rd with 12 :00.

Open Control Line Flying Scale was flown off Sunday morning with Don Yearout, Pleasanton, nosing out Linton Keith, San Jose - 330 to 328.5. John Tatone was 3rd with 316. Phil Garrard had some engine control trouble with his DC-6 but thrilled the crowd with his huge bird.

The noisy birds, the control line Jets, were doing just that - making noise. Rudy Thomas, San Jose, became top man in Open with his 165.07-mph; next came Jim Summersett, San Antonio, 160:22; Bob Thames, Fremont, 159.51; and Jerry Thomas, Tacoma, 159.23. Jerry's asymmetrical one-sided model was really different and showed great promise,

Chris Sackett from Vancouver, B.C., topped all Junior-Senior Jet Speed flyers with 133.68; then came Bob Slaybaugh, Longmont, Colo., 133.18; and Bob Ohlenger, Babson Park, Fla., 132.79.

Team Racing was hotly contested even tho the winners in each division were clearly ahead at the finish. Jack Garcia and Bernie Tautz won the AMA race with a fast 7:36.2. The BNST boys were second with 8:04, then Jim Kelso and Charles Whitney with 8:09.5.

In FAI Team Racing Don Jehlik and Herb Stockton had all the others on edge with their 50-lap 100-mph-plus runs during the week, but they. were walloped by faster pit stops by the competition and ended up 3rd in the finals. BNST, the Barr-Norsikian Speed Team, took FAI with a smart 4:55 - real fast pit stops did this. Bill Harris, Laurel, Md. and Paul Burke of Alexandria, Va., were second with 5:13; Stockton-Jehlik 3rd with 6:17.4.

The Club Championship was won by the Smog Cutters, a local club, with 4,379 points, far outstripping the San Valeers #1 team's 2,781.1. For National Teams the USAF team came along strong on Sunday to nose out the Scarf team 4,371.9 to 4,236.3.

R/C was a week-long event. During the elims flying moved at a rapid pace; 103 flights were put in Monday, more than 140 during each of the other days. Flying was slowed up some due to the lack of adequate equipment to check the frequency of the proportional rigs. The counter would report only the lowest frequency presented so when the proportional rigs had their modulation on, it saw only the lowest frequency. This caused them to be black flagged and they were not allowed to fly when other birds were in the air. Since there were a lot of these proportional outfits in the finals, it really delayed things.

The new Digicons, the Krafts, the Orbits, the Sampeys, and the DB's all made a good showing and as we see it reed rigs are on their way out. Pylon in particular showed up the terrific advantage of proportional. Taking nothing away from the reed experts ... lack of training time in proportional was the only reason why the reeds even managed to get in the finals. Our prediction: propo will dominate even the Class I and II events in the future.

John Schroder, Walt's son, won Junior-Senior Class I with 80.5 points; Steve Carter, Glen's son, was second with 76.5; Doug Hertzog, 3rd, with 46.75. In Open Bernard Williams, Kalamazoo, easily outstripped other competitors with 129.5; Harrison Morgan was 2nd, 97.5; and Tom Williams, 3rd, 85.

In Class II, Ralph Jackson, Endicott, N. Y., placed highest with 157.75; Paul Black, 2nd, 144.25; and Dr. Don Crow, 3rd, 129.25.

Class III saw a 4th run redraw for flights due to lack of time to complete the round. Some guys who were first up found themselves last, some gained one number, some lost one number, but most smiled thru it all. James Kirkland flew his Sampey equipped "Beach Comber" to first with 193 points. Zel Ritchie's Space Control-Orbit original was second, 185.25. Others: Darryl Usher, 3rd, 185; Maxey Hester, 4th, 183.25; and Bill Williams, 5th, 182.

In Pylon Racing Zel Ritchie piloted a delta original with Space Control-Orbit gear to a very fast 1:10.40 win using a Cox 15. Bill Williams was 2nd with 1:13.55; then Keith Storey, 1:13.85; Cliff Weirick, 1:14.60; and Glenn Carter, 1:14.90.

In R/C scale Max Hester flew a true scale Aircobra, plans by Claude McCullough, to a 10,422.8 point total and first place. Bud Atkinson was 2nd with 9,164.8;. Granger Williams, who earlier in the week smashed his model, rebuilt it for 3rd and 7,123.3.

Some of the more interesting highlights of this 32nd Nats ... The bevy of Stardusters in Free Flight gas. ... The domination of the Cox TD's in 1/2 A and A, the Torp 29's and 35's in B & C Free Flight and in B Speed with Proto coming up ... Carl Goldberg making it his 32nd Nats in a row, demonstrating his new Twin engine multi R/C which is a fine flyer even on one engine ... The complete domination of speed by 4 contestants: Steve Mueller's four 1sts and a 2nd in junior speed; Danny Wakerley's one 1st, three 2nds and a 3rd; Dubby Jett's four 1sts, a 2nd and a 5th; and Bill Wisnewski's four 1sts including a special FAI event!

Sometimes it seemed to be more of a contest seemingly set up for the Nats Committee and air shows ... some day they'll have to again put on the Nats for the contestants. Doug Ward and Jerry Bradshaw's home-built .62: they made everything but the glow plug and this engine still has not peaked out with its 9 inch dia 16 inch pitch prop. Noted: K & B speed fuel lovingly called "Bill's greasy kid's stuff" while powering its winning way ... Many freeloaders trying to get their engines repaired for free and being turned down ... Dick Kowalski hanging up everything including a balloon at the FAI trials ... Joe Bilgri smashing everything in indoor stick ... The barometric pressure theory in speed - as the pressure goes up, so does the speed.

Memories: Chuck Boyer's 3-engined R/C folding its wing on those outside loops - ugh! Those 56 entrys in Open 1/2 A Speed, but only 17 successful fliers, Bruce Paton's geared indoor cabin model. The speed flyer whose pants got hung in the adjust bolt of the pylon and ripped off ... he completed the flight in underpants alone. Two Nordic kits out of specs, the Inchworm under size, the Lil Dip over. Those sweet flying Mexi Boys in B & C gas. The sons of the old timers making such a good show. C.O. Wright's win over Dan Lutz in scale by one tenth a point.

As an explanation for the lack of some home towns - we didn't include the so-called local fliers' towns, just out-of-­the-local-area towns, but those in outer California are listed.

See you next year at Dallas?





Notice:

The AMA Plans Service offers a full-size version of many of the plans show here at a very reasonable cost. They will scale the plans any size for you. It is always best to buy printed plans because my scanner versions often have distortions that can cause parts to fit poorly. Purchasing plans also help to support the operation of the Academy of Model Aeronautics - the #1 advocate for model aviation throughout the world. If the AMA no longer has this plan on file, I will be glad to send you my higher resolution version.

Try my Scale Calculator for Model Airplane Plans.

Posted

Kirt Blattenberger
Carpe Diem!
(Seize the Day!)

Even during the busiest times of my life I have endeavored to maintain some form of model building activity. This site has been created to help me chronicle my journey through a lifelong involvement in model aviation, which all began in Mayo, MD ...

Webmaster:
Kirt Blattenberger
BSEE - KB3UON
Family Websites:
RF Cafe | Equine Kingdom

All trademarks, copyrights, patents, and other rights of ownership to images and text used on the Airplanes and Rockets website are hereby acknowledged.


Academy of Model
Aeronautics

Tower Hobbies