Here is the Modelers Sketch Book that ran in the first edition of Young Men magazine - the follow-on to Air Trails - Hobbies for Young Men. As usual, there are lots of good tips even for today's modeler, but one item looks particularly interesting: A control line stunt model that employs a hollow wing with a moveable leading edge the redirects some of the airflow through the wing rather than over the surface. My guess is NASA or the USAF was experimenting with such a scheme back in the day and modeler Charles Taylor decided to test the theory on his airplane. Either that or he is yet another out-of-the-box thinker who was trying something he dreamed up. Wouldn't it be amazing if someone saw this idea and applied it successfully to a custom model and it turned out to be a game changer in the competition realm.
Thanks to Bob Balsie for scanning the pages.
Modelers Sketch Book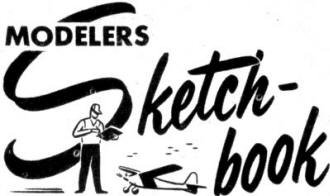 Have you developed something new in construction, control, operation or finishing of model craft? Send a rough sketch - we redraw it and pay $10 if accepted. Only original ideas; no entries returned.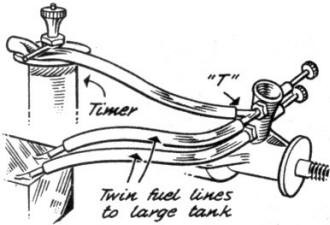 Use of timer with 2-speed carburetor allows repeated, timed flights from large tank without refueling suggest Roy Reagan, Eagle Point, Oregon. Fine for R/C or control-line. Timer cuts air flow, starts rich, slow running mixture for powered landing.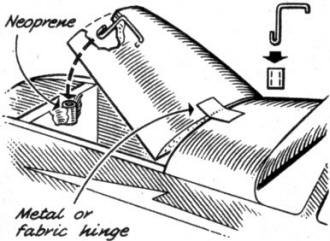 Latch for door or hatch can be made from length of neoprene tubing and wire part, bent from pin or paper clip. Loop in end of wire expands tube, holds door or hatch closed snugly. Used by Jerry Peck, San Diego, California.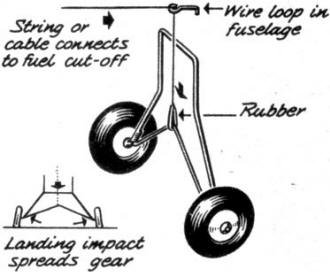 Clever engine cut-off system rigged by Larry Foster, Fulton, Kentucky, utilizes outward flex of landing gear to trigger fuel cut-off. Idea suited to scale, stunt and control-line team racers. Rubber loop gives flexibility for setting cut-off.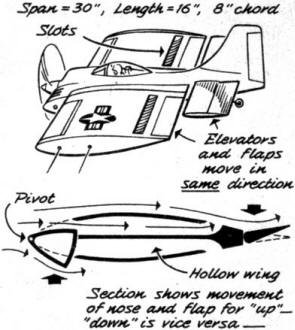 Radical Ukie by Charles Taylor, Bellle Plaine, Minnesota, is full of innovations. Hinged nose sections, hollow wings, flaps working with elevators (both to "up" together), plus close-coupled design makes for top maneuverability. Model has .045 Spitzy - has wheel brakes.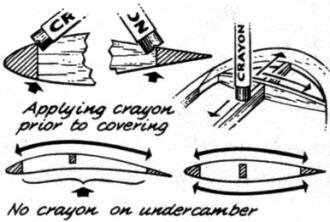 Wax crayon, rubbed on parts of model framework prior to applying silkspan or silk covering, prevents dope pulling the material in along edges of frames. Sylvan Wolverton, Columbus, Ohio, says this technique permits more uniform shrinking, smoother finishes.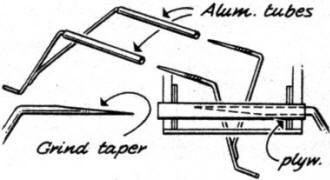 Geoffrey Pike, British modeler, builds "plug-in" gear to facilitate transporting model. Gear wires are ground to overlap in tubes, are held in place by friction.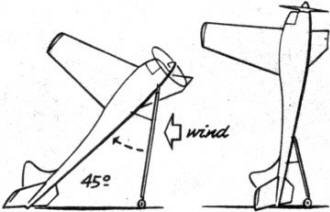 From "Salt Flat Sentinel," edited by Hal Yeager, Salt Lake City, Utah, is tip on V.T.O. In wind, 45° angle is recommended; nearly vertical attitude for little or no winds. Use small wheel on strut end to meet A.M.A. rules - retract strut by clock spring or rubber band.
Posted October 17, 2015