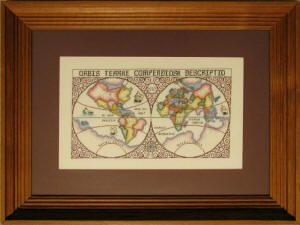 Back when Melanie had more time (around 1984), she made a lot of counted cross stitch pictures. This one remains her most ambitious project ever - a large nautical map of the ancient world, fashioned after the works of famed cartographer Gerard Mercator and titled with "Orbis Terrae Compendiosa Descriptio," which is, loosely translated, Latin for "A Comprehensive Description of the World." Melanie's work was done on 22-count fabric, and measures approximately 13" by 8" (not including white border). Such a fine effort needed a special frame, so I set about making a custom 23" by 17" frame out of teak wood bought at World of Hardwoods in Baltimore. The fancy fluting was done on my Craftsman radial arm saw with the molding head. It was a scary operation with the sharp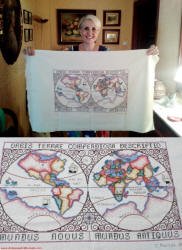 teeth flying while feeding that teak through it. Teak, as you might know, is used extensively on boats because it weathers well. It is an oily type wood that starts out life with a shiny golden patina, but turns to the familiar gray if left unprotected in the sun. The oiliness of the wood make it extremely difficult to glue. After numerous regluing attempts over the years, I finally mixed up some epoxy and that has lasted the longest. No finish was applied to the wood, and now, more than 20 years later, it still looks fine. 1984.
One of the nice things about having a website is that people from all over the world are able to see what you post. This very nice lady from Spain saw Melanie's picture and wrote to us in the year 2011 about obtaining the pattern for it. We found the booklet on eBay, and since she could not purchase it from Spain, she sent us the money and we procured it for her and mailed it to her in Spain. Honestly, we had forgotten about it and then voila! A week or so ago Miss Mortes e-mailed these two pictures to us. Melanie was utterly thrilled and very impressed with the quality of the needlework. We hope to someday receive a photograph of the cross-stitch picture after it has been placed in a frame.
After seeing Miss Mortes' picture, we noticed that Melanie had mistakenly omitted the "Mundus Novus | Mundus Antiquus" (New World | Old World ) text at the bottom. We will be removing Melanie's picture from the frame so that she can add it.
Posted October 25, 2021
(updated from original post on 9/27/2014)