Kirt Blattenberger
Carpe Diem!
(Seize the Day!)

Even during the busiest times of my life I have endeavored to maintain some form of model building activity. This site has been created to help me chronicle my journey through a lifelong involvement in model aviation, which all began in Mayo, MD ...

Webmaster:
Kirt Blattenberger
BSEE - KB3UON
Family Websites:
RF Cafe | Equine Kingdom

All trademarks, copyrights, patents, and other rights of ownership to images and text used on the Airplanes and Rockets website are hereby acknowledged.
Little Traveler II Fundraiser Flight for St. Jude Children's Hospital - 2010
The History:

In October of 2009, the first-ever flight of the Little Traveler occurred on a mission to raise funds for the St Jude Children's Hospital. Famous airplane builder and fearless pilot Kim Stricker launched a project to fly a radio controlled model airplane non-stop for a mind-boggling distance of 2,026 scale miles

*

. An incredible $1639.53 was raised thanks to generous Americans like you. (Click here for the rest of the story!)



*

compared to a Boeing 747-400, which is 132x longer than the Littler Traveler (actual distance was 15.3 miles).

We're about to do it again sometime in April, and with your help, this 31-mile non-stop sortie has the potential to double the past record!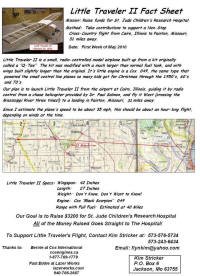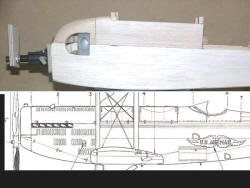 Update: May 20, 2010



I'm sorry to report the loss of Little Traveler II on it's cross-country flight for St. Jude Children's Research Hospital.

Little Traveler II fought turbulence almost from takeoff, and I was never really able to get it trimmed and settled into it's cruise. We crossed the first leg of the Mississippi River, with the heavily loaded model slowly gaining altitude as the rough air pitched it around.

As we made the second crossing of the Mississippi, the model plane rocked forward and dove slightly. When I pulled some in some elevator to level it, it's right wing failed and sheared away.

It impacted the river at high speed near the Missouri side. We could see the fuselage floating upright in the water, but the river is in flood stage, so there was no hope of retrieving the model. It does have my name and phone # inside, so it may find it's way back at some point...we'll see.

Thanks to everyone who supported our flight for St. Jude Hospital. We didn't get very far, but you place your bets and you take your shots. We'll now lick our wounds and get ready for the next adventure!

I'll post the total donation amount we raised after I've tracked down our pledges and get a little accounting done.

Thanks again, Little Traveler Kim




Update: April 26, 2010



The Little Traveler II Flight for St. Jude Children's Hospital is bearing down on us like a tiny buzzing comet!

I'm currently looking at May 8th as the day of destiny for our little friend, allowing of course for work schedules and weather, it may get shuffled around. I'll have to have a fairly windless evening (or at least have easterly winds) for LT II to have enough endurance to make it all the way to Painton.

If you have a Facebook account, you can log in, go to search box at the top and type in "Little Traveler St. Jude", and it should list it among the options. The actual title, "The Little Traveler II Flight for St. Jude Children's Research Hospital!" is a little long, but I was full of coffee when I was making up the page, so it seemed a lot shorter at the time.

Anyway, the page contains progress photos, and will, for better or worse, also contain video clips of the epic flight. Log in and check out the cool paint scheme designed by Destiny and Leroy Atkins, son and daughter of our own Katrina Atkins here at the airport. Those kids LOVE stars!

As listed before, there is now a Paypal account for LT II through the hospital. You can log into your account and go to the payment page. Type in PayPal@stjude.org ....check it for "Personal Gift"...then please type "Little Traveler" in the comment box. I tried it and it works, and we'll appreciate ANY amount you can spare for kids of St. Jude Hospital!

You can also come by the airport with a check or fist full of change for my bucket on the counter of our office. I have deputized everyone that couldn't get away into accepting your donations. Please make you checks payable to St. Jude Hospital, and we'll zip'm right where they need to go!

The attachments are a new, more copier-friendly black and white flyer that is a little simpler than the original fact sheet. The second is the original fact sheet with a few more details and a map showing the route. Please feel free to forward either or both to anyone you might think would consider supporting the flight...and please remember to tell them that ALL of the money raised goes straight to St. Jude Children's Research Hospital.

This is the REAL DEAL!! YOU can be a direct player in helping a kid survive and flourish after beating childhood cancer. These are honorable people with a Holy Mission, and every penny counts!

Thanks to EVERYBODY and their support for this little fundraiser!

Little Traveler Kim




Update: April 3: 2010:



After a couple of diversions, the Little Traveler II is back on the bench, receiving it's electronic innards.

I had worried that I was building a model airplane with perhaps the ugliest nose in the history of aviation, but chanced to spot an article on the Douglas M-2 Mail Planes of the 1920's. So, Little Traveler II is going "Boxy Nose"!
Little Traveler II now has it's own Face Book page...just log in and type "Little Traveler St. Jude Hospital" in the search box to go there for updates and photos of it's progress.

If you have a Pay Pal account, and would like to support this little adventure, you can log in there and use PayPal@stjude.org ...personal gift... with a note in the message box that it is for "The Little Traveler Flight".

I'm still looking at the flight happening in the first week of May, but will have to keep the exact date open 'till we get the weather and our schedules locked down.

I'll also have photos of Dr. Paul and his R-22 "Chase 'Copter" posted on the
Little Traveler II Face Book Page.

Thanks to everyone for their generous support of The Little Traveler II Flight for St. Jude Children's Research Hospital!





Sincerely, Little Traveler Kim


---
Update: March 19, 2010

Hey Folks,

Sorry it's been so long since the last note. Little Traveler II is progressing and ought to be fit and test flown by mid-April. We're looking at making the flight the first week in May, depending on weather and work schedules, and are still planning on taking up Dr. Paul Salmon's generous offer for use of his helicopter as our chase vehicle!

I've also opened a Little Traveler II Facebook page with photos and progress reports. Since I've had little luck in posting links and getting them to work, the easiest way may be just going to the Facebook site and typing in "Little Traveler St. Jude" in the search box. This worked when I tried it. As a side note, Little Traveler II's paint and color scheme is being designed by Leroy Atkins, the six-year-old son of Katrina Atkins, our Assistant Airport Manager!

I still don't have a dedicated Paypal account with the hospital, so I've attached a Fact Sheet that gives my contact info, along with a basic outline of the whole project. Checks and money orders can be made out to St. Jude Children's Hospital with maybe a note on the comment line that it's for the Little Traveler II Flight.

This coming week, I'll also have donation buckets at our office at the Cape Girardeau Regional Airport, "Sandy's Place" Restaurant at our airport, Tailwinds Hobby Store in Cape Girardeau, Brennecke Chevrolet in Jackson, Missouri...and of course, you can grab me by the collar when you see me and shove money at me.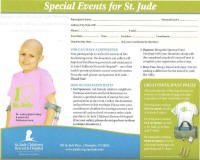 Also, if you'd like to help raise money in this project for St. Jude Hospital, I can give you a "Sponsor Envelope" [click on image to the right], allowing you to join our crew. I'll include a copy of the Fact Sheet that may make it easier to explain the whole deal to folks, and I'll be packing all of this stuff around with me right up to the time of the flight, so please give a yell if you'd like to help.

Please feel free to forward this note and it's attachments to anyone who might be interested in helping us raise funds for St. Jude Children's Research Hospital.

I'm taking donations and pledges now, so let's get the ball rolling!

ALL of the donations go directly to the hospital, and EVERY penny is appreciated!

Later! Little Traveler II Kim


---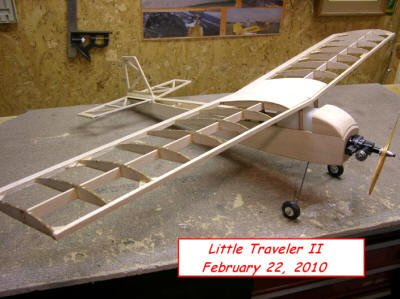 Update: February 22, 2010


Little Traveler II is up on two legs!!!! Also, check out the gas tank fairing (big hump behind engine)...all the better to streamline the brave little plane as it's massive, fire-breathing .049 engine propels it to a terrifying cruising speed of Mach 0.05133 !!!!!!! (35 mph)

Chuck Yeager, step aside!













---
Update: January 21, 2010
Get Ready for Little Traveler II !!!!!

In the first photo, you can see the pile of sticks that will become our second tiny, cross-country flying model airplane: Little Traveler II !

We will again be flying for St. Jude Children's Hospital, and as before, ALL of your money will go directly to St. Jude Hospital!

Our first Little Traveler flight in October spanned 15 miles non-stop, and raised over $1600 for the Children of St. Jude Hospital. You can read accounts of that flight at: http://www.semissourian.com/story/1578021.html

Our new goal is to more than double that amount to over $3200 by doubling the Non-Stop flying distance to 30 miles! It looks like the flight will take place in late April or early May. We're still working on the route, but are figuring on the arrival site being the Painton International Aerodrome in Painton, Missouri.

The Plane


Little Traveler I was a modified 1960's Sterling "Minnie Mambo", packing a 4 ounce gas tank, and powered by a Cox "Red Scorpion" .049 engine.

Little Traveler II is another classic .049-powered model…A Cox "Q-Tee" trainer that was kitted in the 1970's. The second attachment is a photo of my late Uncle Bill's Q-Tee, built in the late 1970's and piloted by the most famous duck in the world! The little planes are easy to build, and are good-natured flyers, making them natural candidates for a cross-country trip.

Unlike the Minnie Mambo, which was designed to fly on rudder control alone (I added an elevator), the Q-Tee was designed to fly with rudder and elevator control (but still no throttle). The Q-Tee is a "parasol" design, meaning that the wing is mounted on struts above the plane's body…giving it a sort of vintage appearance.

Because Little Traveler II will need to be capable of at least an hour-long flight, it will be slightly modified so that an 8 ounce fuel tank can be mounted between the struts in the space under the wing. It's body will be "pudged out" a bit to make room for the ridiculous fuel tank, and it's wing span will be increased from 38 inches to 42 inches, but not much else will be changed.

Like the first Little Traveler, it will be powered by a classic Cox .049 engine, and steered by Cox micro servos...all from the giant inventory of wonderful engines, kits, and parts from Bernie and Xena's store at Cox International http://coxengines.ca.

At this time, we're still looking over maps, figuring out a 30 mile cross-country route that will keep Little Traveler II away from towns and busy roads. There is also a possibility that we might get the use of a helicopter… (!!!!!!) …as a chase vehicle! If THAT deal works out, Little Traveler II will fly directly from the Cairo Regional Airport, and land at Painton, Missouri…crossing the Mississippi River THREE TIMES on the process!

So please, if you can, start setting back a few bucks for the upcoming flight, and help Little Traveler II bust through 3200 bucks in donations for The Children of St. Jude Hospital !!! Remember, ALL donations got directly to the hospital! We're VERY thankful for ANY donation, and as before, you can donate a flat amount for the effort, or on a bucks-per-mile basis to put pressure on the crew to succeed!

Checks can be made out to St. Jude Children's Research Hospital, with maybe a memo that it's for "The Little Traveler II Flight". Donations can be sent any time using the info below

St. Jude Children's Hospital
Email: donors@stjude.org
Phone: 1-800-805-5856
Mail: St. Jude Children's Research Hospital
501 St. Jude Place
Memphis, TN 38105


To be continued! Little Traveler Kim

---
Please make donation here: --- Thank-you! ---

St. Jude Children's Hospital
Email: donors@stjude.org
Phone: 1-800-805-5856
Mail: St. Jude Children's Research Hospital
501 St. Jude Place
Memphis, TN 38105

Tailwinds R/C Hobby Center (map)
(located in the Cape Town Plaza where
Candy Cane Cleaners used to be)
1 South Plaza Way
Cape Girardeau, MO 63703-5808
(573) 651-8778


There is a donation jar on the counter

Academy of Model
Aeronautics

Tower Hobbies