This story was retrieved from the NASA website. Neither NASA nor any other entity represented in the article endorses this website.

04.25.12

Rockets Away! More Than 500 Students Participate in NASA Student Launch Projects Challenge

Specially crafted rockets soared high into the skies April 22 at the 2011-12 NASA Student Launch Projects challenge.

More than 500 students, representing 53 middle schools, high schools, colleges and universities in 28 states, launched rockets of their own design -- complete with working science payloads or engineering payloads -- at Bragg Farms in Toney, Ala.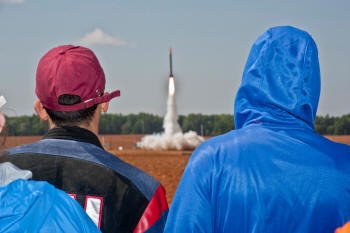 Students watch a rocket launch during the 2012 Student Launch Projects challenge. (NASA/MSFC/Ray Downward)

The students vied to see whose rocket could come closest to the 1-mile altitude goal and safely return its onboard science payload to Earth. Fifty-one teams took part, though two faced mechanical or technical issues and did not launch. Ten preliminary awards were presented, and the grand prize -- $5,000 from ATK Aerospace Group in Salt Lake City, Utah -- will be awarded May 18 after final post-flight analysis and review are complete. This is the fifth year ATK has sponsored Student Launch Projects.

This year's preliminary awards included:
Best Vehicle Design: Utah State University of Logan received the award for the most creative, innovative, safety-conscious rocket design.
Best Payload Design: Vanderbilt University of Nashville, Tenn., won the award for the most creative and innovative payload experiment, emphasizing safety and scientific value.
Best Web Design: The University of Louisville in Kentucky won the award for the best rocketry website: http://uoflusli.com/engagement.php.
Science Mission Directorate Payload Award: Mississippi State University in Starkville was honored for having the most creative and innovative payload design, while maximizing safety and science value.
Project Review Award: The University of Florida in Gainesville was honored for delivering the best combination of written preliminary design, critical design and flight readiness reviews and formal presentations.
Education Engagement Award: Vanderbilt University of Nashville, Tenn., won for best inspiring the study of rocketry and other space-related topics. Mississippi State University in Starkville and the University of Alabama in Tuscaloosa received honorable mention.
Closest to Altitude Award: The team from Florida A&M University in Tallahassee received the university-level award for coming closest to the specified 1-mile altitude goal. The rocket reached an altitude of 5,270 feet -- just 10 feet off the mark.

Peer Awards: All rocket teams submitted votes for peer awards in each division. The "Best-Looking Rocket" awards went to Plantation High School Team 2 of Florida and to Alabama A&M University of Huntsville. The "Best Team Spirit" prizes were awarded to Lake Zurich High School of Lake Zurich, Ill., and the University of Hawaii - Windward Community College of Kaneohe.
All prize-winning teams received plaques and participation trophies from ATK and NASA's Marshall Space Flight Center in Huntsville, Ala., which organizes the yearly challenge.

The final two university division awards -- "Rookie Team of the Year" and "Best Overall Team of the Year" -- will be presented after teams have submitted their post-launch review documentation and science or engineering payload reports, due May 7. NASA and ATK will pick the 2011-12 winner based on those final reports -- plus all the work teams did leading up to launch day.

The annual NASA event celebrates innovative young minds and seeks to inspire them to pursue careers in science, technology, engineering and mathematics.

Teams designed and built their rockets and experiments starting in the fall of 2011. They maintained websites to document the experience and reached more than 45,000 students at schools and organizations in their communities to share their enthusiasm for rocketry and inspire those students to pursue the study of technical subjects critical to the work of NASA and the nation.

Hundreds of flight enthusiasts flocked to the launch site at Bragg Farms to cheer for the student rocketeers. More than 56,000 viewers also watched live via the streaming video service UStream. Archived launch-day coverage is available at:

http://www.ustream.tv/channel/nasa-msfc

NASA held the first student launch event in 2000-01. In response to its growing popularity, NASA expanded it in 2003, creating one division for middle schools and high schools, and in 2006, another for colleges and universities.

The Marshall Center's Academic Affairs Office, part of the Office of Human Capital, manages the rocketry challenge. The project is sponsored by NASA's Human Exploration and Operations Mission Directorate, Science Mission Directorate and the Office of Education, all at NASA Headquarters in Washington. ATK provided corporate sponsorship. The National Association of Rocketry provided technical review and launch support. Bragg Farms has hosted the launch challenge since 2008.

For complete lists of participating students, visit:

http://education.msfc.nasa.gov/sli

http://education.msfc.nasa.gov/usli

Visit NASA Student Launch Projects on Facebook and Twitter:

http://www.facebook.com/NASAStudentLaunch

http://twitter.com/SLI_1MILEHIGH

For more information about NASA education projects, visit: http://www.nasa.gov/education

by Rick Smith and Megan Davidson

NASA's Marshall Space Flight Center

Posted April 26, 2012