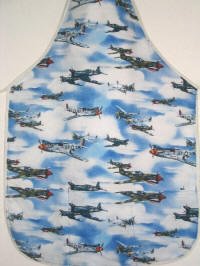 I have a home-based sewing business, please see:
My business has been featured on three local TV stations and newspapers, the aprons I sew are a cotton print, sewn onto canvas, which makes them very durable and protective, with three pockets along the bottom. Each adult size apron is $19.95.
They are available in "Aviation Theme Prints" which are great for aviation gifts, RC Events, or any event involving food.
I have pictures of two prints below, please let me know if you would be interested in listing or showing my aprons. Thanks (my husband is in the Iowa City Aerohawks RC Club and a small plane pilot, which is where I came up with the idea).
Irene Shurson319-338-2259